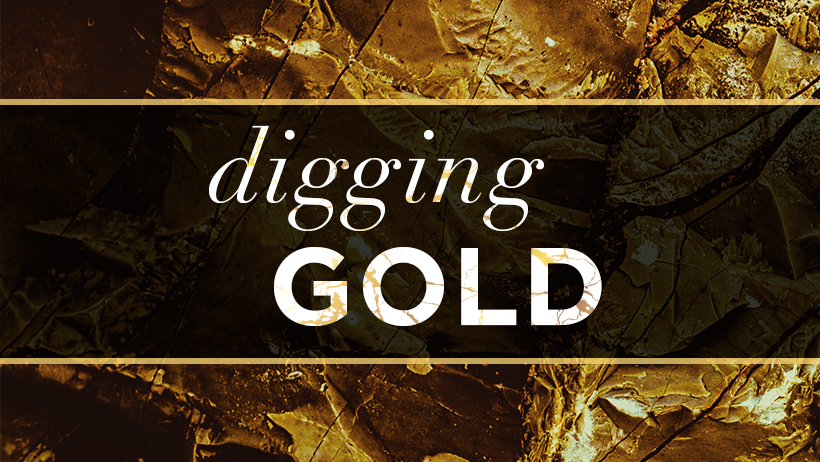 A look at the gold shades that have been making their mark at the top home textile trade shows
Gold and its warm-toned cousins have been hot this year, and when paired with cool taupes, grays and silvers they shine even brighter. Textile designer, colorist and consultant Saana Baker shares her expert insight into this year's color trends from her many exciting travels to trade shows, such as Maison et Objet, Deco-Off, Salone del Mobile and Neocon.

Today we are happily mixing gold and silver jewelry to create an eclectic, modern blend. Take this approach into the home with fabric choices that pair rich orange-cast hues with cool silvery-grays. To make these mixed-metal combos sing, select either a cool or warm as the main player in your palette, and use the opposite in a smaller role to ensure balance. Bring in charcoal, black or rich brown (including deep wood tones) to create interest with contrasting depth.
GOLDEN GLOW
The warm aura of gold conveys richness, generosity and abundance. Whether a warm golden color or a sparkling shot of metallic, gold is great as a lead color or an accent. And, it layers beautifully with established favorites: update those grays with a mix of warm golden hues. The way these cool-warm shades work together has enough interest to create a compelling palette for a color-combination in a single fabric, or to build a complex and sophisticated scheme for a room.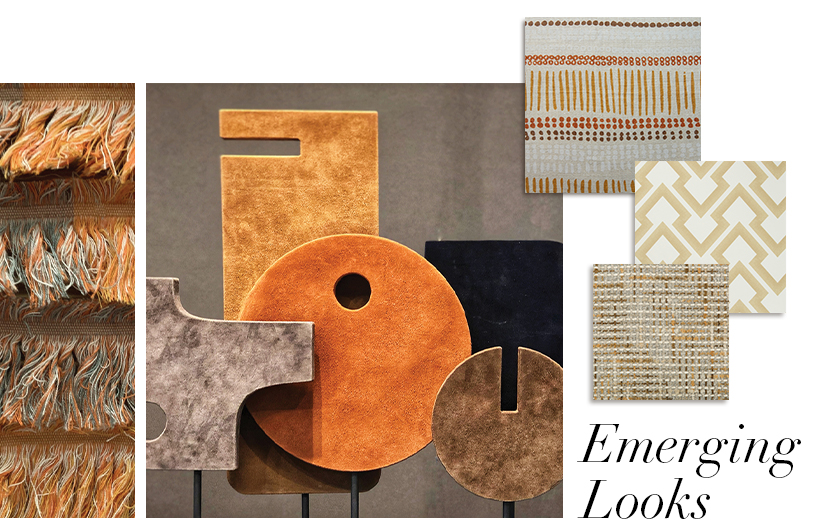 The Rainbow: Metallics and pearlescents have expanded beyond gold and silver to encompass rose gold, copper, bronze and hematite. Look for this expansion to continue: metalized finishes will spread to any color. Beautiful tones of russet, sienna and terracotta with this polished finish will be especially irresistible.
Warming Up: Orange-cast golds are looking new: think marigold, amber and Pompeii orange. These lush, optimistic shades add an air of coziness and contentment to interior environments.
MIX YOUR SHEENS
The fabrics in this precious metal palette can be matte, lustrous or sport a metallic sheen. Select an easy-to-live-with matte backdrop for large pieces, like a chunky linen or hefty bouclé, and let fabrics with sheen act as jewelry, constructing layers of interest. Or, go all out glamorous with a major element done in a burnished satin ground jacquard, and pair with matte velvet or a soft suede.
Pattern and color obsessed since childhood, Saana Baker is a San Fransisco-based textile designer, colorist and consultant. She recently launched "The Textile Eye", a digital quarterly forecast reporting on trends, colors and inspiration in pattern design, interior fabrics and accessories. Her visits to numerous trade shows and galleries have resulted in insights into the colors becoming more important in the marketplace. "Digging Gold" is the first in a series on these new shades.

Shop this color trend here.
Shop Kravet here.