Introducing the first-ever collaboration between global design brand Andrew Martin and award winning interior designer and co-owner of Firmdale Hotels, Kit Kemp.
The Kit Kemp for Andrew Martin Collection is a modern range of fabrics and wallpapers with one eye in the past and one in the future, bringing us squarely up to the present. Comprising five wallpaper and six fabric designs in an array of painterly colorways, the collection embodies a lyrical spirit, like an imaginative folk tale that sits happily in both town and country settings.
Kit Kemp wanted to create something exquisite. The creative process began when studying tapestries from 15th and 16th centuries. Fascinated to see the magical creatures hiding behind leaves and under hedgerows, it inspired the idea to give them new life in a contemporary world. With the help of artist Melissa White, this idea has been transformed into reality.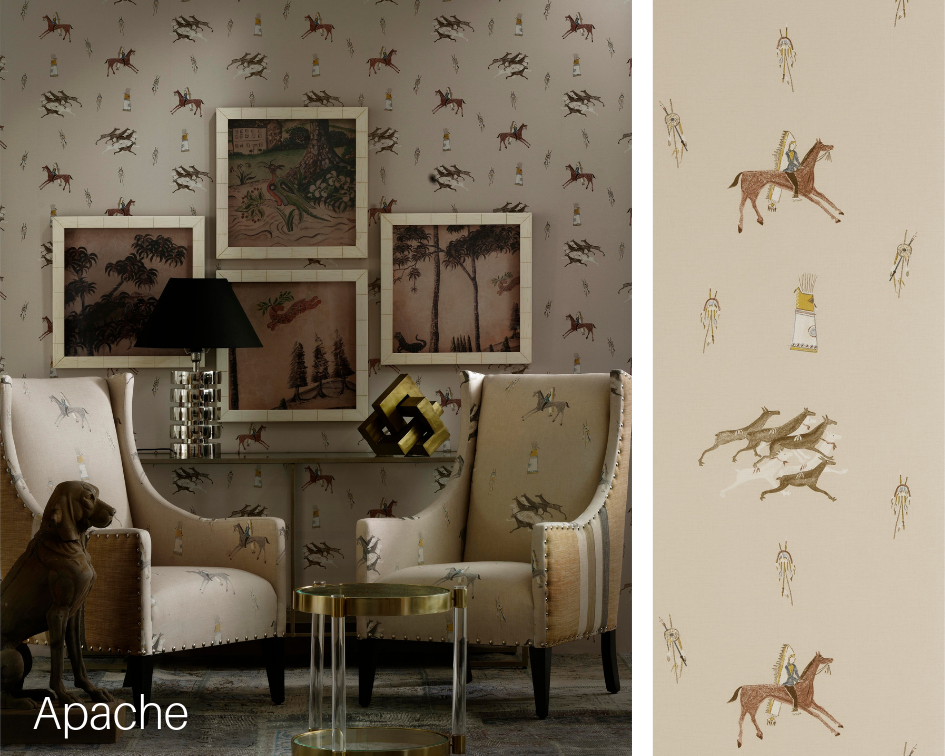 Native American art and tapestries provided inspiration for Apache, while Mythical Land, a monumental three meter repeat mural takes its cue from American Folk Art, first seen at Kit's Whitby Hotel in New York. It is designed to encourage layering and create a room with the unfolding twists and turns of a story.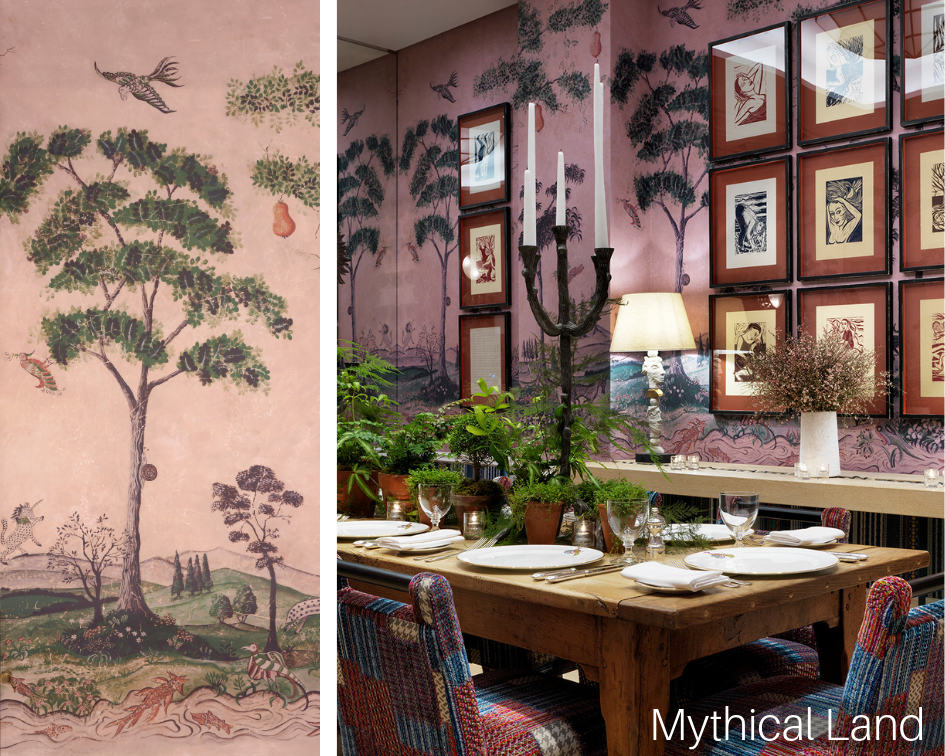 Martin Waller, founder of Andrew Martin, recommends mixing these fabric and wallpaper designs to excite the eye using the colors to coordinate where the patterns would otherwise clash. It is this play with contrast which makes the collection so contemporary. The traditional palette of neutral tones is accented with bold background of bright orange, blue, yellow and green making the motifs instantly modern and fresh.
The designs are printed on natural fabrics such as cotton twill, linen and chintz. "It's fun bringing an old material like chintz bang up to date," Kit explains. This fearless subversion is an ethos Martin and Kit share. "Martin can really take something ordinary and make it extraordinary," Kit says. "And Kit's trademark is courage with color," adds Martin. "She is the bravest of the brave."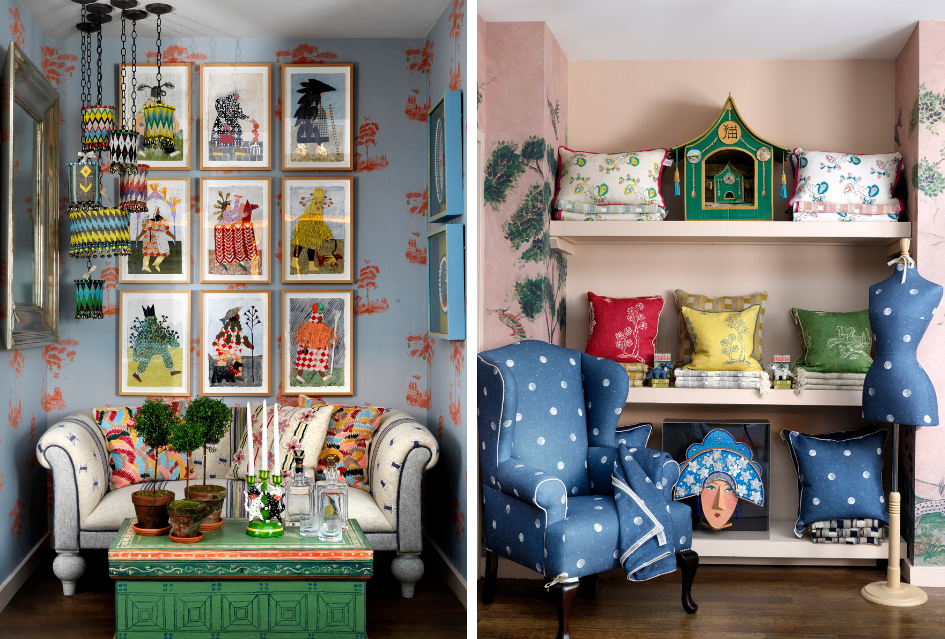 Kit Kemp and Martin have shared a strong working relationship – and friendship – for years, with Kit winning the Andrew Martin Interiors Designer of the Year in 2008. "Every living space should have elements to capture the imagination and enchant," says Kit. "We wanted a hand-drawn, crafted collection bringing our love of the artisan and mythical creatures together. The colors are joyful and fresh."
The Kit Kemp for Andrew Martin Collection will stand its ground amongst mercurial trends. It will look just as good in ten years' time as it does today.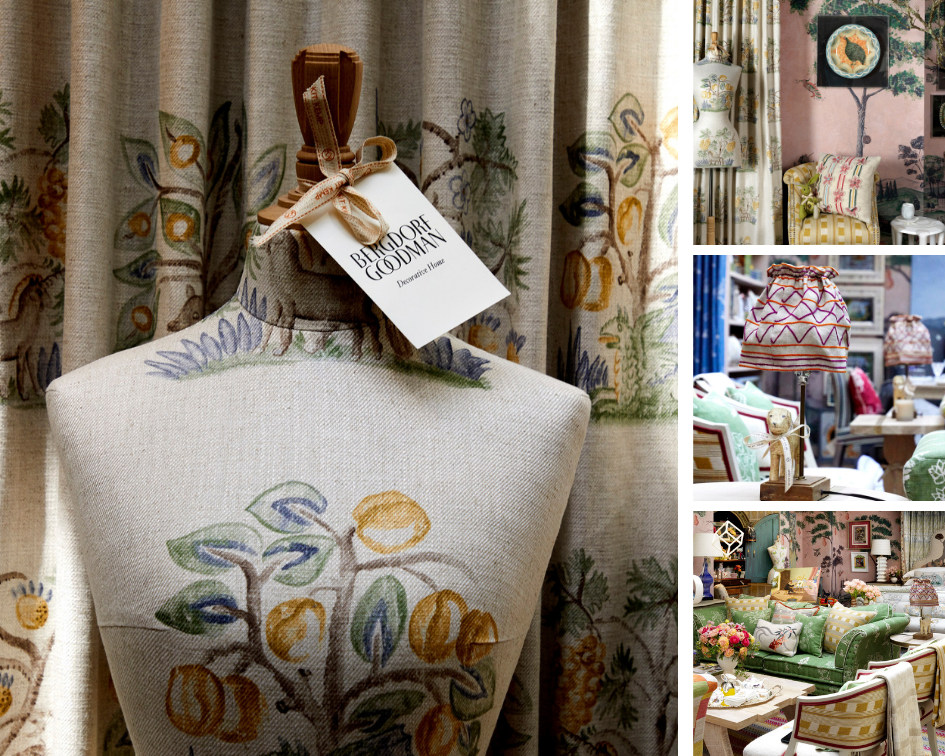 Get a first look at the collection in the iconic New York City department store Bergdorf Goodman, where Kemp transformed part of the seventh-floor home department into her own vivid sanctuary using her new collection with Andrew Martin. It's on display through August 2019!
Shop Kit Kemp for Andrew Martin Collection here.
Shop Andrew Martin here.