Award-winning Texas based interior designer Marie Flanigan knows a thing or two when it comes to designing the perfect office space. Known for her sophisticated use of color, texture and light, Kravet Inc. had the pleasure of partnering with Flanigan on designing the perfect office space using a luxurious Kravet Contract fabric for the drapery. Take a look at some helpful advice when designing your home office.
KK: When designing an office, what are the first things you look for? For example, does the office need to face a specific direction, does it need to be facing a window, does it need to be a specific shape?
MF: I truly believe an abundance of natural light is one of the most important things to consider when searching for an office space. Scientifically, a light and bright workspace lends itself to better focus and is a natural mood booster. Also, as designers, we are always looking at different colors and samples, so natural light plays an important role in how we view our work. Always consider what type of space suits your office's workflow. Do you need an open concept or more defined workspaces? For my firm, we are incredibly collaborative, so we needed a space that also provided an open concept with opportunities to gather. However, we decided to give the design stations some privacy with beautiful floor-to-ceiling sheers that give subtle separation and absorb sound.
KK: As you mentioned, lighting is so important when it comes to designing an office space, what is the ideal lighting for you to be most productive? Is natural lighting best?
MF: I am obviously a huge proponent of natural light, but I do think it needs to be supported by intelligent interior window treatment and lighting choices. We get more light in the summer months and have beautiful Kravet drapery and roman shades to control the light. For the winter months when the light changes, we have beautiful supplemental lighting throughout our entire office, including statement pendants, sconces, and lamps.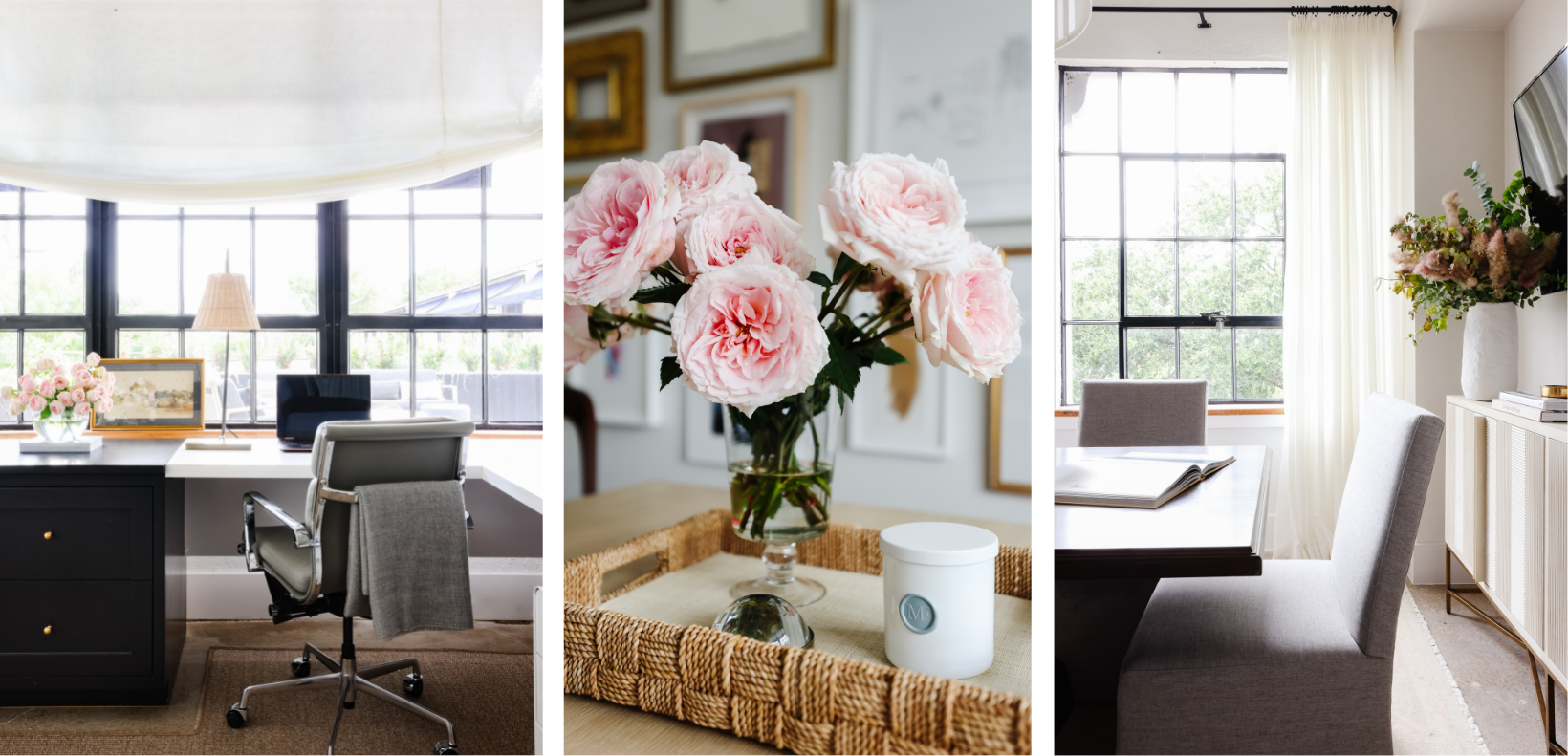 KK: How do you mix luxury with functionality? Storage space is so important, can you be chic while also being practical?
MF: Absolutely! Our office is very much a mix of luxury and functionality, but you must know where it's important to apply or marry each. We identified how our office would best be divided up into separate areas based on our needs. Our goal was to maximize efficiencies in each space while remaining true to the office's design aesthetic. For example, we knew we wanted design stations that allowed each designer space to spread out, but still facilitate collaboration. The office consists of 14 individual, open- concept desk areas separated by stained white oak walls. Kravet sheer drapery lines each desk area to provide both whimsy, privacy and sound absorption. We also used sheers to conceal the project carts in each desk pod. All of the office draperies are included in the design as both luxurious and functional design elements.
KK: What colors or hues are best for designing an office space? Calm? Cool?
MF: I think it's important to stay true to your style and aesthetic when designing a space, whether that includes a calm or bold palette. When a client walks into your office space, it should immediately reflect your company. For my firm, our overall vision was for the office to be a breath of fresh air that felt like home. Our palette is full of soft whites and neutrals with natural elements throughout, but it also serves as a blank canvas for client presentations.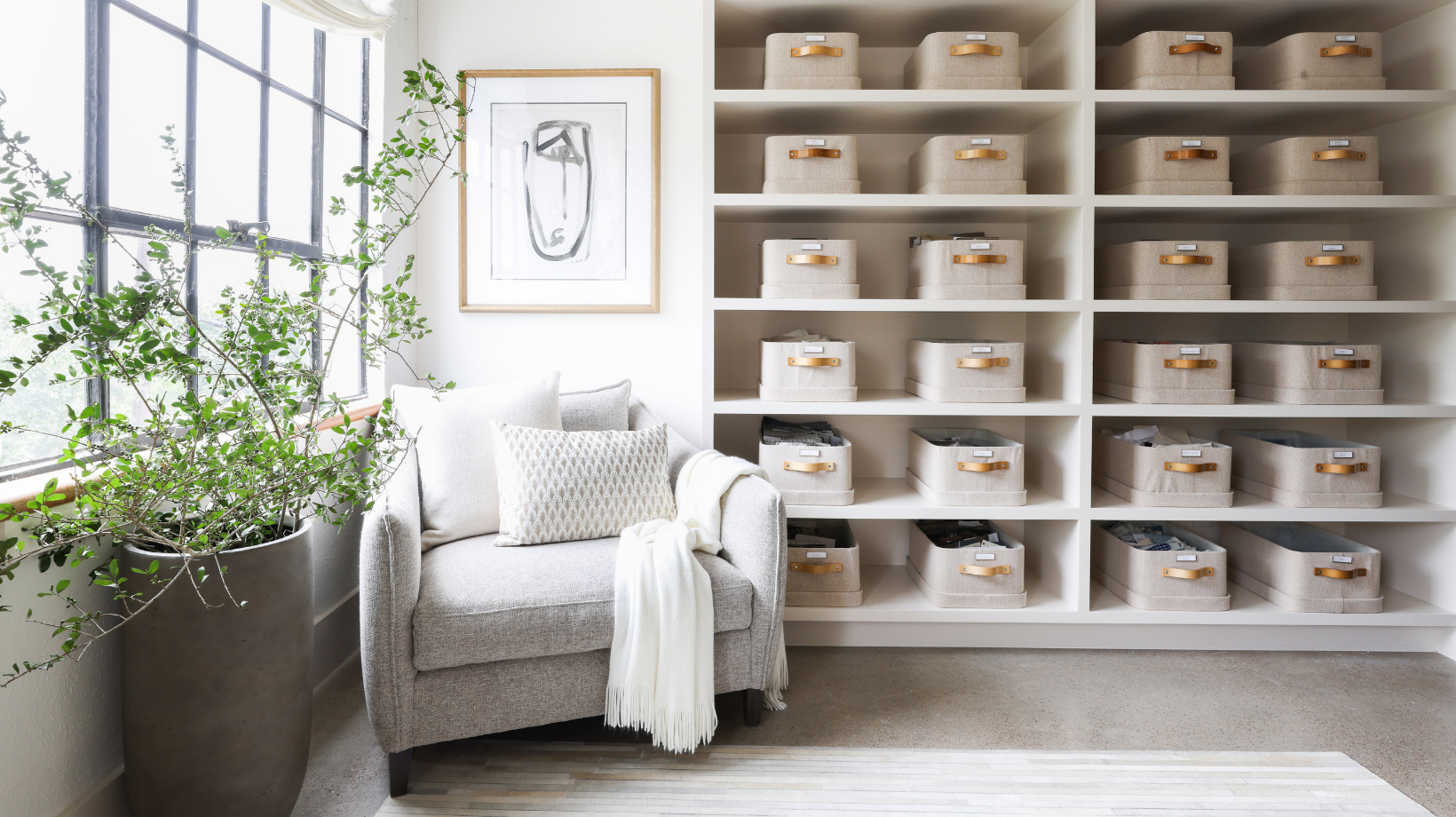 KK: To wrap it up, can you give us your two overall biggest design tips?
MF: We've touched on my two biggest takeaways from designing a space, but these tips are so important!
It's most important to identify what you need in your office space. We were incredibly fortunate as we were in our last office for nine years so we could really pin down how we worked and what would serve our needs best. Take time to collaborate with your team and get their input on what allows them to be most comfortable and efficient.

Have fun designing your space! Offices are such an important reflection of your company; take pride in how it looks. Further, everything doesn't have to be completely done or figured out before you move in. Sometimes working in a space for a bit allows for additional ideas and efficiencies.
Shop Kravet Contract here.
Shop More Kravet Inc Products here.