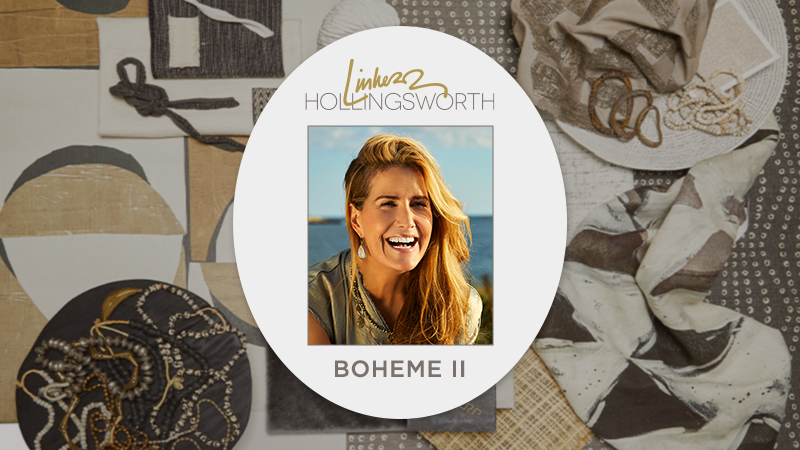 Linherr Hollingsworth never shies away from going the extra mile – and her second collection with Kravet Couture is no different. Bohème II is rooted in classicism and has a rich, soulful vibe. The patterns and textures are artful, abstract and authentically imperfect. Hollingsworth has further developed the Bohème story by offering more depth and pattern play between the two collections. This collection is now available in showrooms nationwide, and in celebration of this second launch, we caught up with the interior designer to offer some behind the scenes details of creating this evocative collection of fabric, wallcovering and trim.
Kravet: How does Bohème II build off the story of your first fabric collection with Kravet?
Linherr Hollingsworth: Bohème II shares, fundamentally, the same foundation as Boheme I; we've further developed the story by offering more depth and pattern play between the two collections. We wanted each to stand on its own, but also for the two collections to really speak to each other and work together. Bohème II continues to highlight my love of Art & Architecture but with a freer hand, and speaks to my innate belief that it is our responsibility as designers to keep pushing the boundaries of pattern play and texture. Bohème II is a collection of inspiring new patterns that are wonderfully luxe and modern, offering an easy and relaxed vibe relevant for today's lifestyle. The overall feeling of Bohème II is simply stunning – both architectural and tribal, the collection has a natural depth and richness that evokes a timeless effortlessness.
K: Did you feel the story of Bohème I was unfinished, and how does Bohème II pick up where Bohème I left off ?
LH: Mainly, Bohème I was a great story that was just beginning to unfold. Our signature patterns such as Baturi, Retouche, and To the Point, have been really well received, so I felt it was the most natural step to build on that foundation. I began to think of Bohème II as a collection that would be an evolution of Bohème I and would reflect how I see the world … the past, present and future. 
In designing Bohème II, it was essential to look at where we'd been with Bohème I and to know where we were going with this new collection. Whether designing for a client with a more minimalist clean lined modern interior, a layered pre-war, or a beach cottage, our patterns, fabrics, and color palette needed to continue to inform and inspire. My goal was to keep our customer and community inspired and engaged by creating an unforgettable experience.
K: How do you think your collection fits into the shifting new landscape of the interior design community?
LH: I really see the future of interiors as being all about our creative culture as an experience; this is what builds our social fabric (and directly inspired the name of one of our wallcoverings – "Social Canvas"). We really are all in this together and today, more than ever, our client is reinforcing the need for comfort in their spaces, throughout the luxury market globally. Whether it be looking at iconic spaces and products from the past and envisioning it in a new way or looking to the future, we all seek inspiration – this is what drives me to refresh my surroundings and dream big! In designing this new collection of complementary patterns, our existing customers will now have an entirely new offering/world of fabrics and colors to expand their room vibe. All of the new products connect back to Bohème I, offering a continued fresh, modern, relatable, and timeless vibe. Fresh and modern, Bohème II continues the dialogue of the importance of boldly scaled, architectural patterns, solidly set amongst a strong framework of subtle and sophisticated solids – capturing a wonderful balance of relaxed and comfortable as represented in our linens and mixed fabrics/ mixed fabric body cloths.
K: What was your design process like when creating Bohème II?
LH: When I'm not in the studio, I'm typically traveling or painting, which are both huge influences on this collection and my designs as a whole. My love of abstract impressionism also strongly inspires my overall hand and vibe.
In creating the artwork for Bohème II, everything felt very loose and free. I think the "process" was way more fluid this time around, as I had a better understanding of how to move through the process with the Kravet design team. I feel Bohème II speaks to the laid-back lifestyle we are all seeking today.
K: How did artwork influence your fabrics, wallcovering and trim?
LH: For this collection, I really was inspired by the artwork I find in nature and in my surroundings. In the summer, I often paint outside in the field by our home or jump in my truck in search of a quiet area along the north east coastline. It's in these excursions that I find nature's artwork. "Teatrino" was inspired from the triangulated roof tops in our summer village, while "Puka" was a simple geometric pattern play on a small beach shell. As for "Niko Mod" it was inspired from my love of Brutalism and reimagined in the forms of large boulders left over from a glacier that once settled on our farm land.
With recent developments in building materials, I feel we're witnessing more freedom and playfulness with architecture. I've been acutely aware of the need for some more open and refined patterns, inspiring me to imagine and design "Divergent" and "Diverging". These patterns are so serenely simple and the perfect pattern for a more subtle open geometric when nothing else will do.
K: How would you describe the Color Palette of Boehme II?
LH: Bohème II's distinct color palette tells a story that is meant to be rich and soulful, yet subtle and chill. It's a story about what we all hold most dear, such as the wonder of a gentle sunset reflecting on the mountainous Cathedrals in Wyoming or the myriad of colors found in the sweeping sand blown plains of the Mohave Dessert.
Informed by what I'm most comfortable with, I always find myself returning to my love of black & blue which is such a timeless look. For Bohème II, our ground cloths are lighter and brighter, with amazing ivories added in. With a nod to global fashion, I felt the time was right to create a neutral palette of beautiful greys, blushes & terracottas. For a warmer palette, patterns steeped in warm honey & amber, work back to an ombre of greens, ivories and burnished metals, supporting yet another comfortable neutral option.
K: How did you imagine some of your fabric patterns translated to wallcovering?
LH: Mainly, when designing patterns, I typically look at form first and then imagine how it could be scaled and used for interiors – whether best for a fabric, a wallcovering, or a trim. I see objects and furniture as shapes, lines, and forms. Not all patterns translate easily to wallcoverings and part of our job as designers is to continuously keep an eye on what really seems to work well and what doesn't. The design process just can't be forced, when it's right, it seems to come together easily. Typically, if a pattern can be imagined as a fabric and a wallcovering, we test if first as a fabric. If a pattern is well received, then we might test it by introducing a few skus as a wall covering. For Bohème II, we felt strongly that "Diverging" & "Divergent" would be successful as both fabric and wallcovering, so developed both simultaneously.
K: How did you design the trim in this collection to complement the fabric and wallcovering? How do you see all three working together in an interior?
LH: For Bohème II, we've decided to keep it simple, with a focus on solids rather than pattern work. The Trims for this collection play more of a supporting role to the main character, which is the textured solid or the more signature print. The myriad of brushed tapes in heathered yarns with coordinating cords in subtle metallic yarns work back to each of color palettes, and can be selected for use on the leading edge of a drapery, or for a chair welt, or pillow trim. I really feel that Bohème II's trim offering seamlessly underscores the narrative of the collection as a whole.
Shop Bohème II here.
Shop Kravet here.