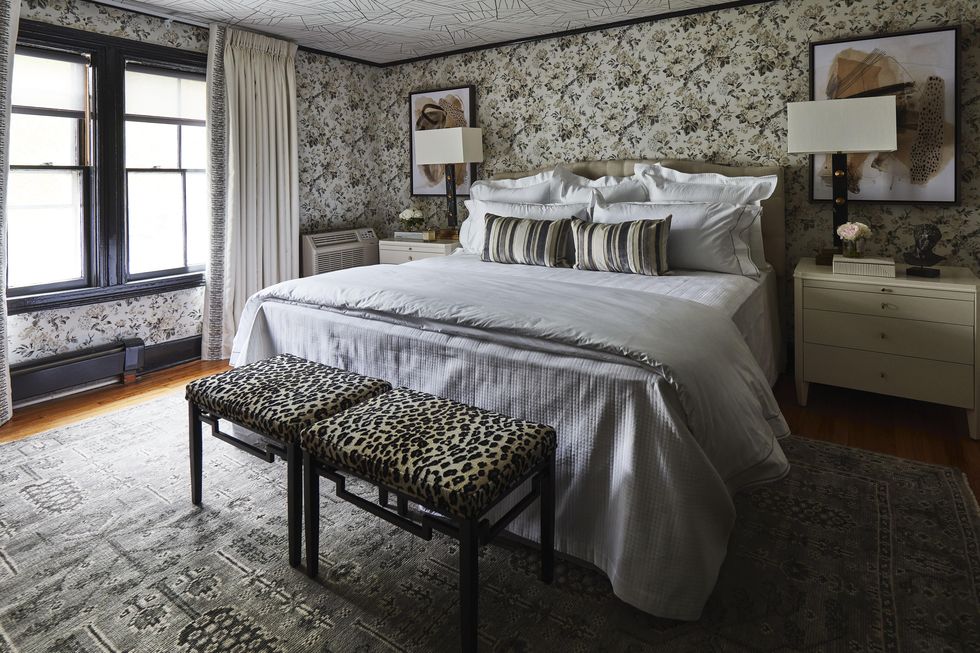 Room By: Christy Davis | Products Used: Garden Roses Wallcovering and Echo in Pearl | Photographer: FRANK FRANCES
Kravet Inc. is proud to support The Kaleidoscope Project, a first-ever designer showhouse celebrating diversity and talent within the interior design community intended to amplify the voices of those who rarely have been given an opportunity to be heard. Kravet had the pleasure of working with 19 accomplished designers to help transform the centuries-old Cornell Inn located in the heart of Lenox, Massachusetts. Let's take a deeper look into some of these talented designers' rooms and what this project has meant to them.
Co-founder of the Kaleidoscope Project, Patti Carpenter, worked with Kravet to create The Vivian Room, named for her mother. When reflecting on the showhouse, Carpenter says, "We wanted to amplify the diverse voices within our design community and to expand the narrative of high-end design while broadening the expression of beauty to be less Euro-centric and more expansive." Carpenter used Iridescene- Barrier Reef wallpaper by Winfield Thybony in The Vivian Room which added a touch of nature and texture to the accent wall.
Gail Davis, principal designer and owner of Gail Davis Designs, another talented designer who worked with Kravet, says, "The Kaleidoscope project is a thoughtful opportunity to showcase the talents of designers of color, where we normally would not be invited on such a large scale." Davis transformed The Harriet Room in the Main House into a restful oasis inspired by the serene bed and breakfasts of Northern California. "I like how personal it feels and everyone seems so connected," she says about the feeling she gets when staying there. Davis used CuratedKravet's Galewood Side Table to tie her room together, noting that the accent was the perfect finishing touch.
Doreen Chambers curated The Silver-Thistle Room in the Carriage House, named for Brunschwig & Fils' iconic Bird & Thistle pattern, which is used on the walls of the room. "It has been an honor and a privilege to take part in this important initiative," says Chambers on the extraordinary project. Chambers, who is known for her sophisticated environments and serene ambiance, wanted her room to feel like a beautifully cozy guest room with soothing shades of silver, green and yellow.
Virginia Toledo, co-founder of Toledo Geller Interiors says, "The Kaleidoscope Project has brought BIPOC designers together to participate in a groundbreaking showhouse that will live in perpetuity, allowing the mission to be celebrated for years to come." Toledo, who describes her design philosophy as "controlled chaos," spent a lot of time researching neighboring inns to create a memorable space that guests would really want to hang out in and feel compelled to post about. Toledo named her room Comparte, which translates from "to share" in Spanish, and used two Kravet products in her dining space, Kravet Design – Duane-19 and Kravet Basics – 35374-50.
Iantha Carley, who was a Kravet employee for several years, was also a featured designer in the Kaleidoscope Project. For Carley, the Kaleidoscope Project is "an important step in advancing exposure and opportunities for BIPOC designers, and allows for the presentation of diverse points of views within the design communities." Known for her modern traditionalist design philosophy, Carley created a beautiful space, titled The Bennett Room, in which she used a wide variety of CuratedKravet products, including the Barnet End Table and Deco Rays Luggage Rack.
When it comes to design philosophy, DC interior designer Shawna Underwood believes that a space should include items you love and evoke emotion. "This is my first showhouse," says Underwood. "It's commendable that it celebrates the talented work of BIPOC designers in our industry." Underwood's goal with The Hudson Room was to highlight details like pattern, texture and color and have them become the focal point of the room. "I wanted the room to embrace guests and have an instant feeling of coziness," says Underwood. She used GP&J Baker's Baker House Velvet in her room which she says was perfect for a simple, low headboard and bed skirt.
Dennese Guadeloupe Rojas of Interiors By Design's motto is a simple one: "Maintain authenticity in style and texture; atmosphere is everything." Rojas was captivated by the rustic and historic setting of the Cornell Inn and welcomed the opportunity to design The Doreen Suite in the Carriage House. This project was especially important for Rojas, who says, "Opportunities to showcase our skills as designers of color have not always been available in the renovation of historic properties." Rojas wanted to create an inviting and luxurious space that makes each visit to the Cornell Inn memorable and used Kravet Couture's New Ideas Velvet to upholster the pillows on her sofa.
Kravet was honored to collaborate on an Instagram Takeover with Rydhima Brar of R/Terior Studio to showcase her stunning Caroline Room in the Main House of the Inn. Brar was especially drawn to this project saying, "With all the proceeds from the showhouse going to students of color who are interested in the arts, I just knew I had to be a part of this." Brar is known for creating contemporary spaces that juxtapose the eclectic with the luxe and used this philosophy to design her room at the Cornell Inn. Brar partnered with The Shade Store At Kravet, a shop-in-shop available in select Kravet showrooms, to create a flat roman shade upholstered in Kelly Wearstler's Post Velvet to fit her space. Brar's entire process is captured on Instagram.
Rasheeda Gray of Gray Space Interiors also partnered with Kravet in an Instagram Takeover to show off her dazzling space. The Rasheeda Room, which is anchored by Kelly Wearstler's Graffito Wallcovering, is centered on rejuvenation, creativity and self-evolution. Wearstler's bold and graphic print paired perfectly with a selection of Clarke & Clarke coordinates to tie the room together. "It's a small space, so I wanted to make sure I made a big impact and the Graffito wallpaper in salmon worked perfectly," says Gray.
Kravet and its entire family of brands are honored to have worked with these 19 talented designers to showcase the diverse talent within the interior design industry. Spearheaded by Executive Vice President Ellen Kravet, this project perfectly encapsulates Kravet's mission to be inclusive and give back to the interior design community. "Kravet commends the founders for bringing this opportunity to the extraordinarily talented and diverse BIPOC community of interior designers." says Ellen Kravet.
Kravet also worked with designers: Austin Gray Design Group, Chanae Richards, Christy Davis, David Santiago, Everick Brown, Jennifer Owen, Johanna Howard, Linda Hayslett, Nikki Klugh, and Rio Hamilton.
See more from the Kaleidoscope Project here.
See Kravet's Instagram coverage here.
Shop Kravet Inc. here.