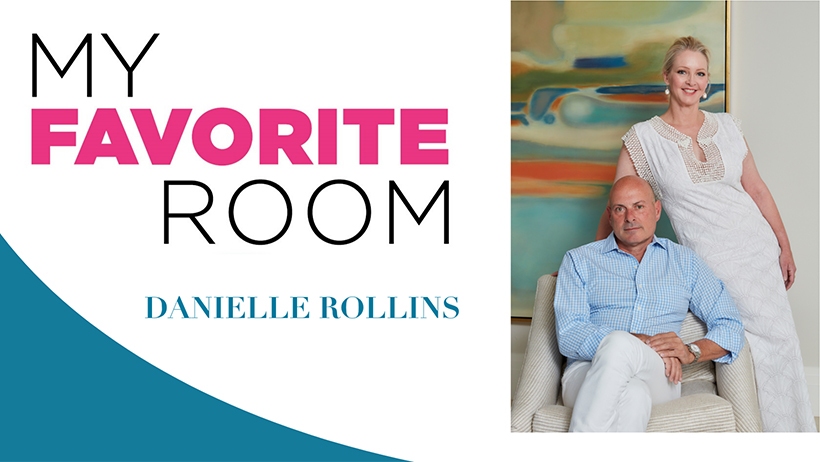 Kravet Inc. is taking you behind the curtain at some of our favorite tastemakers' homes as we are all practicing responsible social distancing. We are all spending more time in our homes than we ever expected to, so we want to know: what's your favorite room?
Interior Designer Danielle Rollins takes us on a tour of her Palm Beach, Florida home, where she is sheltering in place.
K: What was your overall goal with this space when you were planning the design?
DR: The elegant mid century One Royal Palm building designed by Howard Chilton on the corner of Royal Palm Way and South Ocean Blvd has always been one of my very favorites in Palm Beach. I took my cues from the mid century streamlined exterior of the building and went for a "masculine mid century nautical vibe" but with a polished feminine touch to create a space that gave it purpose for the Palm Beach lifestyle. Soft soothing colors, mostly neutrals mixed with seaside inspired hues of blues and a layout that was designed for impromptu gatherings and entertaining, I filled the home with plush, comfortable upholstery, Art Deco and mid century pieces, and easy streamlined styling with nods to glamorous touches of a steamship. I love the space which is kind of a radical departure from what people think of me doing.
K: How did using Kravet Inc. products help achieve that goal?
DR: I did this project during the same time frame as I did Kips Bay, with a very quick completion. I used a lot of vintage pieces purchased locally, on First Dibs, through auctions and Chairish. I did the lions share of fabrics and wallpapers in Kravet, Lee Jofa and Brunschwig & Fils because I have such a long time relationship with the company and close relationships within the showroom. While I like certain fabrics because of their color, they stern, weave, texture and feel as the designer, on any project it's a luxury to have a good relationship with a company for the easiness it brings, on one with a short time frame, it's absolutely crucial and critical for the business side. I know that the company will do whatever it takes to help me get the product, and that I can count on Kravet fabrics for consistency in dye lot color and quality.
K: What is your favorite room in your home? Why?
DR: I think it's a combination of the living room and the master bedroom. The living room is ultra comfortable and kind of makes you want to glamorously lounge about. I love the Dunbar inspired sofa, the Maison Jansen glass, brass, mirror and lucite cocktail table & that the space is filled with sunlight from the wall of sliding doors. The bedroom is paneled in ivory ultra-suede complete with a coordinated custom designed platform bed, wall to wall carpet, and luxurious silk curtains banded in denim blue. It is beyond cosseting and cozy.
K: Were there any hurdles you had to overcome with this redesign?
DR: We did the majority of the project during Palm Beach "quiet season" when we couldn't do major construction. We had to do some things to temporarily function and redo during the summer season. For instance, the bathroom was renovated later but I created or bought double the amount of the wallpaper used in those spaces because we changed the countertops but didn't want to live in a "tbd" unfinished space during the time we could enjoy being here. Other issues were the typical wording in a building project, sofas had to go over a fence, creatively getting some pieces of furniture into the unit and the overall frantic pace of a 3 month turnaround. I like the challenges though!
K: What have you been doing during this time of social distancing?
DR: Because I have a rare and potentially severe immunodeficiency placing me at a greater risk, we have really withdrawn to the sanctuary of our space. I have been able to work on organizing closets, revamping an "entertaining arsenal" with new porcelains, linen and cookware. I've been cooking a lot, which has been really nice because I had been on a multi year hiatus- or boycott – according to my children. We have been restoring and decorating a much neglected historic landmark 1938 Art Deco home a few blocks away. It's been a great – and safe – distraction. I have had a luxurious place to work on my new book coming out this fall with Rizzoli, called "A Home For All Seasons- Gracious Living & Stylish Entertaining" and started a "Live At Five" Instagram series with my best friend, fellow designer Billy Ceglia.
K: Has it made you more appreciative of your home now that you are spending more time in it?
DR: I'm very much a homebody & not that much of a "people person" so I think I was well suited for this! Because I am probably most well known for entertaining, author and have a capsule clothing collection in addition to my core design business, I have always joked that I'm a "lifestyle" designer not an interior only designer. But the truth of it is that other than missing my friends and family, I'm in heaven— I have enjoyed "nesting and investing."
Take a tour of Danielle's beautiful home here.
Shop products like these here.