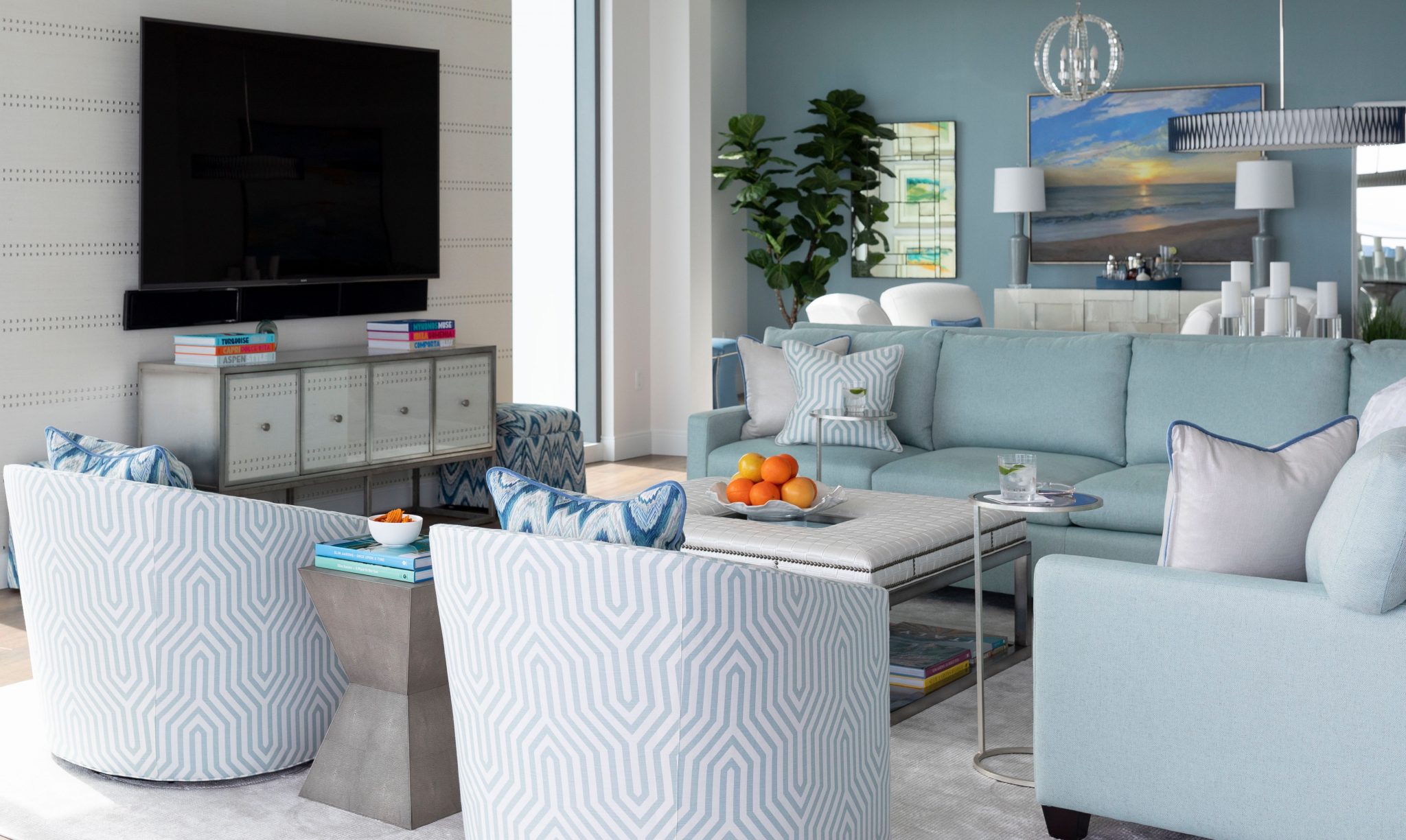 At Megan Gorelick Interiors, four times a charm! Gorelick embarked on her fourth project with her loyal clients and created a stunning oasis in St. Pete Beach, Florida. Gorelick takes pride in her firm's dedication to personal connections with clients, showing precise attention to detail in every new endeavor. This exciting design project in Florida was no different.
Gorelick and her clients went straight to Kravet for their fabric needs. "The clients are huge fans of Kravet products," says Gorelick. "We have used primarily Kravet fabrics in all of their projects."
With this latest design project, Megan and her team wanted to create a super-sleek and modern penthouse for her customers – a total stylistic change from where they started years ago. Aside from striving to create a glamorous home for her customers, it was also important that all fabrics were treated with Crypton Home Finish. "They are obsessed with clean!" says Gorelick. Having the choice to treat all Kravet fabrics with Crypton's durable finish gave her clients the peace of mind they needed to live comfortably and without worrying about a mess.
A favorite room in The Penthouse of One St. Pete is the master bedroom. Gorelick's clients especially love the doors to their master bedroom, which are upholstered in a Kravet Smart faux leather fabric. They were so fond of how their closet door looked that they decided to also use the same fabric on their theater room.
In order to achieve her design goal of creating a modern atmosphere for her clients, Gorelick incorporated many bright white fabrics to the master bedroom. Gorelick chose to upholster the headboard and frame in a Lee Jofa performance fabric, which brings a sense of brightness to the overall aesthetic of the master bedroom. Gorelick built off that statement with crisp and clean accents throughout the room, including the bed pillows, swivel chair, and ottoman – all upholstered in Kravet Design ivory fabric.
In the end, Megan Gorelick Interiors was able to create a striking interior that met their clients' needs.
Working on your own project? Shop products like these here.