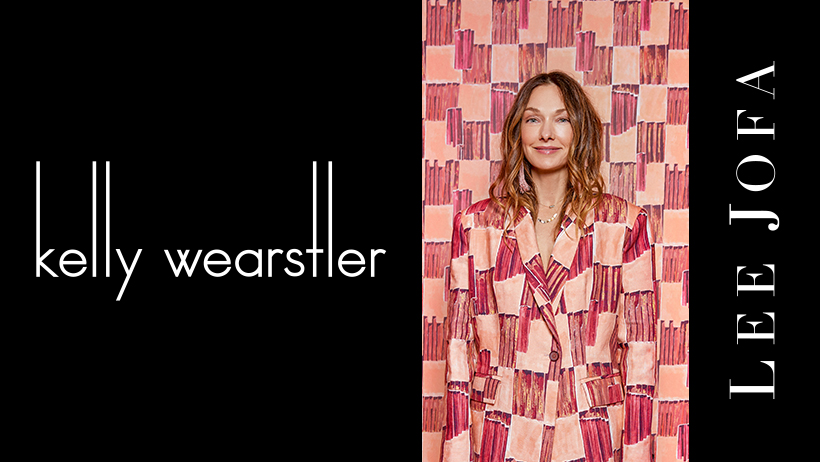 Kelly Wearstler is back with her fifth collection for Lee Jofa. With eight fabric designs and five wallcovering designs debuting in an array of unique colorways, Kelly Wearstler V ushers the designer's signature style towards the future and lands precisely in the present with a collection of on-trend and versatile designs.
Read more to get an inside look at this remarkable collection and learn how renowned interior designer Kelly Wearstler approaches her design after all these years.
Kravet Inc.: What is the story you are hoping to tell with Kelly Wearstler V? What sets this collection apart from the rest that have come before?
Kelly Wearstler: With this collection I enjoyed experimenting with scale and the use of ombré, evolving the color stories in unique treatments that I hope will inspire designers.
K: What eras of design did you pull from for this collection? What are some of the main design influences we can see in this collection?
KW: I drew inspiration from vintage fashion, historical references, art and design – both contemporary and vintage. I shop very often and frequent museums and galleries when I travel; these are all points of inspiration for my work. This collection crosses over many different genres, eras and mediums.
K: Talk a little about the mix of textures offered in this collection. How do you see them working together in an interior?
KW: There are a lot of different constructions in the collection. There's CASCADIA, a large scale pattern printed on a very fine linen, creating unexpected beauty in contradiction. ARCADE is a finely woven chenille with a graphic print that's double sided, multi-faced. DISTRICT is large scale with an incredible color story. There are chunky slubby linens with a lot of resistance. We also looked at embroidery velvet and chenille. The collection plays with dimensionality – depth of field, like LYRE and HEX. STIGMA has fine texture and organic quality with earthy sensibilities.
There are fresh, dynamic color stories throughout, yet also quiet options. You can use all these fabrics together. There are so many different qualities to experiment with and create a distinctive dialogue. There is something for every interior.
K: What are 5 words you'd use to describe the aesthetic of Kelly Wearstler V?
KW: Multi-dimensional, expressive, graphic, luxurious, unique.
K: Your latest book, Evocative Style, focuses on your evolution as a designer. How would you say you have evolved over the years – as seen through your many fabric collections with Lee Jofa?
KW: There's an evolution of the color story and more complex construction and patterning. Earlier I was designing more in a monochrome palette and now some of our patterns have up to eight colors in a pattern.
K: Do you have any favorite stand-out pieces from this collection? What are they?
KW: DISTRICT is such a versatile fabric that adds dimensional quality to any space. With a nod to Cubism, this hand-painted print features oversized geometric shapes in a rhythm of color and form. The heavy linen groundcloth gives a full-bodied drape with a softness of hand. I used it for the cover of my new book Evocative Style and inside is an image from my home of a pair of Utrecht Chairs by Dutch architect Gerrit Rietveld upholstered in DISTRICT.
K: Have you traveled anywhere recently that served as an inspiration for this collection? Or more generally, are there any locations that inspired this collection?
KW: I've been working on a project in Asia and during my travels there I have been inspired by the beautifully rich color stories.
K: Will we be seeing any of your fabrics in any upcoming projects, like your recent Proper Hotel opening in Santa Monica? Are any of the design influences from there mirrored in this new collection?
KW: Yes, many! The Sereno Stripe in Santa Monica Proper (and as well in San Francisco Proper). Forthcoming we'll be using a lot of great prints, the striped hides and leathers at Austin Proper. It is incredible to work with Lee Jofa for my high-traffic projects as they will engineer any of the fabrics for durability.
Explore Kelly Wearstler V here
Shop Lee Jofa here