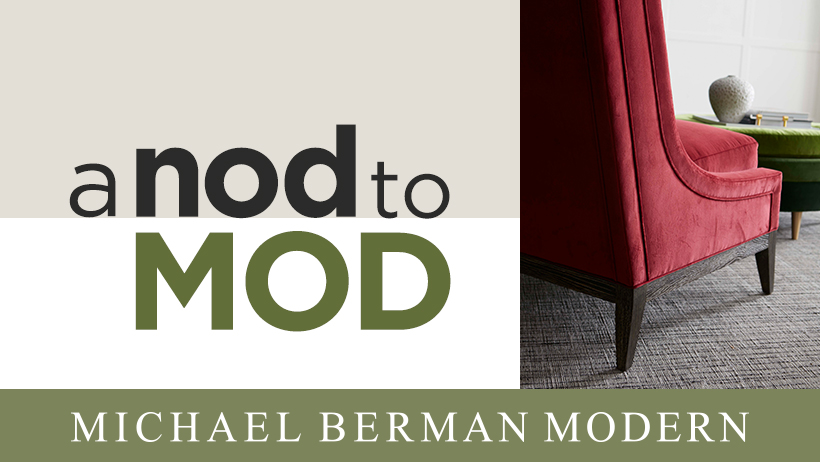 Second collection with Michael Berman Modern for Kravet Furniture
Michael Berman returns with a sophisticated sequel to his first collection of furniture with Kravet Furniture. This assortment of living and dining pieces are distinctly modern and massively appealing with striking designer details sure to make a statement in an interior. "I sketched out a cohesive line that unites our previous successes and the new designs for a wonderfully balanced and decidedly 21st century direction," says Berman.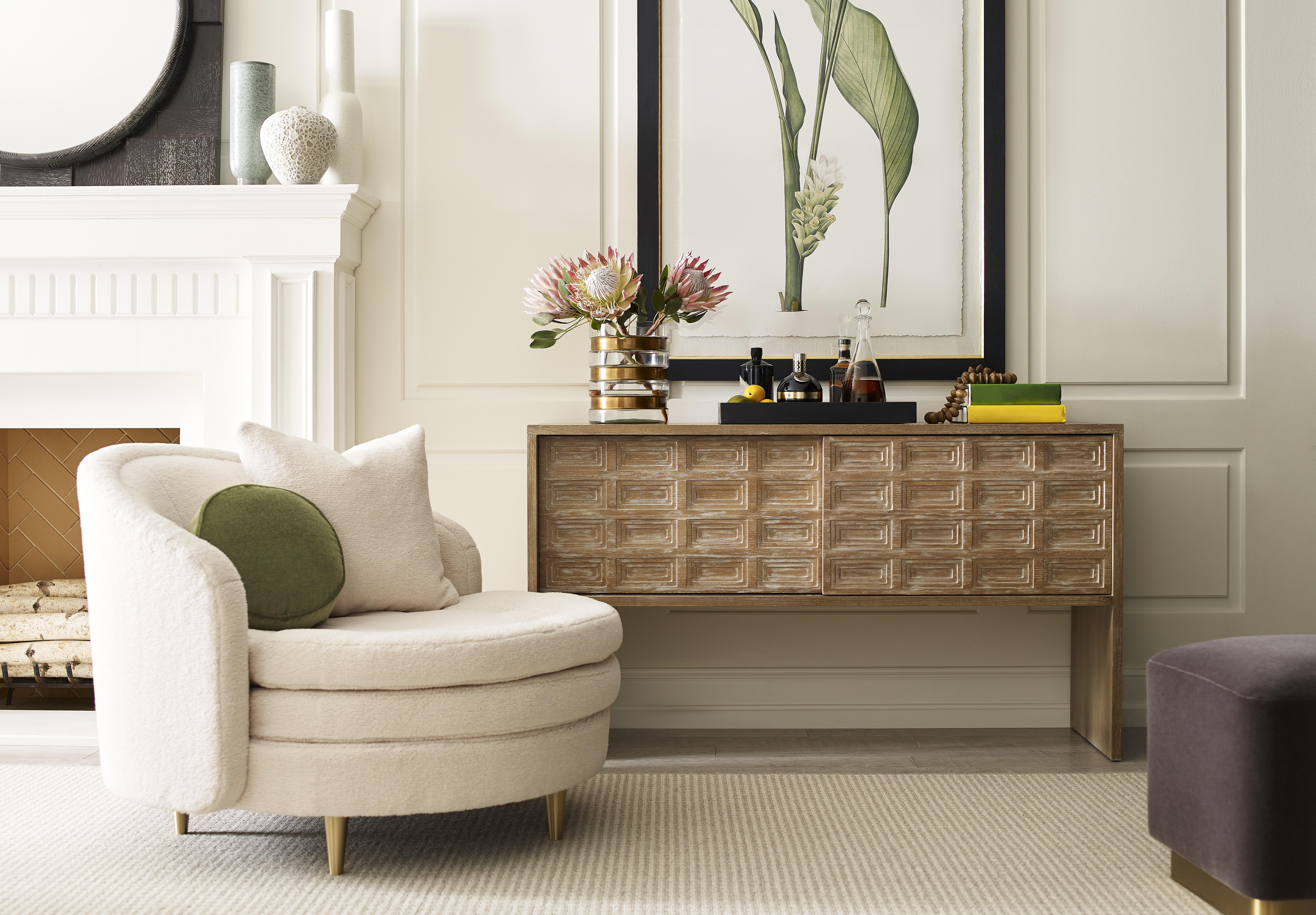 The intrepid designer says he was inspired by curvilinear shapes and vintage American Modernism, with a dash of 1950s Euro-modern and Brutalist forms. These elegant elements shine in stand-out pieces like the Quincy Dining Table and Adams Cocktail Table. "Intertwining my love for mid-century modernism and classic original lines, the new collection has an intrinsically sensuous layering," says Berman.
Known for his clean lines, Berman presents an assemblage of frames that is sleek, chic and transitional. Featuring a mix of living and dining pieces, this collection can outfit many rooms in the home. It's also versatile. "I believe this new furniture collection epitomizes the new casual lifestyle interior designers and architects are enthusiastic for in their own creations coast to coast," says Berman. "Reinforcing the importance of details, scale, integration and necessity for ultimate comfort are key."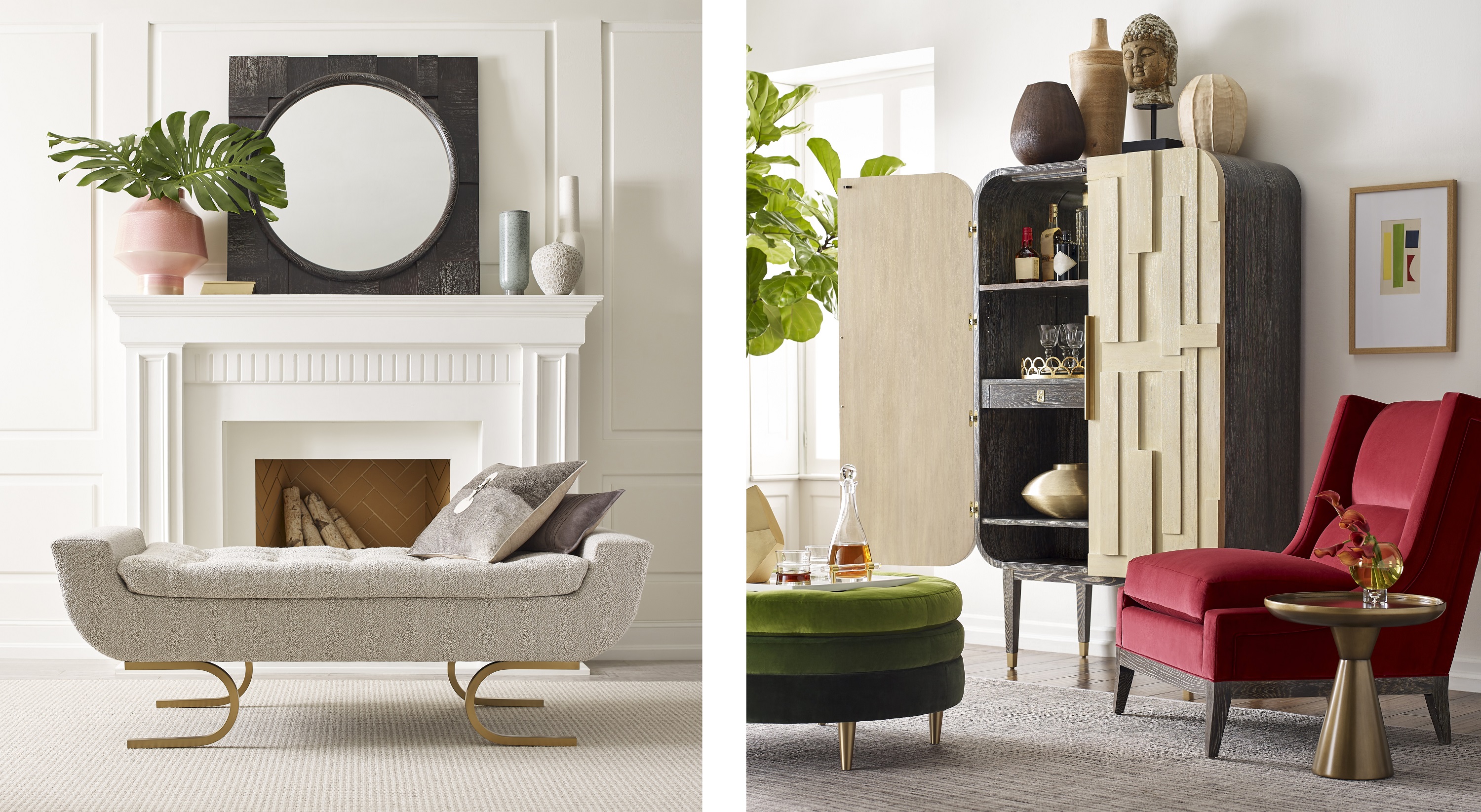 Among the many incredibly detailed silhouettes is the eye-catching Frank Cabinet. Designed as an anchor to a room, the Frank Cabinet functions beautifully as a bar cabinet or storage. The exterior is inspired by the architectural layering seen in mid-century Brutalism with refined lightness. The layered wood creates dimension and adds texture and depth. The interior of the cabinet is illuminated by two recessed LED lights and a softly reflective mirrored back. Brass integrated handles and brass boots add a warmth of metal to this piece, which is offered in two-tone wood finishes.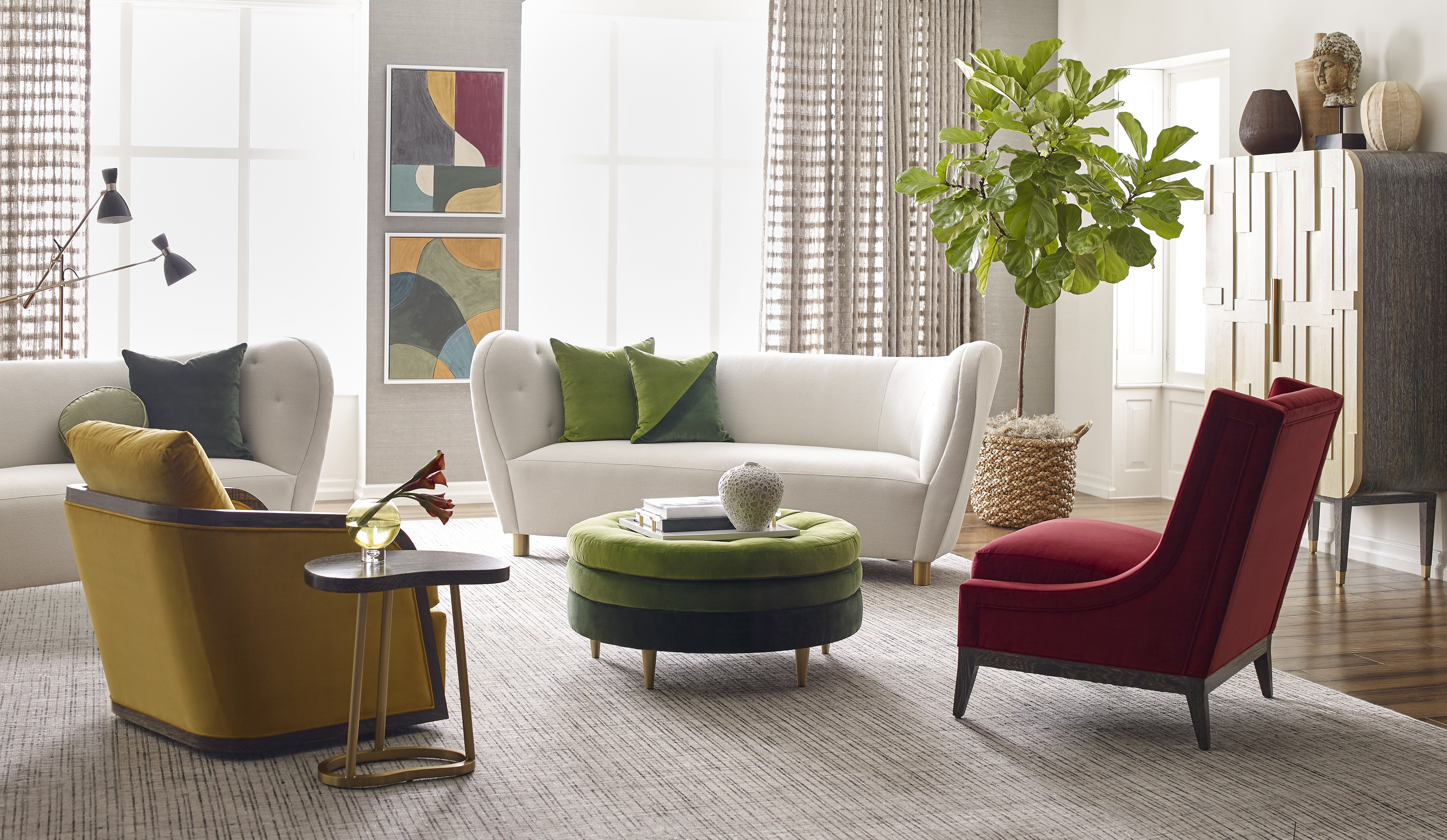 Inspired by the organic forms found in continental mid-century designs, the subtle button tufting on the inside of the Polara sofa emphasizes couture detailing in this collection. Pairing with this sofa are two swivel chairs, Garrett and Sheridan, both versatile frames with a modern flare. The Juniper sofa also has a beautiful mid-century vibe with generous interior seating that cradles in its corners. This sofa has a lovely exposed wood frame, which accentuates its curved silhouette. The Florence chaise features a stacked pancake seat and matching ottoman that opens a plethora of design opportunities.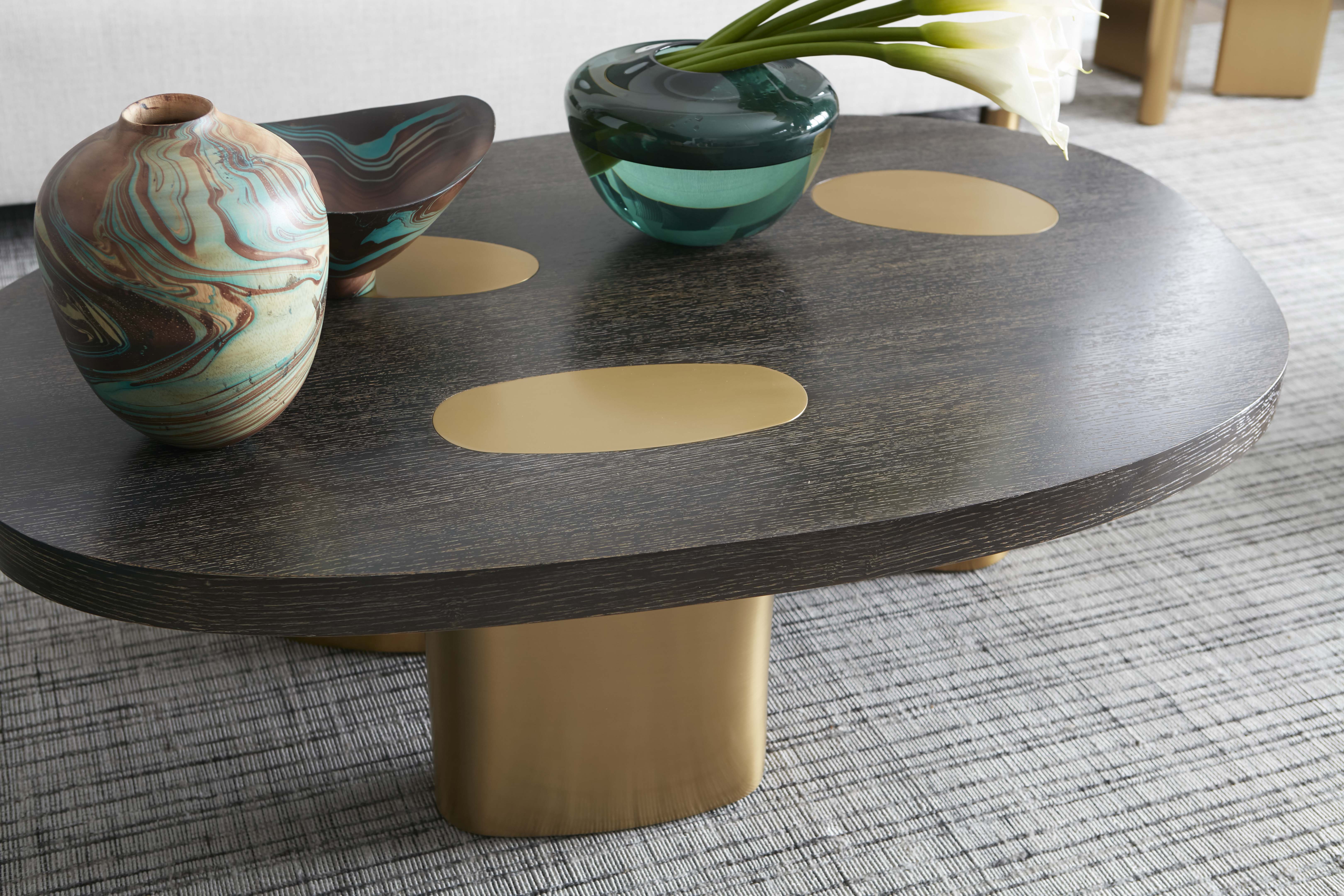 Berman says he created the Adams Cocktail Table to be reminiscent of a modified painter's palette. This unique piece features a soft curved shaped oak top with asymmetrically placed brass inlaid ovals over oval brass legs. Another versatile grouping, the Montrose Occasional Tables, have an organic shaped oak top with trip-post brass bases. Berman says they can be used as a duo or individually to enhance an interior.
Also included in this exciting collection are two new dining tables – both with a notable 1970s flair – along with three new dining chairs that pair perfectly for an elegant vignette. The Brooklyn Dining Table features a beautiful waterfall layering of shapes. Berman describes this piece as minimalist and geometric. The table has a cast base with a wire brushed quarter sawn oak top, making it exceptionally high-quality.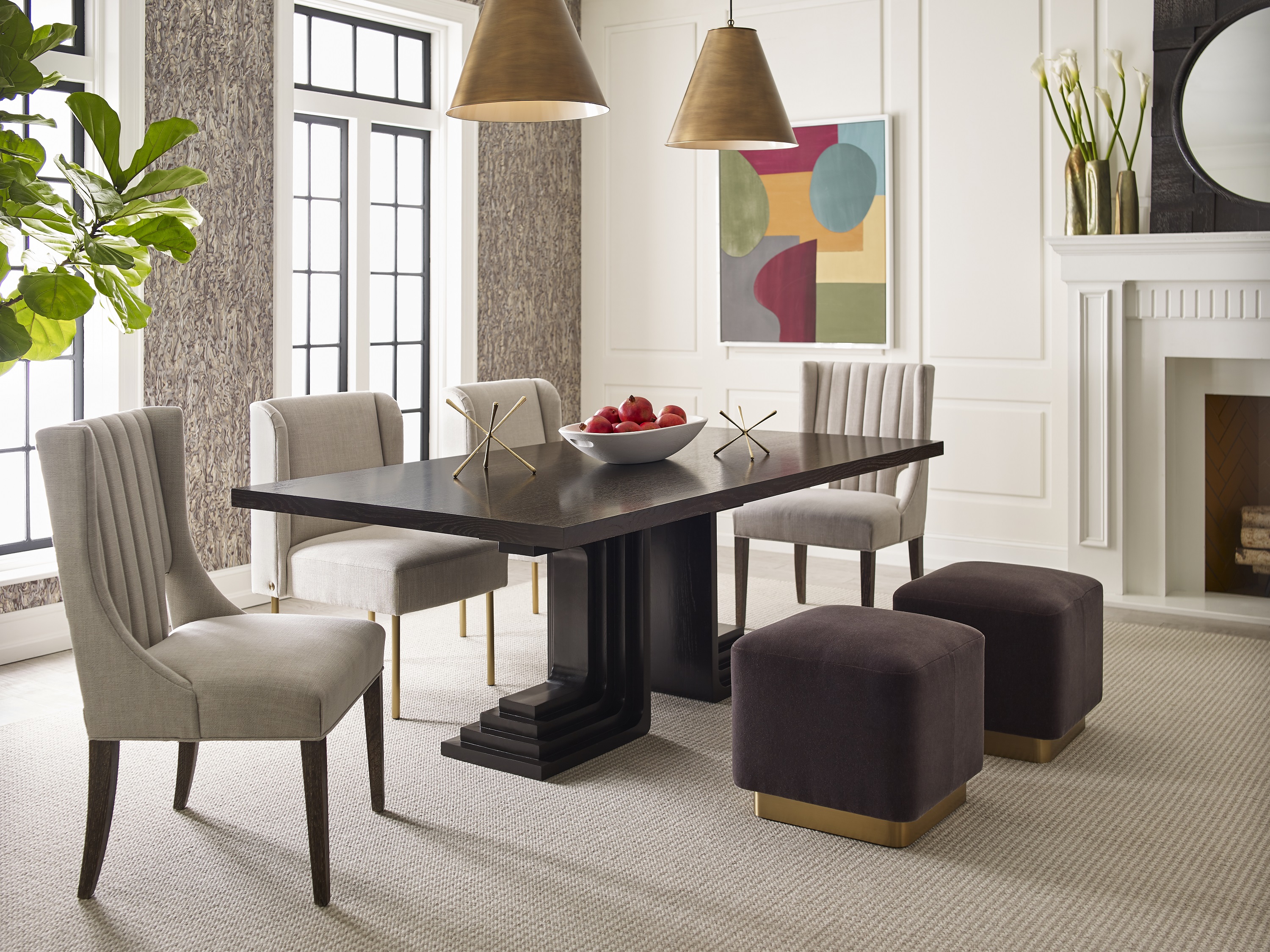 Shop the whole collection here.
Shop Kravet Furniture here.