Kravet Inc. had the pleasure of being a part of the 2nd annual Kips Bay Dallas Showhouse which features many friendly and familiar faces in the interior design industry. Kravet teamed up with Alexa Hampton, Amanda Lantz, Javier Burkle and Dennis Brackeen to help transform a spacious home in Old Preston Hollow at Woodland Estates. All proceeds are going to Kips Bay Boys & Girls Club of New York, The Crystal Charity Ball of Dallas and Dwell with Dignity of Dallas. Find out more about each special collaboration below!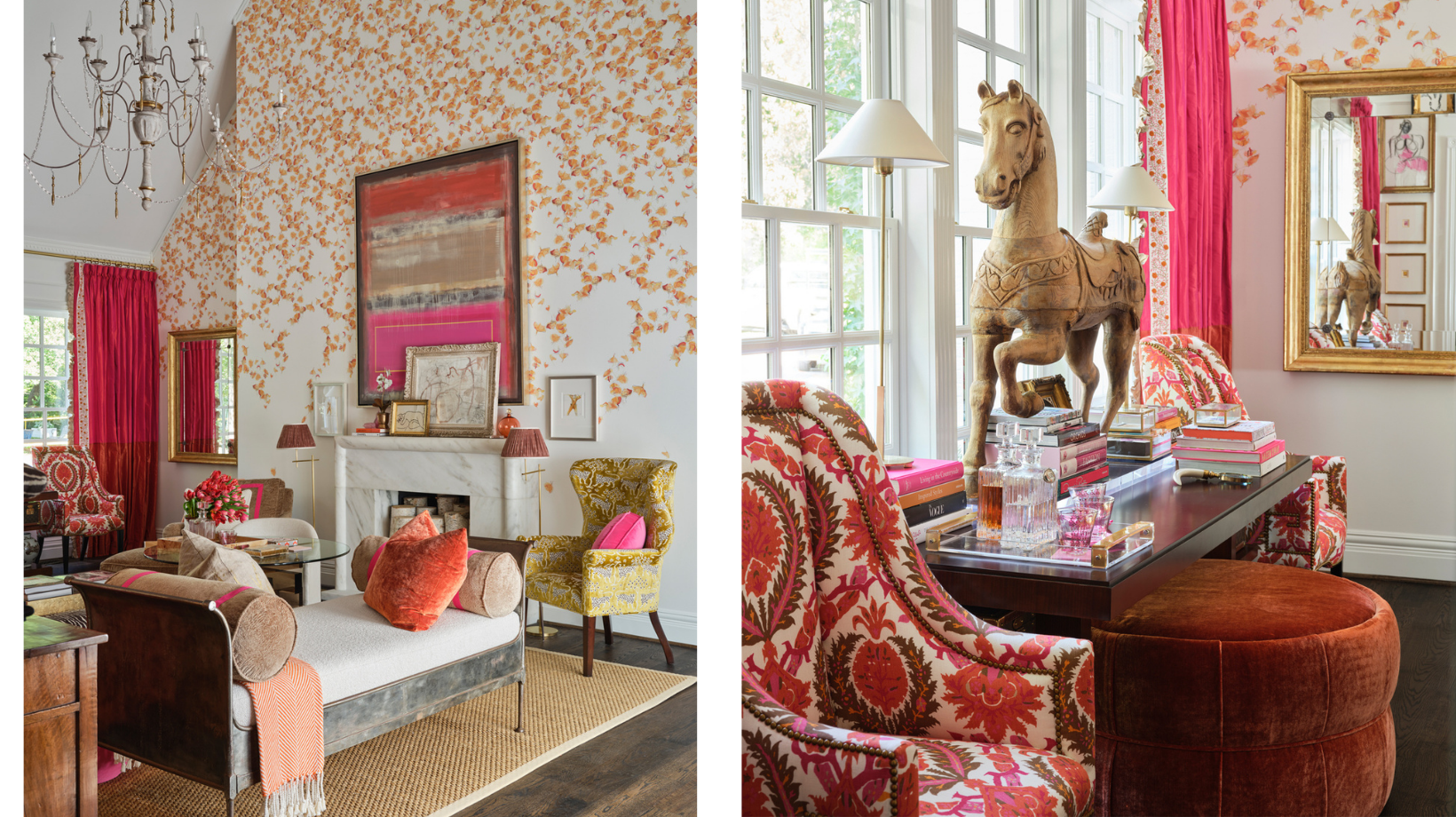 Amanda Lantz of Lantz Collective knew instantly that she wanted to use the pink room for her debut appearance at the Kips Bay Showhouse. Lantz loves to use color in her own personal design, but realizes often clients feel more comfortable with neutrals. In this instance, there was no client, so Lantz had the freedom to embrace what she loves the most in design. One of the first things Lantz noticed about her Kips Bay room was the gorgeous blank palette she was about to work with, then deciding that the space needed a wallpaper that felt like it was falling from the ceiling. Lantz and Kravet worked seamlessly together in picking out the perfect wallcovering to match the openness of the space. They landed on Kravet Couture's FALLING GINKO WALLPAPER from The Artist Series Collection, an exciting breadth of work that features real life artwork from artists transformed into one of a kind wallcovering. Lantz, who partners with her father Barry for Lantz Collective, instantly imagined the gallery wall and a huge piece of her dad's art over the fireplace.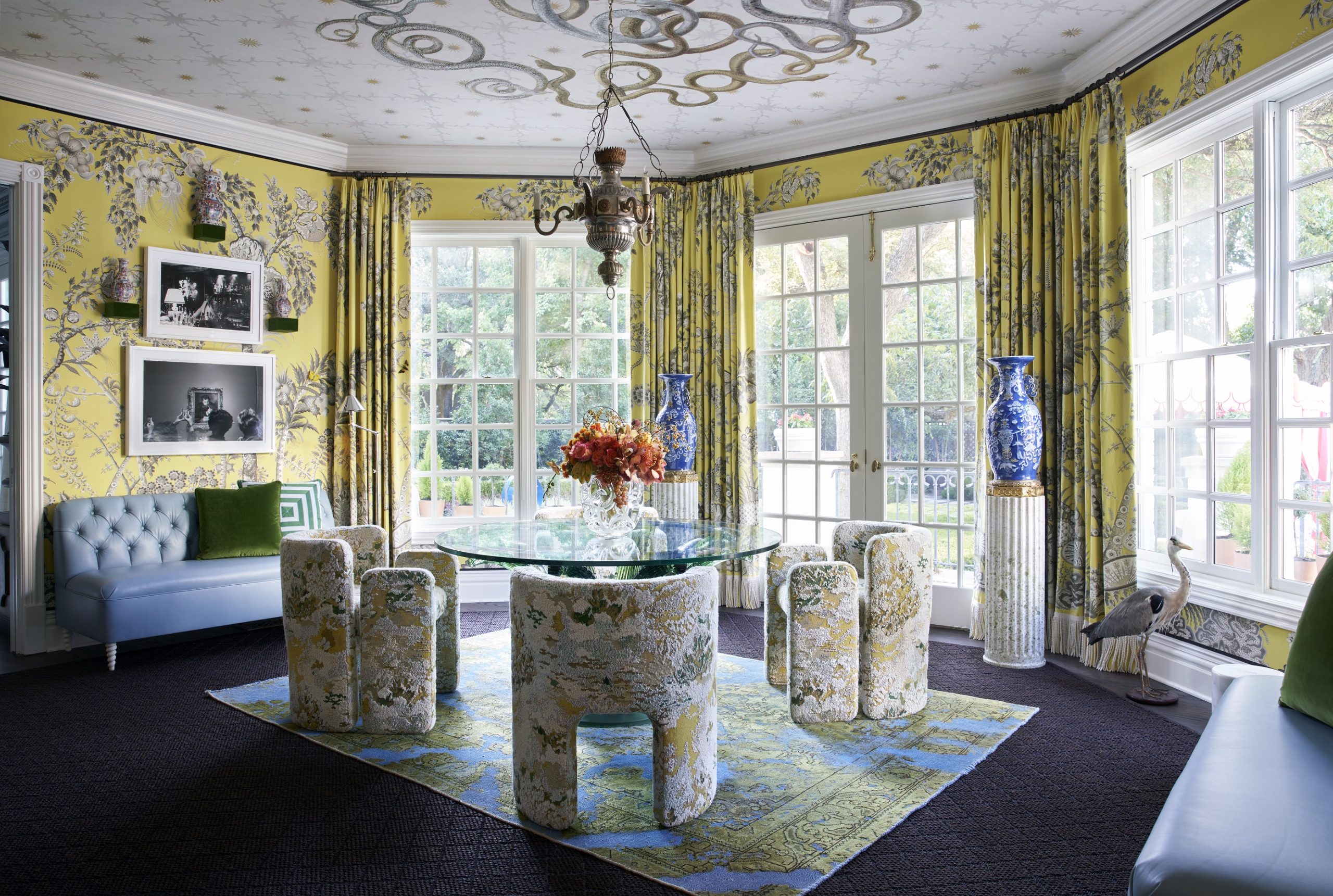 Known for his bold, eclectic and unmistakingly original designs, Dennis Brackeen delicately curated his Kips Bay Dallas room, 'Menagerie Chinois'. Brackeen drew inspiration from Palampore textiles, a type of hand-painted bed cover that was made in India during the 18th century often featuring exotic tree of life patterns. Although the room is intended to be a morning room featuring a bar, Brackeen wanted to curate a transitional space that one could use from day into night time. Brackeen was first drawn to the incredible outdoor view the room offers and wanted to highlight its natural light. This room, which is illuminated with yellow, was the perfect fit for upholstering the chairs in the Métaphores print, EDEN, offered through Brunschwig & Fils.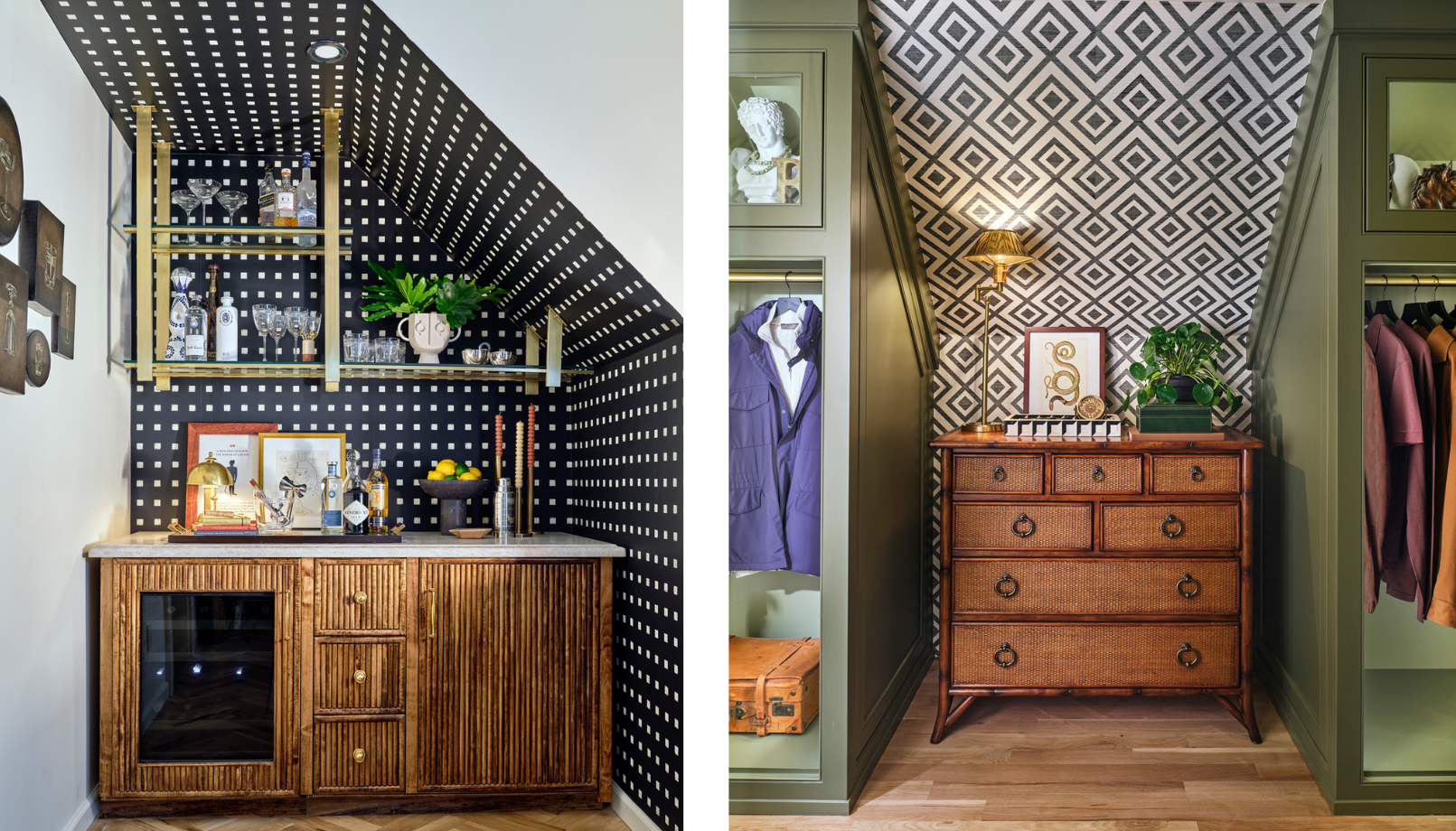 Javier Burkle of Burkle Creative designed the primary closet space in the Old Preston Hollow with the help of two Lee Jofa wallcoverings, Kelly Wearstler's CHALET and David Hicks' FIORENTINA. Originally from Mexico City, Burkle is known for his creative vision, personal style and design talent. When Burkle first saw the space that he was working with, he knew instantly that he wanted to take advantage of every aspect of the room and was able to create functional spaces and a seamless flow. Burkle is the youngest of the designers to be featured in the Kips Bay Showhouse recalls what an honor it was to be a part of the Kips Bay Showhouse, "It's been really exciting to showcase my design creativity through such an amazing platform—as well as work alongside this year's outstanding group of designers from around the country."
Long time friend of Kravet, Alexa Hampton was another featured designer in this remarkable showhouse and brought the energy with her striking red room. Hampton had the honor of designing the primary bedroom for the house and knew right away that rich red was the direction she wanted to go in. Hampton, who is known for her use of bold colors, admits that it has been a long time since she designed a room this exact color red. Although not her first showhouse, Hampton realizes the honor this showhouse receives. "To be invited to participate in a Kips Bay showhouse is a privilege and an honor like no other in one's decorating career," says Hampton. "If Kip's Bay comes a callin', you show up!" Hampton browsed the Kravet Inc. family of brands and selected three unique fabrics that match her color scheme. She used Lee Jofa's Holland Flamest and Barnwell Velvet and paired it with Brunschwig & Fils' Labyrinthe Tape.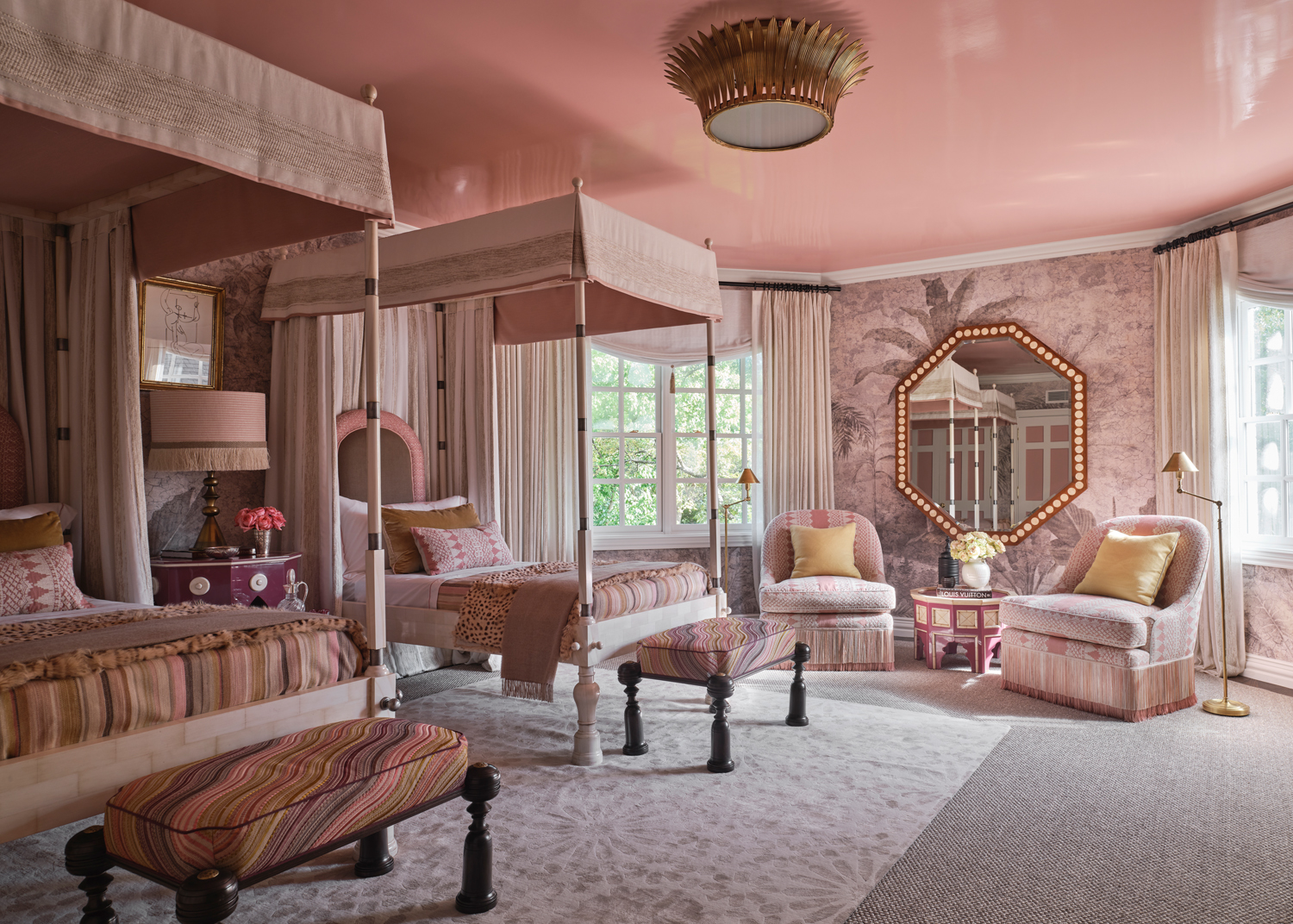 The final designer Kravet had the honor of working with is multi-award winning Los Angeles-based interior designer, Martyn Lawrence Bullard. Bullard's room was inspired by the idea of exotic travel, given that we have not been able to do much of that over the past year. Bullard wanted it to feel like you had travelled to a magical location with his space. The designer ended up using Lee Jofa's Kelly Wearstler WATER STRIPE EMBROIDERY for benches at the foot of the bed to give the room a wonderful twist that is both modern and artisanal. This Lee Jofa fabric paired perfectly with Bullard's pink color scheme, offering a sense of calm.
Explore More Kips Bay Dallas Content here.
Shop Kravet Inc. Products here.