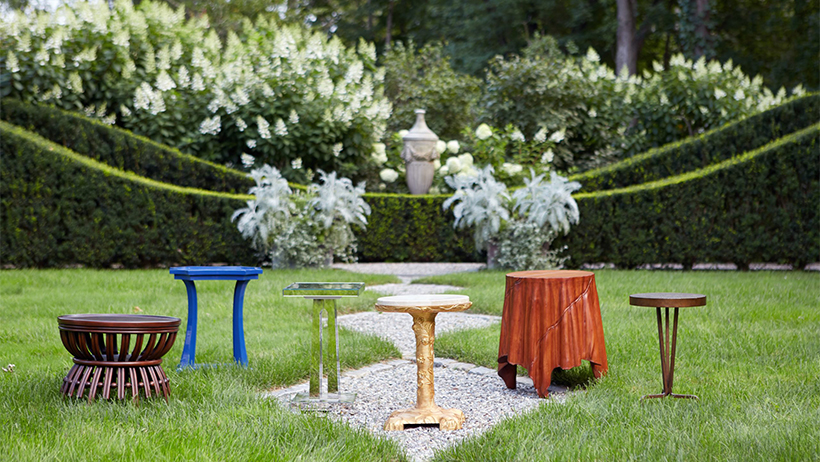 When you ask Bunny Williams what prompted her to start the line of furniture, lighting and accessories that now bears her name, she'll tell you that it all began when she couldn't find the perfect drinks table for a client. More than decade after this dilemma, Bunny has designed over a dozen of her own drinks tables which have become a staple of her namesake collection. Available at Lee Jofa, the drinks tables in the Bunny Williams Home collection span the spectrum of styles, materials and finishes.
"Small tables are a must. Make sure that each person has one near him or her for a drink," Bunny advises. It's not uncommon to count more than one drinks table in a room in Bunny's own home or in one that she has designed. This is no surprise, given that she attributes small stools and tables with what makes a room most inviting.
These pieces pack big personality while taking up only the space they need to, and we love them for their versatility. Perhaps most importantly, they speak to Bunny's appreciation for living well, encouraging us to put our feet up and kick back with a good book and a tall glass of iced tea.
"I like very low tables next to a chair as a place to rest a glass of wine or a cup of tea; without them, entertaining becomes very awkward," Bunny says. At fifteen inches high, the Precious drinks table is the lowest in the collection; an ideal height for next to a low chaise or chair. The design is inspired by the work of Armand-Albert Rateau, one of the most influential furniture designers in the early 20th century.
The Carel drinks table is another low profile table at sixteen inches high. Inspired by cubes that Bunny found on a trip to Italy, these nifty little tables have a contrasting checkerboard pattern and are also the perfect height to hold a drink. Two of them flank a sofa in Bunny's New York living room as seen here.
Bunny loves to create contrast with furniture that has different textures, finishes and styles in one floor plan so that each piece stands out. One of her long-time tips is to try incorporating a bit of gold in every room, since it reflects light and brings joy to a space. The base of the Albero drinks table has a lustrous gold finish that does just that. Stylized vines climb up the table's twiggy base, which is hand-carved as an homage to the 18th-century Rococo era.
The Bottoms Up Drinks Table can be seen next to a nearby chair. In the early 20th century, if you stepped into a cabaret club in New York City, you would have likely encountered a table similar to this one. Its open tripod base is handcrafted in wrought iron and the top is inset with either marble or lacquered wood.
The Mateo drinks table is one of the newest additions to the Bunny Williams Home collection. Drawing upon Mexican mid-century and Chinese Art Deco influences, it comes in vibrant red and green hues that capture its playfulness. Generously sized, it also works as a small side table, as seen here next to the Olivia Chair + Ottoman, a favorite hangout spot for Bunny's dogs Annabelle and BeBe.
When developing new pieces for the collection, Bunny cites creating the right finish as one of the most time-consuming parts of the design process. "Design is all about proportion and scale. It can be Roman, or it can be contemporary, but when the proportions, scale and finishes are right, it will always be very beautiful," she says.
One favorite finish is cerused oak, which is used on pieces like the Porter Drinks Table. Cerused finishes offer a sophisticated yet weathered effect that embraces the natural figure of a wood's grain. Cerused oak, also known as limed oak, is achieved when coats of finish are applied and rubbed away. Ridges of the wood grain retain some of the white coloring, giving the wood a muted color and weathered texture.
Texture is also an important factor to consider when decorating. With the look of draped fabric that's actually hand-carved wood, the Mini Skirt drinks table provides the dramatic shape and visual texture needed to break a room up and create interest. Light mahogany hand-finishing and natural variations make each table unique.
Explore more of the Bunny Williams Home pieces available at Lee Jofa here.
Shop Bunny Williams lamps at CuratedKravet here.