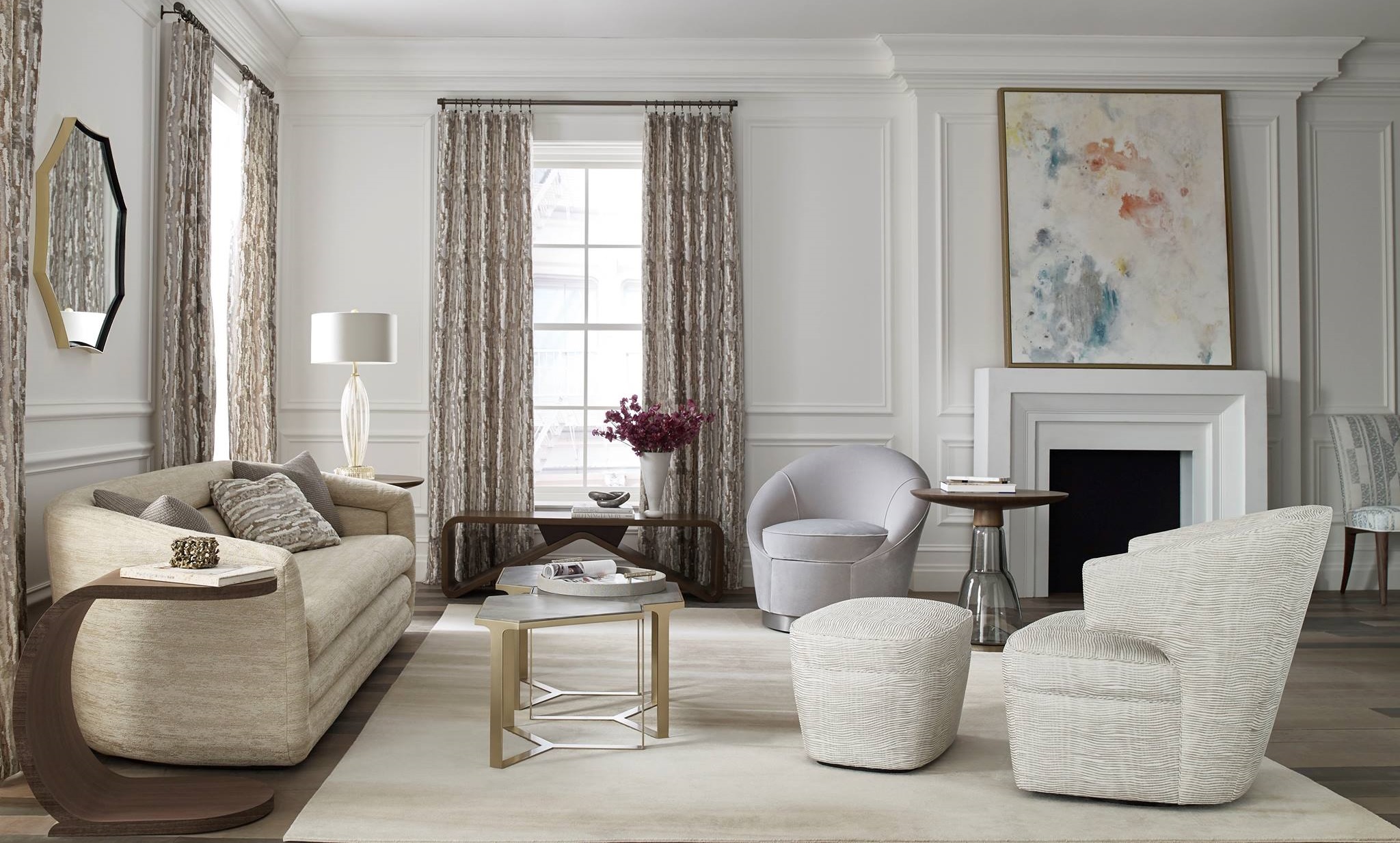 We are very excited to share the news that Donghia is now joining our Kravet family. Here is a message from Kravet Inc. President Cary Kravet welcoming Donghia and what this means for you, our customers.
Dear Valued Customer,
As you may have read, my family's fifth generation business, Kravet Inc., was very pleased to have acquired the assets of Donghia Inc.
We purchased the assets for two reasons. First, we love the heritage, style, point of view and asset value of the Donghia brand. Second, we believe deeply in the future of our industry. We will continue to invest our capital and our energies into developing and growing our brands in an industry about which we are passionate and to which we are devoted.
As one of our valued customers, I would like to keep you fully informed about our plans for Donghia.
What did we buy?
Kravet Inc. bought the assets of Donghia Inc. Those assets include all of the intellectual property, designs, patents, copyrights, inventory, website, social media sites, artwork, archives and samples.
Why did we buy it?
Angelo Donghia, the person, and Donghia Inc., the company, occupy an important segment of our industry's collective heritage and imagination. The person and the company developed and cultivated a style and look that are immediately recognizable. They are both iconic and enduring. It is rare that an opportunity arises to acquire and then redevelop a legendary brand. We decided to seize this opportunity for the long term benefit of my family's company. Additionally, it preserves a wonderful foundation of American design style.
Can I still buy my favorite pieces of furniture and fabrics/wallcoverings?
Yes and no. We are just starting to deeply delve into the brand's essence both quantitatively and qualitatively. There is much that has been discontinued and some that we will not reissue. Yet, there are still the iconic products that we will make available again. It will just take us a little time to resample and restock. We have most of the existing inventory ready for sale from our South Carolina warehouse, with inventory available on our website. We will also start to reorder stock on those iconic favorites.
Should I keep my samples and catalogs?
We really hope that you will. Samples are quite precious at times and if you decided to keep them all this time, then I suspect you expect to use them in the future. Our sellers will let you know which samples are no longer worthwhile keeping.
When will we see new product?
As I mentioned above, we really want to do our intense research into the Donghia brand- what is our customers' emotional attachment, what are the quick visual images that come to mind, what are your expectations and how can we meet them. These are the questions we will address before we develop any new products. Once answered, we will aggressively compress the timeline for new products. All factors considered, I expect it will take us until the second half of 2021 to introduce new furniture, fabric and wallcovering products.
Where and when can I see the iconic product?
By the beginning of 2021 we plan to have the iconic fabric and wallcovering samples hanging in many of our showrooms. This time lag is needed to enable us to replenish stock so that it is available for your orders! Stock replenishment takes 60-90 days. New furniture pieces will take about 60 days to produce. We will coordinate furniture and fabrics/wallcoverings to arrive in our showrooms at about the same time.
What is remaining in the line?
I have referred to iconic Donghia designs. This classification is determined by three factors- the sales history, the 'look' and some great input we have received (and hopefully will continue to receive) from our customers who were passionate Donghia users in the past.
When will memo samples be available?
Most memo samples are available now for currently active items. They will be shipped from our South Carolina warehouse via 2nd day air to most locations.
What will be my credit terms?
Your credit terms will be the same as they are for our other brands – Kravet, Lee Jofa, Brunschwig & Fils and GP & J Baker.
Who will be my seller?
You will have the same seller for all of our brands as well.
When can I order my favorite patterns and pieces of furniture?
Immediately is how I would like to answer this question. However, in reality, we will not be ready to take regular orders until at least mid-September. BUT, we will do whatever we can to assist before then if you have any fabric or wallcovering emergencies!
How can I place my Donghia product orders?
There are many ways. Our showroom and road sellers can take them. You can call 1-800-645-9068 and place your orders with our service team. Lastly, you can continue to shop on Kravet.com to place your orders. Please note that the Donghia pattern numbers will remain the same but we have added the prefix DG to work with our existing system.
As always, I want to take this opportunity to express a very sincere THANK YOU.

Shop Donghia here.
Get started on your next project today. Stay tuned for more updates on Kravet.com.