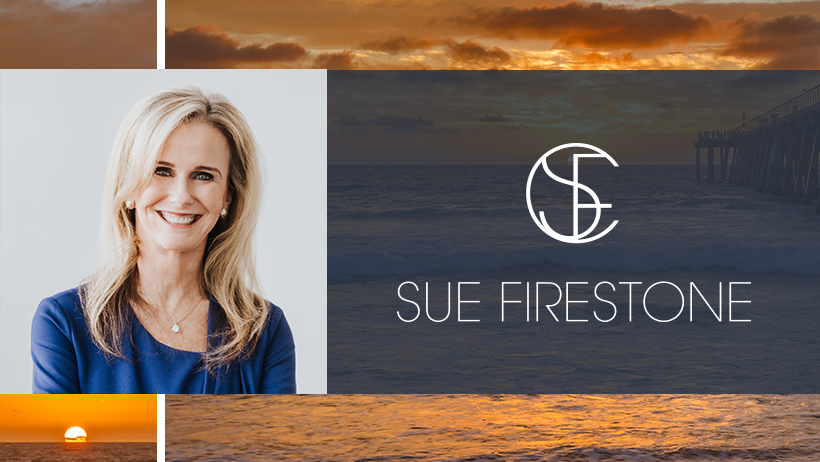 After a full year of unprecedented times across the world, we're finding the beauty in our local communities. For Sue Firestone, that means Malibu, California – where she's lived her life and sources much of her design inspiration. Follow along as Sue shows us her favorite local spots!
WHERE TO EAT
Leonardo's in Solvang, California
Sue's review: Great Italian food and a fun personal story! A decade ago when we had our sailboat in the Mediterranean we sailed into and docked in the owner Leonardo's hometown in Italy and met his huge extended family. All were invited on board and almost the entire village of Cariati swarmed aboard! This is a tiny town in the heel of the boot of southern Italy in the Calabria region. Since we have known Leonardo for years, it was so exciting to host his extended family who spoke not one word of English. This unique experience is one I will never forget.
A fabric that is reminiscent of this experience: Suzanne Kasler The Riviera Collection St Tropez Print slate/spice 2018136.225.0 the sails and the Italian palate are perfect!
WHERE TO WALK
Santa Barbara Harbor
Sue's review: This is my favorite place to see the ocean, the boats, the people; I have always loved the Pacific Ocean since growing up in Malibu.
A fabric that reminds me of this area: Bunny Williams Julianne-Blue 2015114.50.0 the whimsical blue pattern is like the white caps and the deep blue water…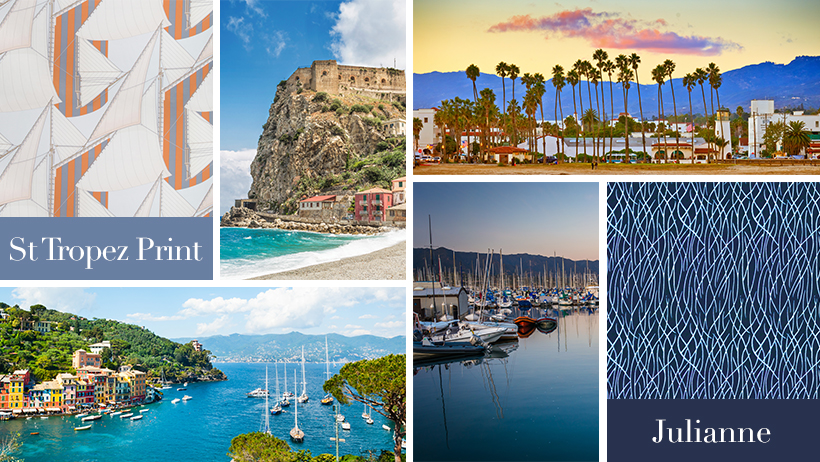 WHERE TO SHOP
Silverhorn Design Studio on Coast Village Road in Montecito
Sue's review: They made my wedding ring and any custom jewelry I've wanted. Their in-house artist works with me to design my own pieces and special gifts.
A Fabric that reminds me of this special place: Malibu Tinseled: Oxide 4459-11
The sparkle of the jewelry they create is reflected in this delicate fabric. Plus it's always fun to walk; shop and dine on Coast Village Road!
WHERE TO PEOPLE WATCH
Rosewood Miramar Beach
Sue's review: A spectacular hotel, but low key enough that it has become the local hangout for celebrities that live nearby, like Oprah, Rob Lowe, Kevin Costner and more! A fantastic setting to watch the sunset and move into a great dinner at Caruso's.
A fabric that reminds me of this hotel and setting is Barry Lantz Manders -Aquamarine Manders.13.0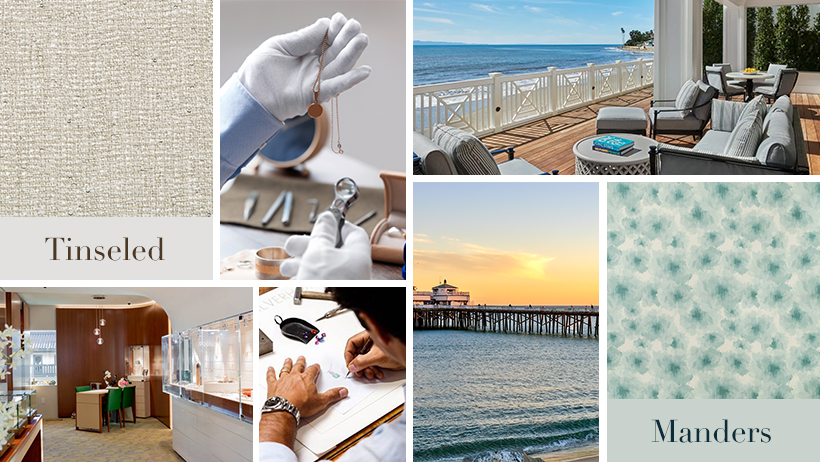 To shop more fabrics like these, click here.
To shop Sue Firestone's collections, click here.