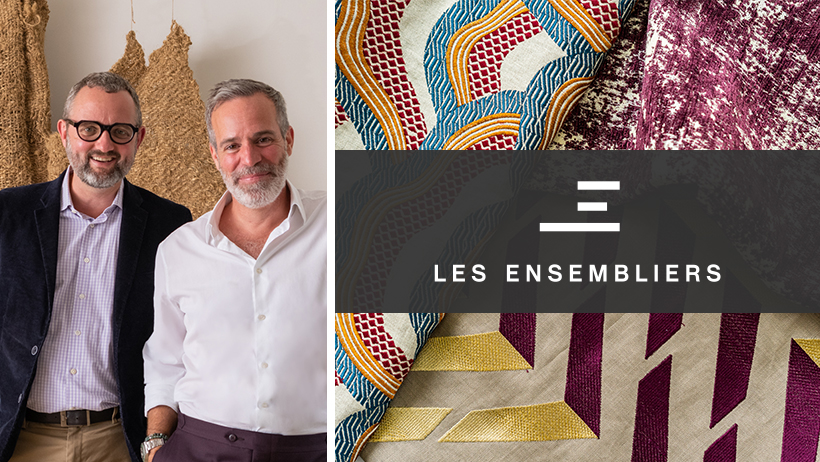 Les Ensembliers is back with another collection of stunning fabric and new wallcovering. This exclusive collection brings new colorways to existing fabrics from their first collection, as well as the introduction of wallpaper to the Les Ensembliers' offering. Featuring influences from Art Deco and the couple's grand travels, this next chapter of the Les Ensembliers' story presents a chic and elegant assemblage that is both artisan-inspired and approachable with a sophisticated color palette of rich hues. Canadian design-duo Richard Ouellette and Maxime Vandal tell us what it was like to create this second collection and what they are most excited about!
Brunschwig & Fils: How did you choose which patterns to transform into wallpaper? How do you see these patterns living on a wall in an interior?
Richard Ouellette: Our first decision to use the Les Écorces textured fabric and imagine it into a wallpaper was really exciting to me. Upholstered walls are making a comeback and to have it in our collection as wallpaper and matching fabric is such an old school approach. I just love it!
Les Pivoines floral is transformed as a tone on tone cork pattern and makes for such a special reinterpretation. It has old world character and a Venetian plaster aspect.
Les Plumes strié pattern is such a statement piece in our new collection and a beautiful nod to our Kips Bay Showhouse room. It keeps it alive in my heart! It will be a wonderful wallpaper application, bold in rich colors but also subtle and chic in neutral color ways.
BF: What are your favorite patterns from this collection? Favorite color?
RO: I am obsessed with our Le Tonnerre wallpaper. It's an incredible bold pattern that creates a diagonal line in the wall. Its name means "thunder" from a lightning storm; it's really strong and assertive. I love this idea in decor today – not everything needs to be at the same level and volume! The texture is matte and very paper-like…I just love it!
I knew before we designed the collection that I wanted grasscloths as one of my go-to in our studio. Turns out, it's one of my favorite patterns in our collection. La Pagode embroidery from our fabric collection applied on a perfect textured grasscloth. It is so chic and elegant! To me, it is the perfect revisit of a great classic we never tire of!
Grasscloths will always be a sure item in a collection – its natural hand, its beautiful imperfections and color variations – it's everything I love in a room! To have our La Pagode embroidered discretely and elegantly over it…well it's just breathtaking!
BF: Will you be using any of these patterns in any of your homes? Where do you see them working with the designs from your first collection?
RO: I've played in our studio with every fabric and wallpaper pattern and the whole team was so excited to see them harmonizing and blending seamlessly so well together. It is really exciting to me to create a continuous conversation in our collections. Not only do they feel timeless, but the fabrics from our previous collection now have a new point of view and dialogue with the wallpaper collection!
BF: Would you say this collection has a similar color palette or is more of an evolution for you in terms of color? How would you describe the collection's color palette?
RO: It's really a continued color palette…with some new hues of bronze, greys and blues, plums and terracotta. 
BF: What is the overall inspiration behind this collection? Were any of the patterns in this collection inspired by locations you've visited or places you've seen recently?
RO: We started playing with different inspiration sources from Art Deco, and love for everything Jean Michel Frank, to create Le Tonnerre. We continue telling the stories of our travels with our new scenic drawing of La Brume.
BF: How would you compare this collection to the previous collection you created with Brunschwig & Fils? How did the process of designing wallcovering differ from the fabric process?
RO: I would say the second collection feels more personal and maybe closer to our personal taste and aesthetic. It is certainly more assertive and confident the second time around.
I think wallpapers are easier to control and get a quicker sense of the result in the process than fabrics. I loved creating both collections and would do it everyday…they are different to create but both are as exciting!
BF: Can you choose a few designs from the collection you think coordinate well together in an interior? 
RO: The patterns are very different from one another…exactly what I wanted! I didn't want the collection to be one note! It's the opposite actually. 
That's why I love envisioning utilizing them in a scheme side by side and not ending up with a sense of everything coming from the same page. If there is one thing in décor I don't relate to it's a scheme or a room that feels like it comes out of one showroom or catalog!
I can't wait to build a dining room with our Les Écorces all around the room, inlay Les Tonnerre in wall paneling and why not use Les Plumes on the ceiling tray…wonderful!
Same things goes for using La Pagode in a formal room and mixing it up with La Brume or Le Tonnerre! Striking, bold and elegant! Best chic combination!
BF: How did you expand on the colors in the first fabric collection? Would you say the others are fashion forward and these are continuation of pushing that?
RO: I believe our Les Rizières and Les Vagues are classics! I am really excited about the introduction of the new colorways which are fun, bold and colorful. They are in fashion now, but the fact that the grounds are natural, muted and warm make them easy to use. They are a great addition to our previous collection and incredibly beautiful with the new wallpaper collection. 
BF: How was it working with the Brunschwig & Fils studio using such meticulous techniques to get the unique textures of the wallcoverings? How do these new textures and techniques complement the motifs in the wallcovering?
RO: I was adamant about having different techniques and finishes for our wallpaper collection and the creative team from the Brunschwig & Fils studio were fabulous and excited about the endeavor. They brought so many wonderful ideas and solutions while we created together. Every meeting was more energizing than the last because of the new techniques discovered and brought to the table! It was a delight creating this collection with them! The team is so knowledgeable and talented…the second time around was even more fun than our first collection!
Explore the full Les Ensembliers II collection here.
Shop Brunschwig & Fils here.