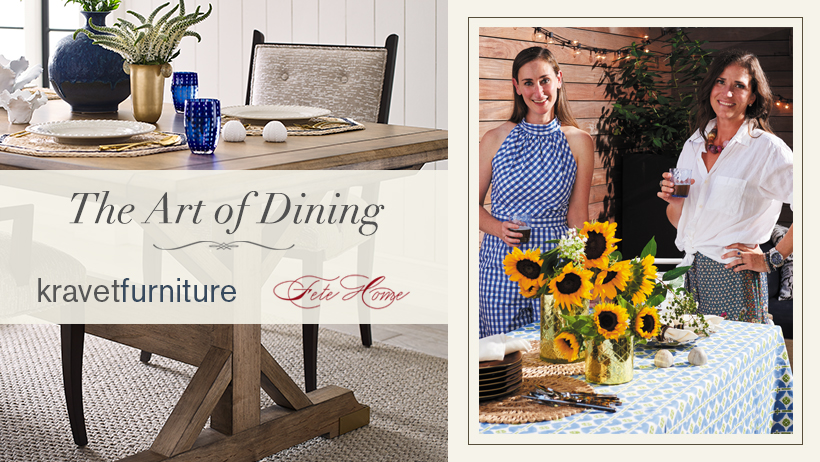 What goes into the perfect dinner party? We asked style experts Audrey Margarite and Jen Potter at Fete Home to give us the ultimate guide to an elegant entertaining experience. The two style mavens offer tips on lighting, decor and what pairs best with Kravet Furniture's latest dining introductions.
Kravet: Where do you start? What is the first stop on your journey to put together the perfect tablescape for entertaining?
Fete Home: When it comes to setting a table, we believe there are no rules. Just have fun! Typically we'll start with a color palette – blue and white is always a favorite, or red and pink. We love turquoise and brown . . . really, you can't go wrong! It's nice to incorporate different textures on a table – natural woven placemats, bisque vases, glassware with raised dots – all of this will add wonderful visual interest to your table.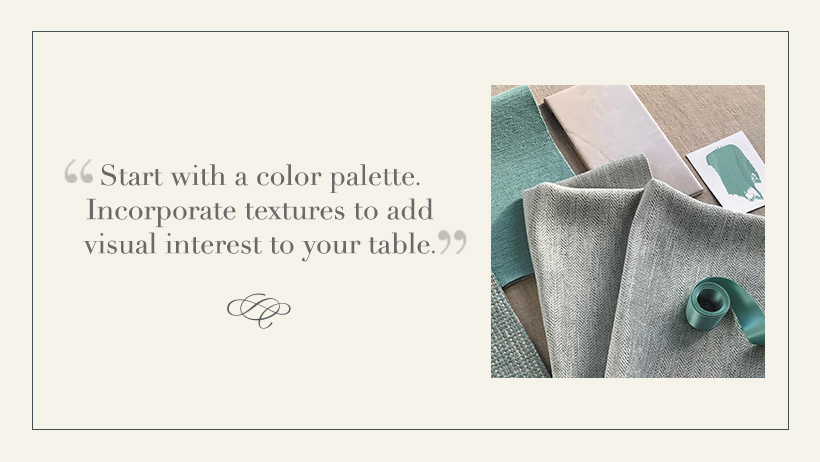 KK: How do you incorporate natural lighting in your dining space? Do you accent with table lighting/chandeliers/sconces?
FH: There's no doubt that good lighting really sets the mood for a dinner party. We love to use candlelight for the intimate glow it brings to a table. Votive candle holders grouped together are easy and something we always have on-hand. For taper candles, don't stress about sticking to symmetry – try groupings of three or more candlesticks of varying height. It will really add whimsy to your table. Recently, we have become obsessed with chargeable lamps, like our Splendidly Wireless Lamp. These lamps are great when there are children at a table and fire might be a risk. They also work wonderfully outdoors.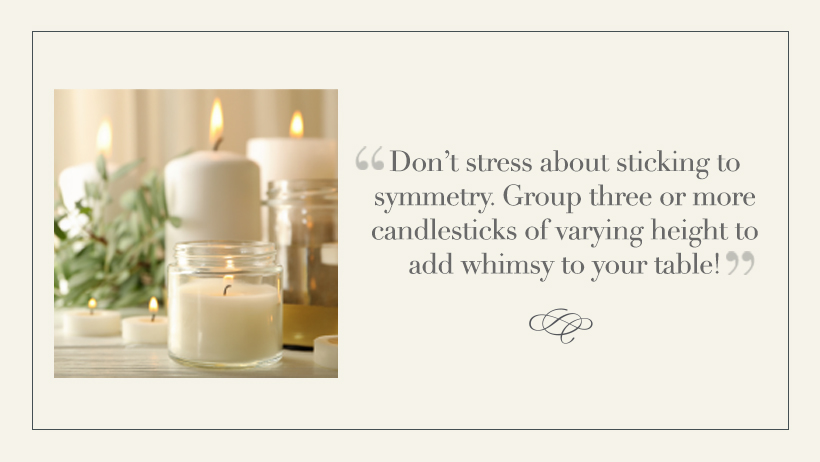 KK: How important is it to be seasonal with your decor? Fall leaves vs winter white?
FH: We love setting tables with seasonal flair, but firmly believe that you shouldn't buy an entire table setting that you'll only use once a year. If your cabinets are stocked with good basics – versatile dinnerware, dishwasher-safe flatware, good-looking glassware, and a bevvy of small bud-vases and votives, all you may need for a whole new look is a new tablecloth. And, don't forget to incorporate items from around the house. For instance, extra Christmas ornaments look beautiful at each place, Halloween candy in glass jars adds great color to a table and sea shells from a walk on the beach are perfect down the center of a long table.
KK: A tablescape isn't complete without flowers. How do you go about selecting your blooms? Do you go by color, shape, height? What are your favorites?
FH: Our taste in flowers is decidedly un-fussy. Seasonal farmer's market flowers are the best – dahlias in the fall, white tulips in the spring, hydrangea in the summer. But, we've also been known to put potted plants on the table. And, if fresh flowers are not doable, we always grab our Brass Tulips. These add such beauty to a table and do double-duty as a coffee table or bookshelf décor.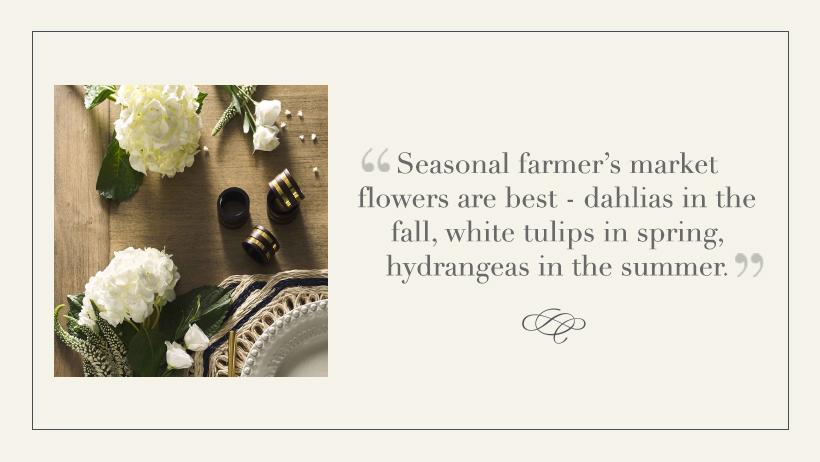 KK: Can you share 3 tips you'd say are most important when planning a dinner party – decor, place settings, anything in between.
No paper napkins! A quality linen napkin is remarkably easy to clean and elevates your table so much.
Sometimes simpler is better. Don't put too many accessories or vases of flowers on the table that make it hard for guests to see each other or to pass dishes.
A good playlist is key. Music will relax your guests, encourage conversation, and perhaps spark a spontaneous dance party!
KK: Can you select a handful of accessories from CuratedKravet that you would incorporate in a dining setting?
KK: What is your favorite dinner party welcome cocktail?
FH: A festive cocktail is a great way to make the evening memorable! But, don't fret if you're not a pro bartender. We love the cocktails from On The Rocks Cocktails.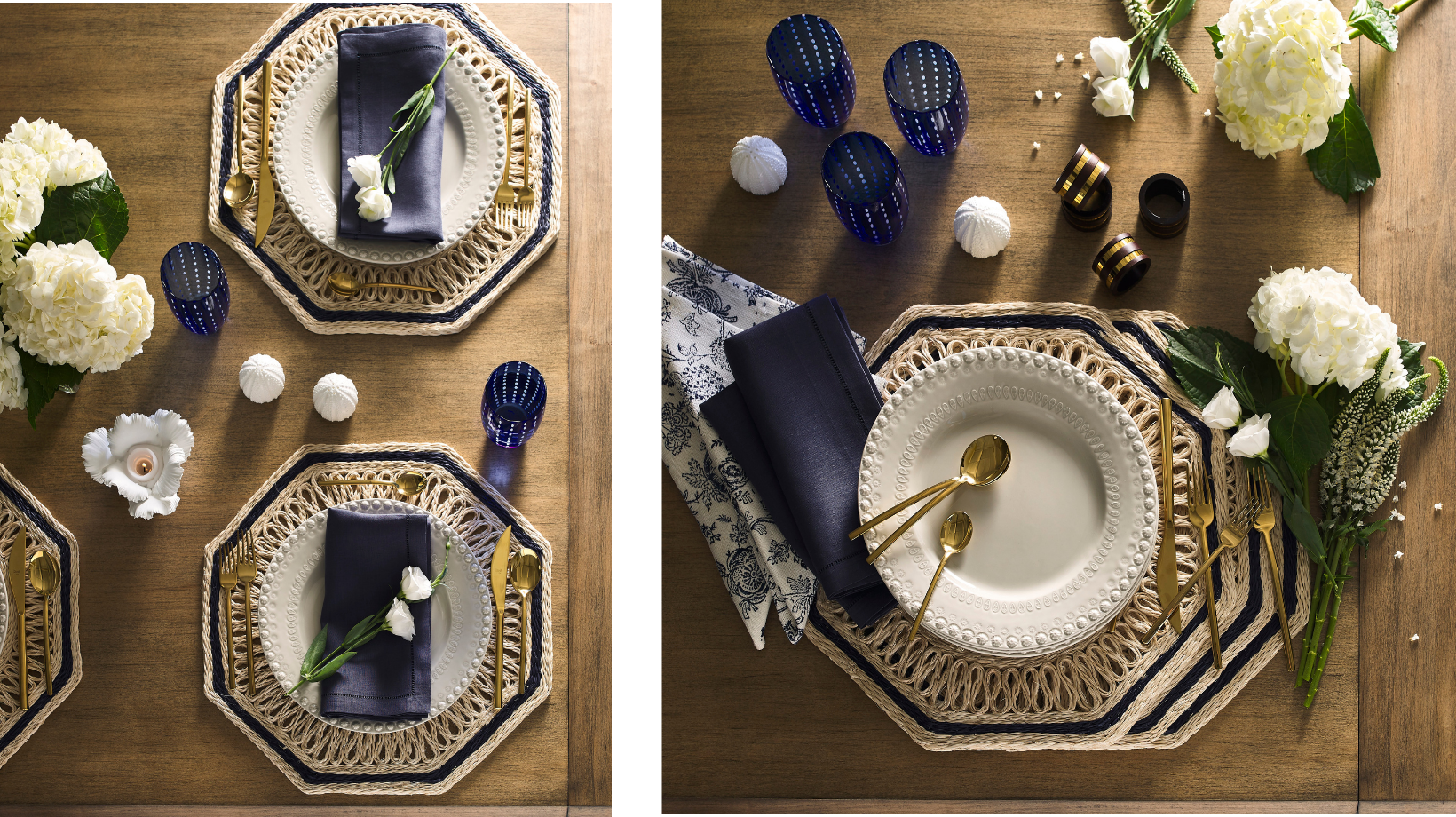 Explore more dining introductions from Kravet Furniture here.
Check out Fete Home's website here.