Rebecca Gardner has always strived to design the perfect home party. Houses & Parties, her new shop now open online, aims to help folks do exactly that. Gardner started her journey in Atlanta and New York as an interior designer, eventually expanding to full-service events and now a one of a kind retail shop. Among the many novelty items for sale is a series of tablecloths made of Brunschwig & Fils' iconic Lodi Garden Print from the popular Summer Palace Collection. Gardner took her love of design and coupled it effortlessly with her love of tablescapes to create a truly unique fashion moment. We caught up with the style maven to hear more about her exciting new shop!
Kravet: Tell us how House & Parties came to be – is this something that's been in the works for years?
Rebecca Gardner: I've had a shop in my head since I opened my event and interior design firm 10 years ago. The pandemic was the perfect opportunity to make this happen. I've been making lemonade.
KK: What has been the most exciting part of opening the shop?
RG: I've had a file folder bursting with tear sheets and post-its for years. It is hugely rewarding to see it all come together along with the artists that I commissioned to make magic.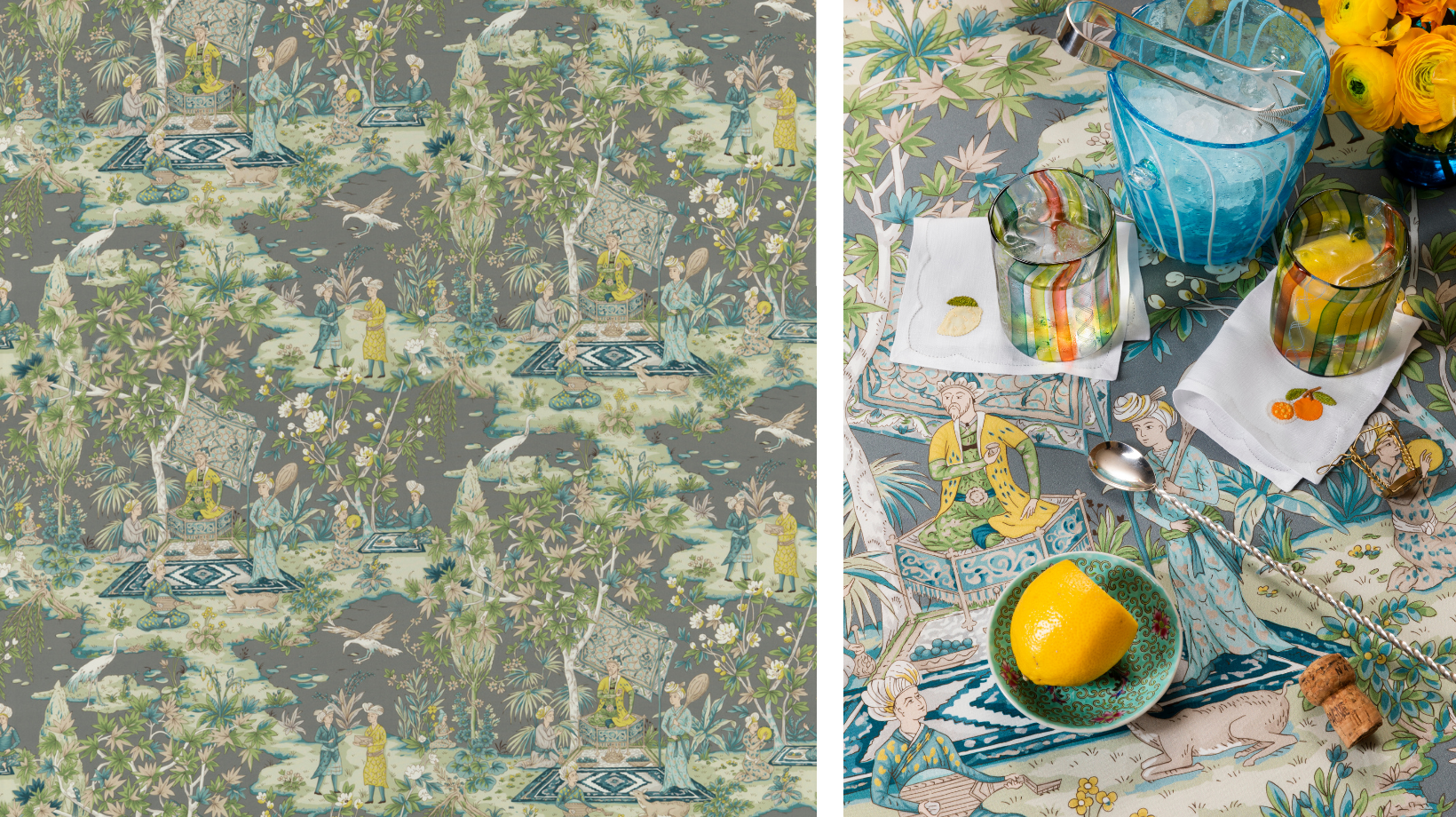 KK: How would you describe your shop's aesthetic? Is there a common theme throughout all of the items available? Or a more eclectic grouping?
RG: Houses & Parties offers ideas for entertaining with panache. The collections are colorful and lavish and over-the-top. Who wants to attend a restrained party? Boo.
KK: A lot of the items on your site are categorized by season – is that how you shop? Seasonally?
RG: The shop is organized by holidays and, by default, seasons. We will have fresh ideas come spring and summer!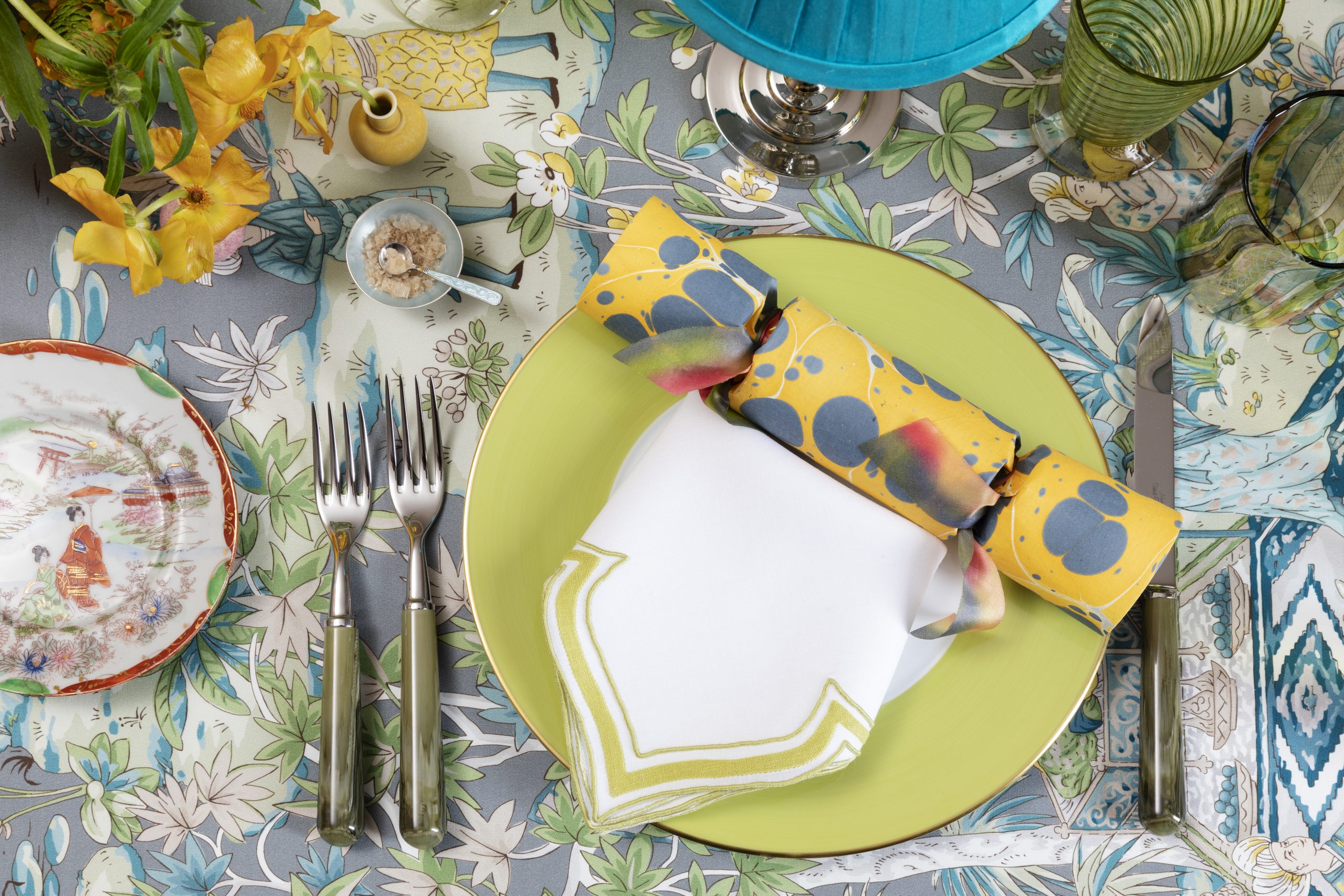 KK: What made you want to include Brunschwig & Fils in your collection?
RG: Brunschwig & Fils has the most luscious prints and bold colors. I think that a patterned tablecloth is an excellent way to set the tone. When I design a room, I start with the rug. When I design a table, I start with the tablecloth. If you have yards and yards of Brunschwig & Fils fabric, you can get away with ANYTHING!
KK: How did you come to the decision to transform Lodi Garden Print into a tablecloth?
RG: Lodi Garden Print's exotic scenes and brilliant colors are rich and extravagant. Sit down at my table and you're sure to have a good time.
KK: Do you have any other exciting projects that we can expect to see from you soon?
RG: I am thrilled that my customers are buying these Lodi Garden Print cloths for their upcoming holiday season. I can't wait to dive into patterns to celebrate flowery spring and languid summer holidays.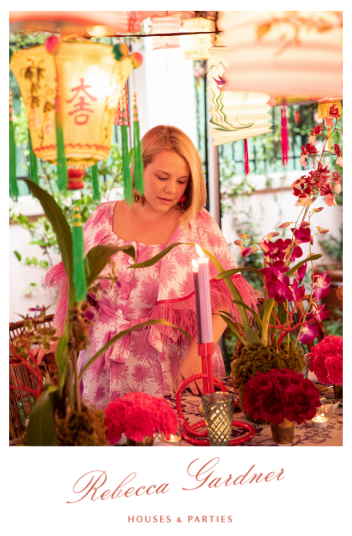 Check out Houses & Parties shop here.
Explore Brunschwig & Fils here.