For Nate Berkus, style is personal. That's why in his first fabric collection with Kravet, he wanted to allow freedom for designers to showcase their distinct point of view. Along with fabrics, Nate Berkus also teamed up with CuratedKravet to put together a capsule collection featuring framed textiles and upholstered lampshades. The collaboration between Berkus and CuratedKravet brings Nate Berkus' design vision to life and follows his personal philosophy of trying new styles that tell a unique story. Incorporating inspiration from Nate's many travels abroad, Well-Traveled offers a fresh perspective that mixes history, architecture, art and craftsmanship. Berkus takes you on a treasure hunt, presenting the many gems he collects as he crisscrosses the globe. Hues ranging from chambray blue and indigo to surf green, as well as camel, taupe and gray showcase the natural elements of the collection.
Well-Traveled presents casual cotton and linen textures with the mix of archival prints to create light and livable rooms with the thoughtful care Berkus brings to every project. In order to get the full picture, we sat down with the celebrity designer to find out exactly what he was thinking when putting together this collection.
Kravet: What influenced this fabric collection?
Nate Berkus: Travel is always such an important part of anything I design. For this collection, we explored techniques from places such as Mexico and Peru, and also mined museum exhibits and archives for pattern inspiration. I wanted to create the perfect balance of curated pattern, technique and texture.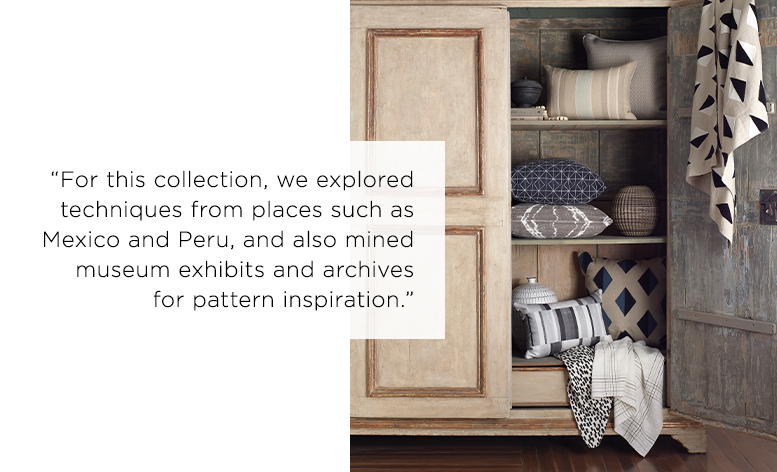 K: Where did you look to for inspiration? Any specific places, colors or things that inspired you?
NB: So many things influenced this collection, from archival prints from Sweden to patterns created by my Studio team. We also dove into Kravet's own archives. The collection also took inspiration from Mexican textiles, heavy embroidery and boucles, as well as the Bauhaus movement. The Viennese secessionist period was prominently considered for pattern and motif.
K: How would you describe the signature aesthetic of this collection?
NB: Well-traveled and curated. It's a mix of texture, art-inspired patterns and craftsmanship.
K: What are some of your favorite pieces in the collection?
NB: Barroco Boucle – Dalmation; Blockstack – Hickory; Dash Off – Espresso; Dessau – Sparrow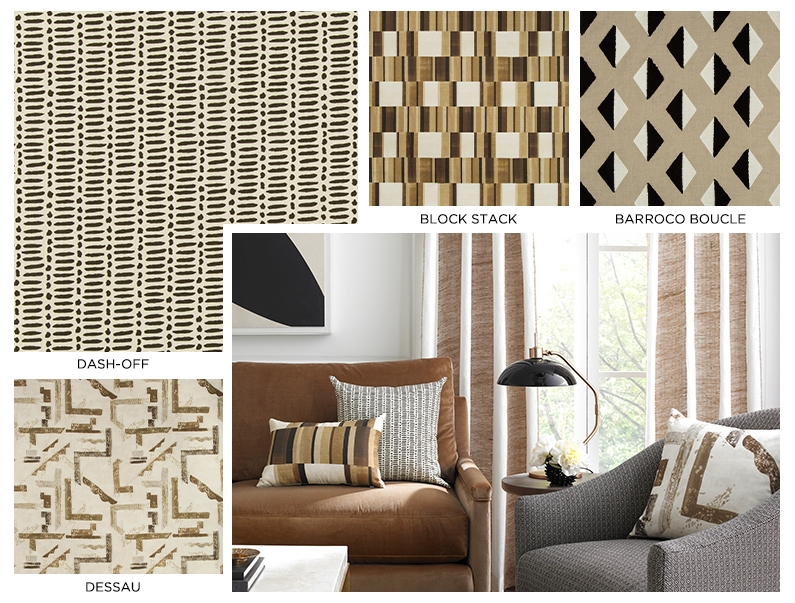 K: What makes this collection unique from the rest of the collections currently out on the market?
NB: I really wanted to create a collection that had its own distinct point of view…that felt unexpected. By drawing inspiration from a number of sources – including travel, history, architecture and archival paintings – I wanted to give customers permission to explore texture and pattern in a way they lets them tell their own story rather than dictate what should be in their home.
K: As a designer, what does it mean to you to have your vision become accessible to customers across the country?
NB: It's such a privilege to be able to create well-made, beautifully designed textiles that people get to live with and enjoy in their homes. I take that very seriously.
K: How does your collection with Kravet embody your ideals as a designer (i.e. what's most important to you)?
NB: As a designer, I'm fiercely anti-trends. In the 20-plus years I've been doing this, it's always been about giving people permission to tell their story and to live only with what they love. My hope for this collection is that a certain pattern or colorway will resonate, and will help add another layer to a room. Whether that's as a set of drapes, a reupholstered sofa or a throw pillow.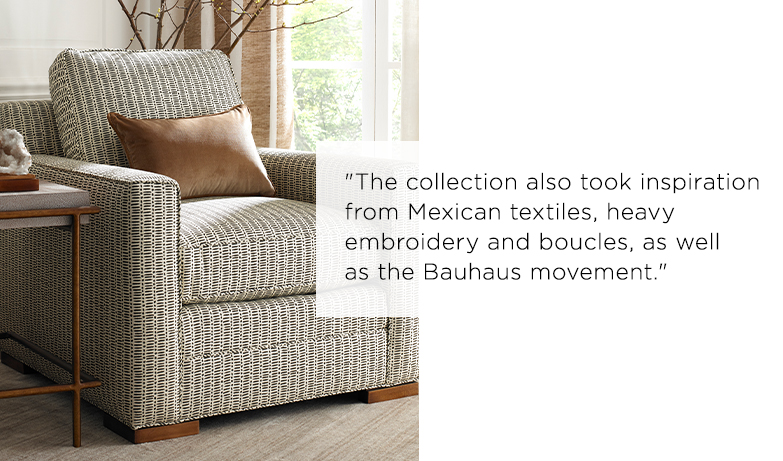 K: Why did you choose Kravet as your partner?
NB: Kravet is a family run business and a leader in the industry. They provide an exceptional product, and really care about their designers and customers. Also, they have the most incredible archives I've ever seen because they've been doing this for a really long time.
K: How does fabric play a role in the interiors you design for clients?
NB: Of course, my design firm uses fabric all the time. It introduces pattern and personality, but more importantly texture. Woven, boucle or heavy embroidery – any of these fabrics will automatically elevate a room and make it feel designed to.
K: Can you suggest an innovative use for some of the product in your collection?
NB: I'm obsessed with the idea of upholstered lampshades and screens.
K: What are some of your favorite colors, either right now (trend, small doses) or timeless (goes with everything etc.)?
NB: I'm loving rich neutrals, bronzes, chocolate brown, ivories and black. Always timeless in whatever combination you use them.
Shop Well-Traveled by Nate Berkus here.
Shop Kravet here.