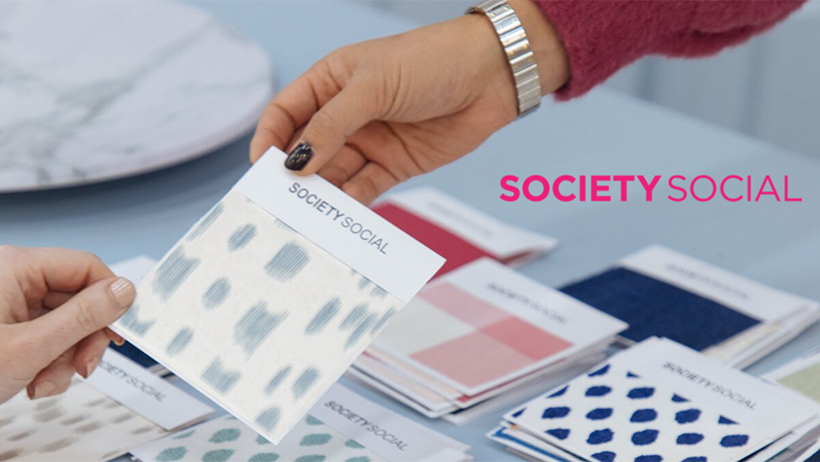 Move over, Millennial Pink. There's a new color in town. Society Social's Roxy Te is declaring "French Blue" is the color to watch for these days. The creative director and founder of the popular furniture company tells House Beautiful her new hue is a "fresh, classic color that works with every style." So it's only suitable that Roxy Te chose to breathe new life into the iconic Brunschwig & Fils' pattern Les Touches. Roxy's custom French Blue colorway of Les Touches is sold at her flagship store in Charlotte, North Carolina, which she developed exclusively with the team at Kravet Inc.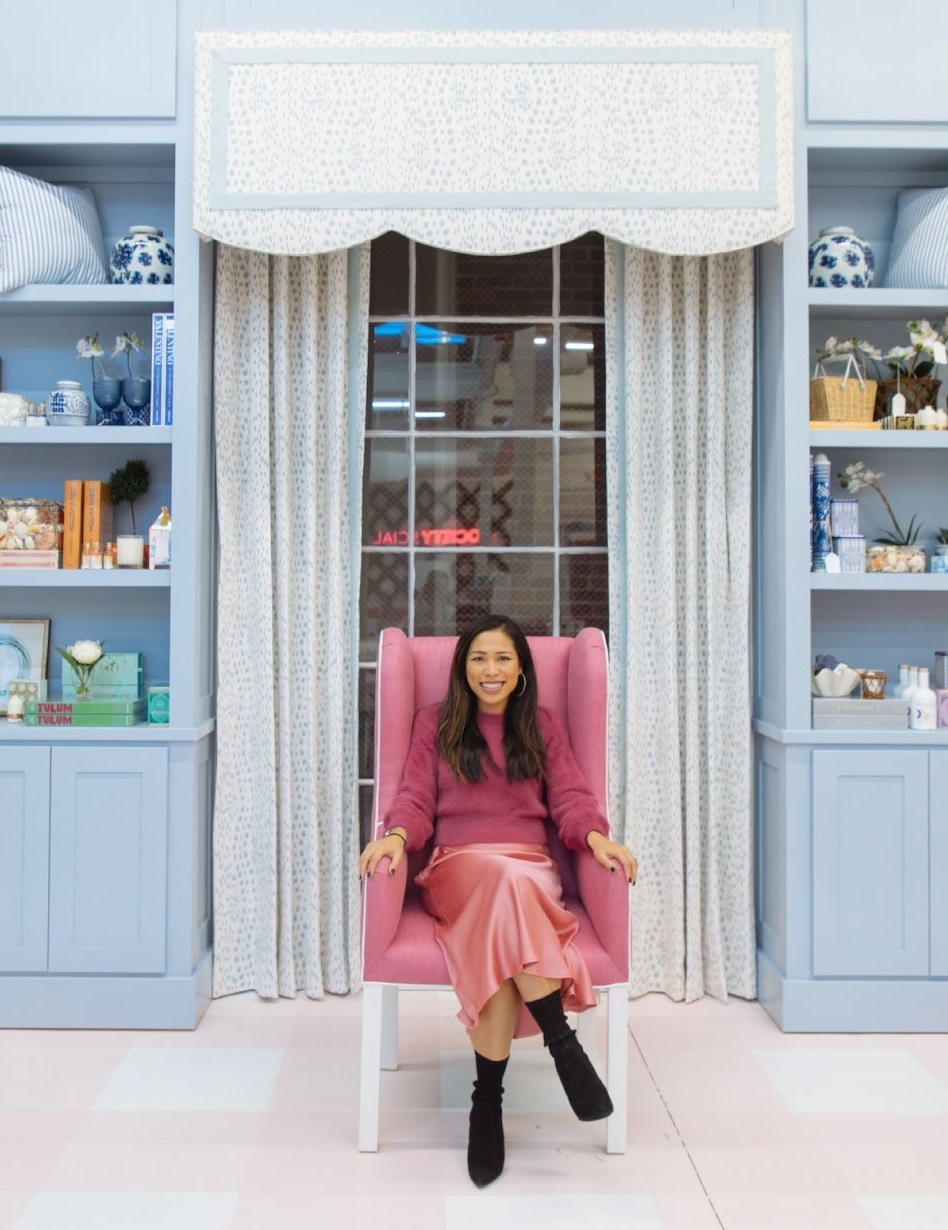 We caught up with Roxy and the rest of the Society Social team to learn more about how this perfect pairing came to be.
Kravet: Why did you choose Les Touches to work with and how did you land on the custom color French Blue?
Society Social: We felt a true French blue was missing in the market, specifically in the print category and turned to a brand & designer favorite, Brunschwig & Fils' Les Touches to collaborate on a signature colorway. Les Touches has been a part of our custom upholstery offerings for a few years now and is always a top seller for us, specifically the standard blue! We knew our customers and designer following would respond positively to a custom colorway so we worked closely with Brunschwig & Fils' design team to hand-select two blues that would ultimately make up the signature spot.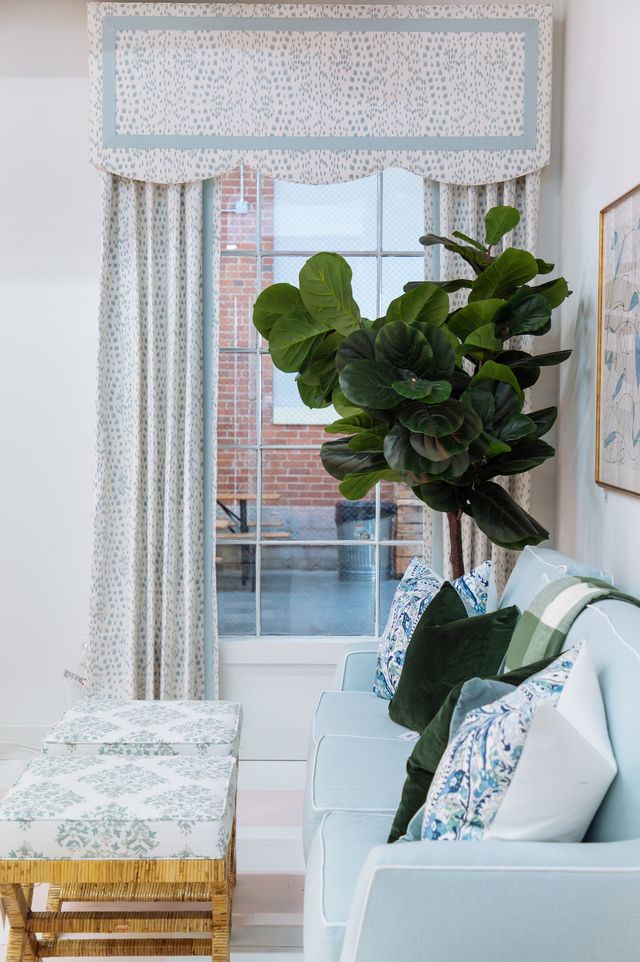 Kravet: Do you think French Blue is the new Millennial Pink?
Society Social: 100% yes! When we were thinking about how we wanted to push this collection live, Roxy & the team came up with the slogan "French Blue is the New Millennial Pink" and were delighted when House Beautiful decided to run with it.
Kravet: Why do you think it's gaining popularity now?
Society Social: We believe our reinterpretation of Les Touches in our signature French Blue will garner the same excitement that the millennial pink movement gained in popularity among modern decorators. French Blue not only caters to the traditionalist, but also to Grandmillennials who are putting a fresh spin on traditional decorating.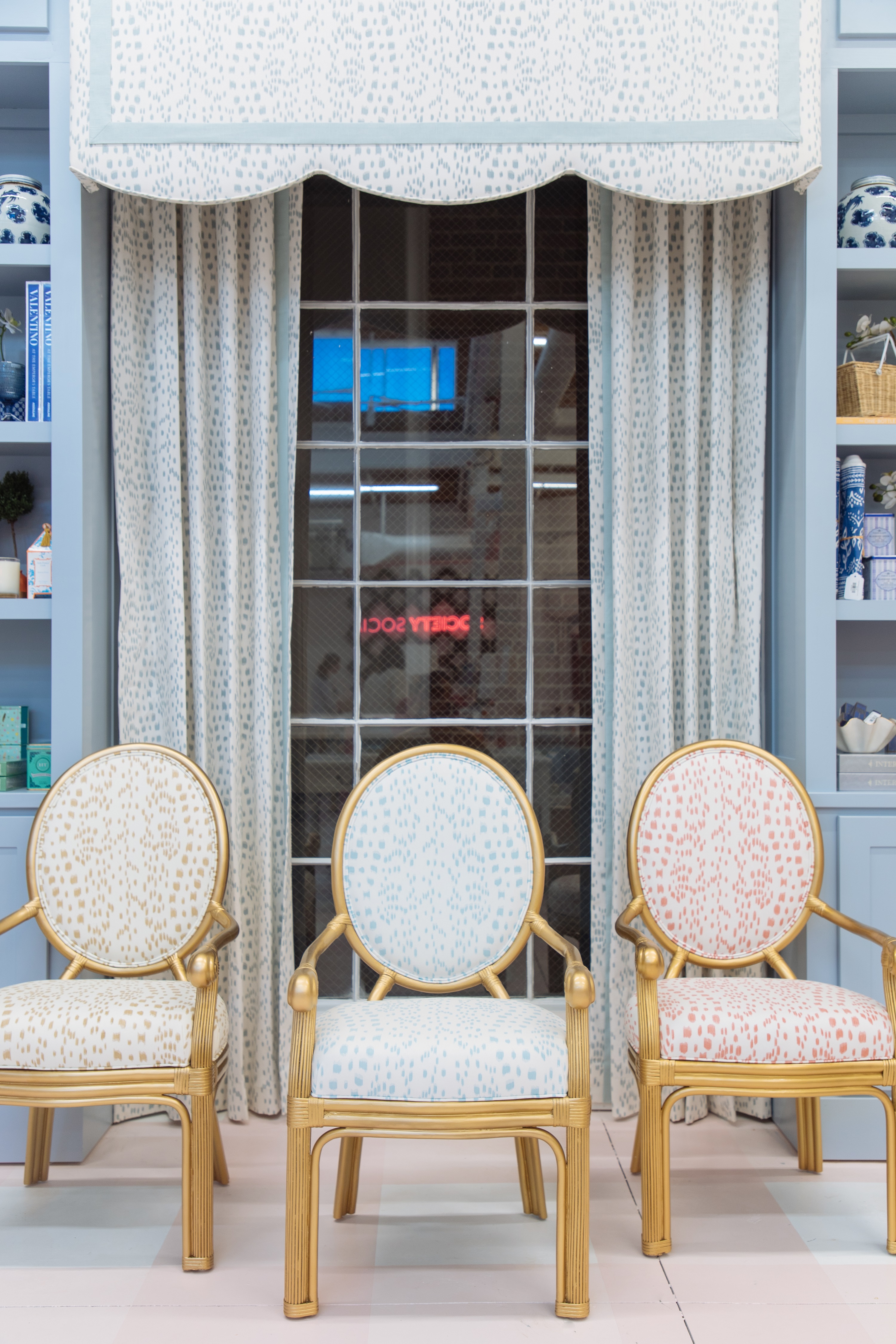 Kravet: Why did you decide to open Society Social?
Society Social: Roxy grew up learning the ins and outs of creating exceptional furniture pieces. After working in corporate retail, Roxy realized cubicle life wasn't for her and was determined to create something of her own. Roxy launched Society Social in 2011 with six original bar cart designs and with the slogan "decorate to entertain" at the heart of our business. Our designs are thought up in-house and are entirely original to our business. We pride ourselves on unique designs that are not mass produced and we strive to offer all of the fun customization options usually reserved for designers.
Kravet: What is the goal with this gorgeous shop?
Society Social: As a modern brand that went digital before going physical, we understood the importance of having a physical place where our customers could not only touch and feel our designs, but also experience a physical expression of our brand in real life. We opened our first ever flagship store, Society Social Charlotte in November of 2019 which features our original furniture designs, a curated collection of gifts and a beautiful display of our custom Signature Les Touches French Blue.
You can read more about the inspiring combination of French Blue with Les Touches here from House Beautiful.
You too can bring your vision to life with any of Kravet Inc.'s many custom options across all of our product categories. Customize your furniture frame, pattern design, colorway, texture and more with our expert artisan teams. Learn more about the many services Kravet Inc. offers here.
Feeling inspired? Check out all of Brunschwig & Fils' stunning offerings here.