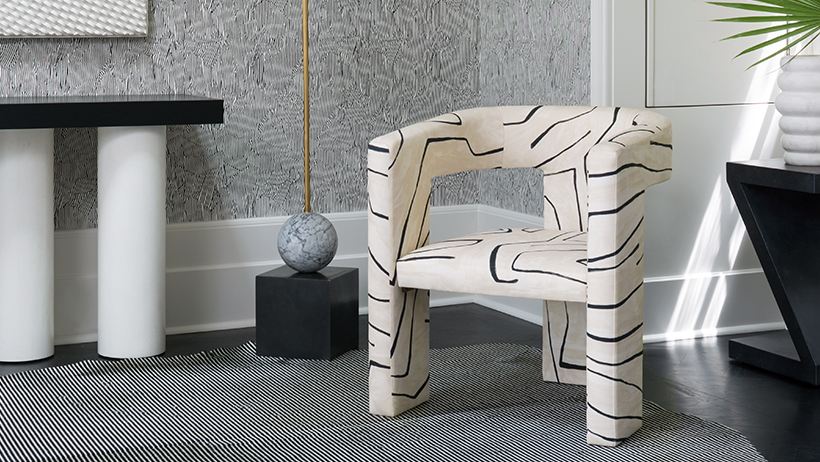 Kelly Wearstler Talks Layering Pattern And Texture
This is your third Groundworks collection. What inspiration informed your designs? My love for art, architecture, graphic design and natural elements is the inspiration for this new collection with Groundworks at Lee Jofa. There is so much beauty inherent in the fusion of the raw and refined, bringing compositions of line, color, space and texture into a modern collection of paper and fabrics. I find the juxtaposition of organic anomalies and architectural forms to have an alluring and exciting tension.

Your designs have a certain amount of boldness to them. What can you share about confidence in decorating? What is the trick to effectively mixing patterns and prints?
Every space has a muse. It's really about experimentation and taking risks. I always begin with pulling plenty of mood imagery and creating a tray of all the different design elements within a space. Each area has a distinctive vibe tray with fabric swatches, tile samples and a mix of materiality. It allows me to visualize how all the different voices within a space form a cohesive dialogue. Always consider scale and color when selecting favorites as there should be a hierarchy among the various elements.
As you design a new collection, be it fabric or furniture, what is the single most important thing you think about?
Design is very intuitive for me. I look to what is currently inspiring me, resonating with me on a visceral level, as the starting point for creating a new collection. Nature, art and architecture are always at the forefront of inspiration; quality and craftsmanship top priorities. I'm forever intrigued by the clever use of materiality and luxurious textures and how this can be translated into quality designs.
You are launching furniture with Lee Jofa. It includes mixed materials and unique forms. How do you see people using it in their homes?
The furniture collection is so exciting in that it's designed with simple, fluid curves and clean, geometric lines that allow the distinctive materiality to give each piece a spirit of originality and refinement. From the mixology of metals and artisanal Venetian plaster to the beautifully textured woods and leathers, there are so many possibilities for a modern and highly personalized aesthetic that can easily be infused into any and every space. The silhouettes are so transitional they can accept any style of fabric and color plus a variety of wood finishes. Each one is its own little canvas.
Art plays a big part in your world. What advice can you share about art in interiors?
I believe that art truly is everything – an incredible alchemy of inspiration, knowledge, history, life. The most important aspect of a room is the spirit it conjures and art is a favorite way to imbue a room with mood, color, inspiration and adventure. I look at art as storytelling: there are endless expressions, from lithographs and works on canvas to furniture, sculpture, photography and textiles. The key is to be willing to take risks with choices and placement of art to allow for an authentic and personalized journey.