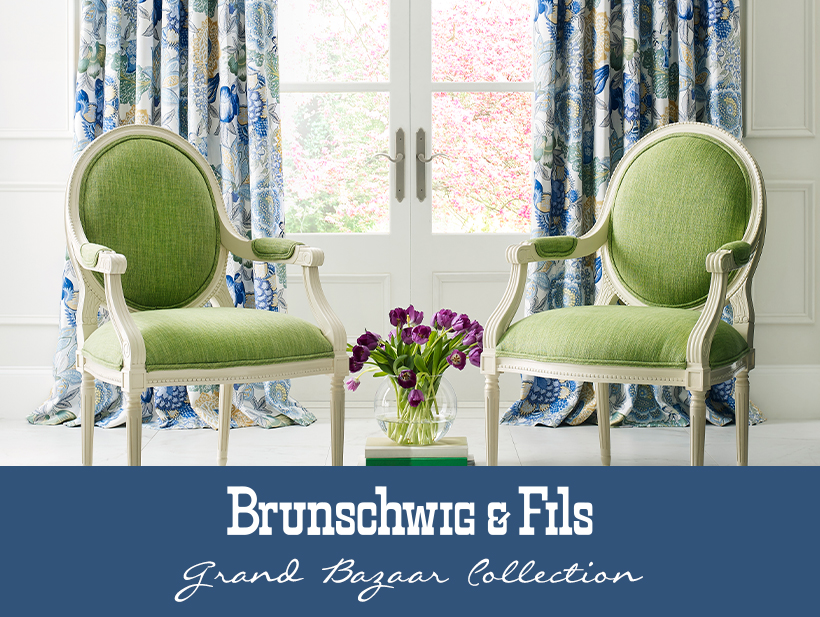 Brunschwig & Fils takes you on a journey through Turkey with its newest collection, Grand Bazaar, inspired by the alluring charm of Turkish culture. Established by the Sultan of the Byzantine Empire over 500 years ago, the Grand Bazaar was and is known as a trading place for jewels and textiles — a melting pot of the old and new. The beguiling history, architecture and atmosphere of the market inspired this exclusive collection of gorgeous prints and coordinating wallcoverings. Let's take a deeper look at this stunning new collection!
The colors and patterns in this collection transport you to exotic locales and traditions of the Grand Bazaar markets with blue and white hues, paired with pops of pomegranate and balanced with sophisticated jewel tones. In the spirit of the patrons shopping the enchanting market, Brunschwig & Fils scoured its archives to conjure up a Middle Eastern spirit and design elements associated with the Ottomon region.
KATIBI and MONTGUYON, Brunschwig & Fils archive favorites, have been updated to suit today's interiors. KATIBI was inspired by an 18th century Indian palampore and features a beautiful tree of life pattern. MONTGUYON is another revival design, first introduced in 1961, featuring antique French needlework reinterpreted in a broken warp print effect.
KARABALI, named after a Sultan's private garden, is an extraordinary design depicting exotic florals and foliage extracted from traditional Indian textiles. This dramatic pattern was printed in Thailand and is destined to make a grand statement in any interior.
Take in all the exotic traditions, culture and colors this region has to offer with Brunschwig & Fils' latest collection, Grand Bazaar.
Shop the collection here.
Explore more from Brunschwig & Fils here.