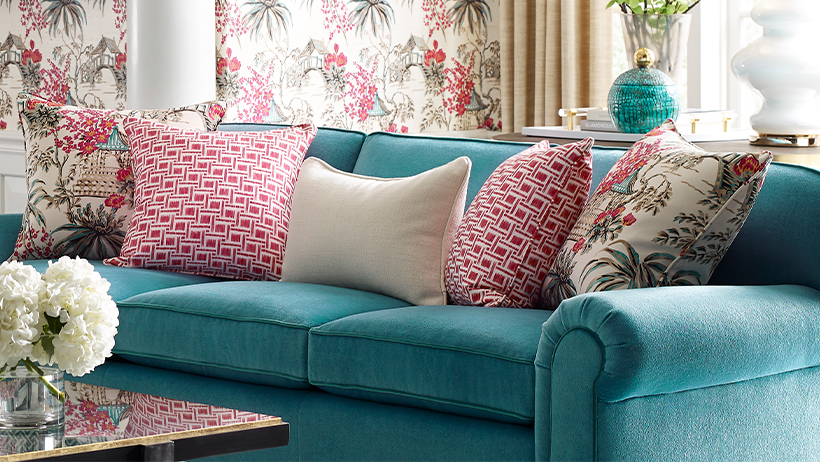 Brunschwig & Fils is synonymous with classic design and that inherent style has shaped the elegance and comfort of its namesake upholstered furniture collection. Based on French and English styles with roots in an array of design periods, the collections offered are versatile and capture the essence of today's quintessential American decorating at its best.
Silhouettes range from timelessly traditional to modern-day transitional with Brunschwig & Fils' signature sophisticated character. Brunschwig & Fils Furniture focuses on the details, showcasing the expert craftsmanship that goes into making each unique piece. Continuing its reputation for the highest quality frames, Brunschwig & Fils furniture is bespoke, bench made, and tailored in the U.S. guaranteeing the most supreme luxury
Considered one of Brunschwig & Fils' most iconic frames, the Whitehall Chair is known for its comfort, quality and endurance. Good design truly is forever when it comes to this classic English Arm frame ideally suited to pair with a classic Brunschwig & Fils print. The Dauphine Sofa, another Brunschwig & Fils standout piece, is derived from an exemplary French style. Edging toward modernity while maintaining a sense of historicism of true French design, this frame is the perfect fit for groups of people or to connect conversation areas. Like the Dauphine Sofa, the Germain Chair is also inspired by a French antique frame. This stunning chair is low slung with a lovely seat depth allowing for ultimate comfort in a small footprint.
Shop all Brunschwig & Fils Furniture, including the stunning frames mentioned above, here.
Browse the latest catalog here.