Explore the beautiful wallcovering patterns in this eclectic collection
The Martyn Lawrence Bullard collection from Cole & Son is an intriguing mix of opulent and contemporary designs, celebrating the diverse craftsmanship of cultures far and wide, east to west. In collaboration with interior designer Martyn Lawrence Bullard, cultures merge in this worldly collection of elegant designs.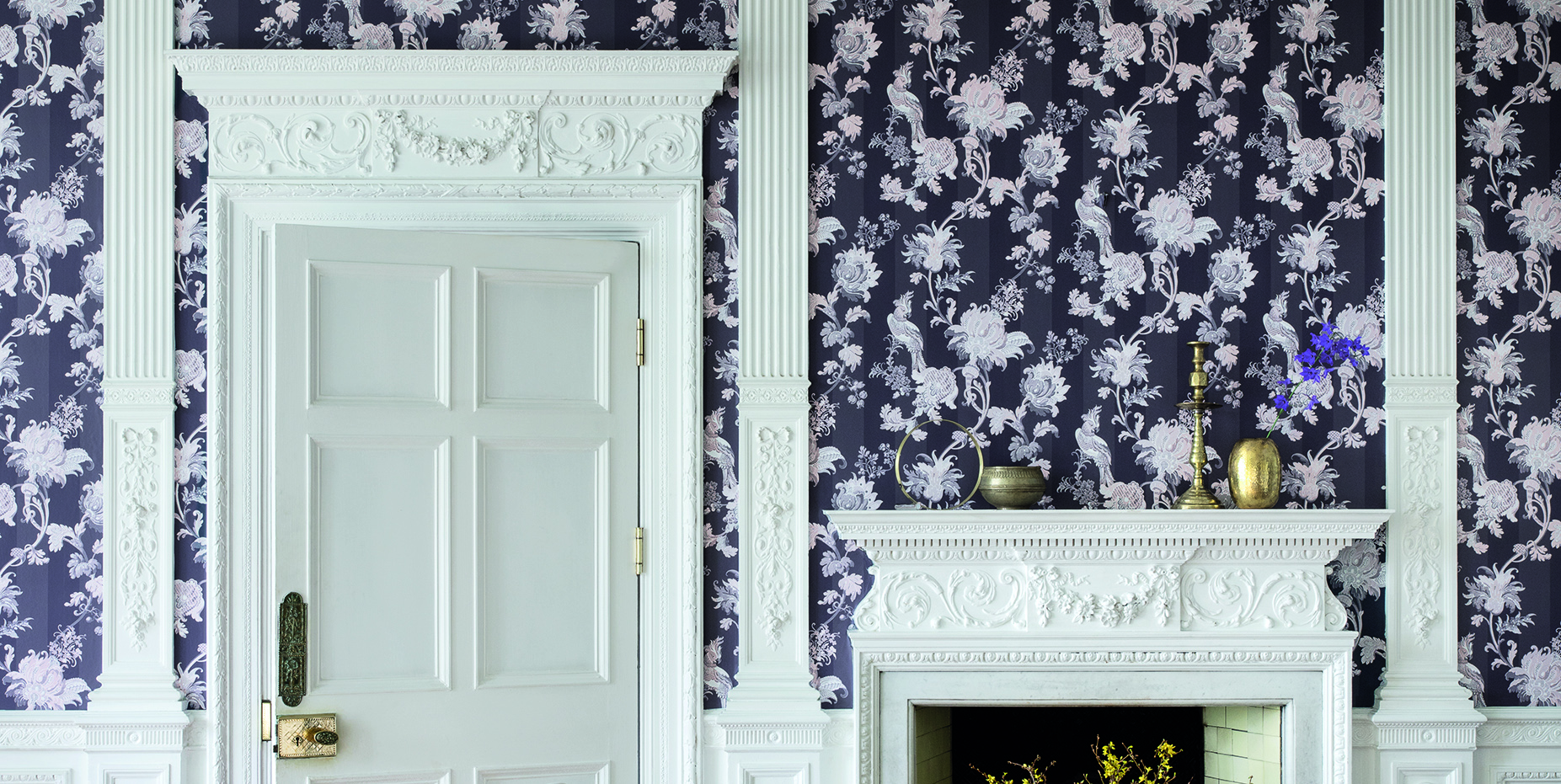 Martyn Lawrence Bullard's signature layered aesthetic creates interiors with the warmth and depth of a well-travelled soul. A lover of all things decorative and highly patterned, Martyn worked together with the Cole and Son studio to create a sophisticated assortment of designs which aims to inspire the individual to create their own unique and distinctive interior look.
Take a closer look at each of the exciting patterns that make up this one of a kind collection of statement wallcoverings and borders.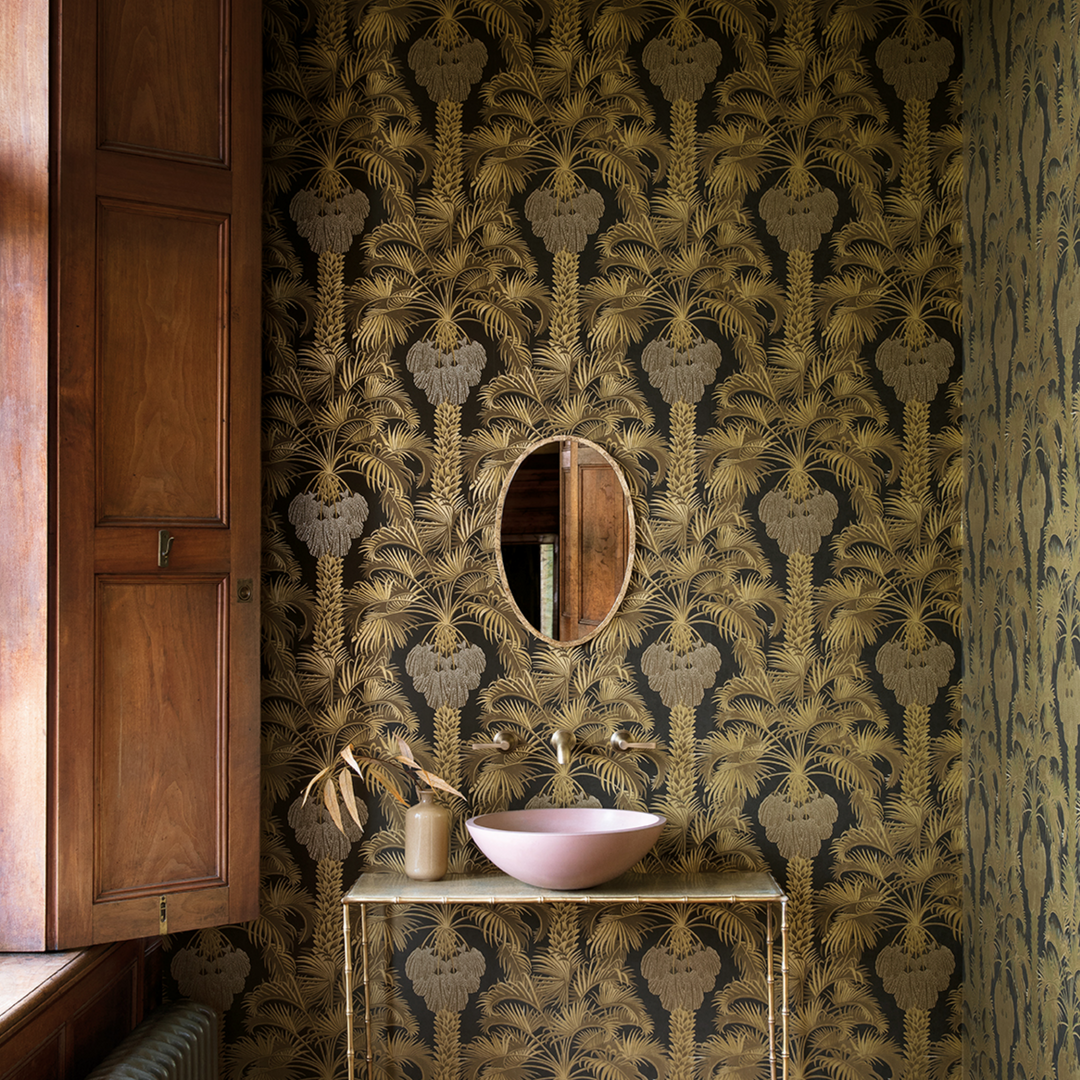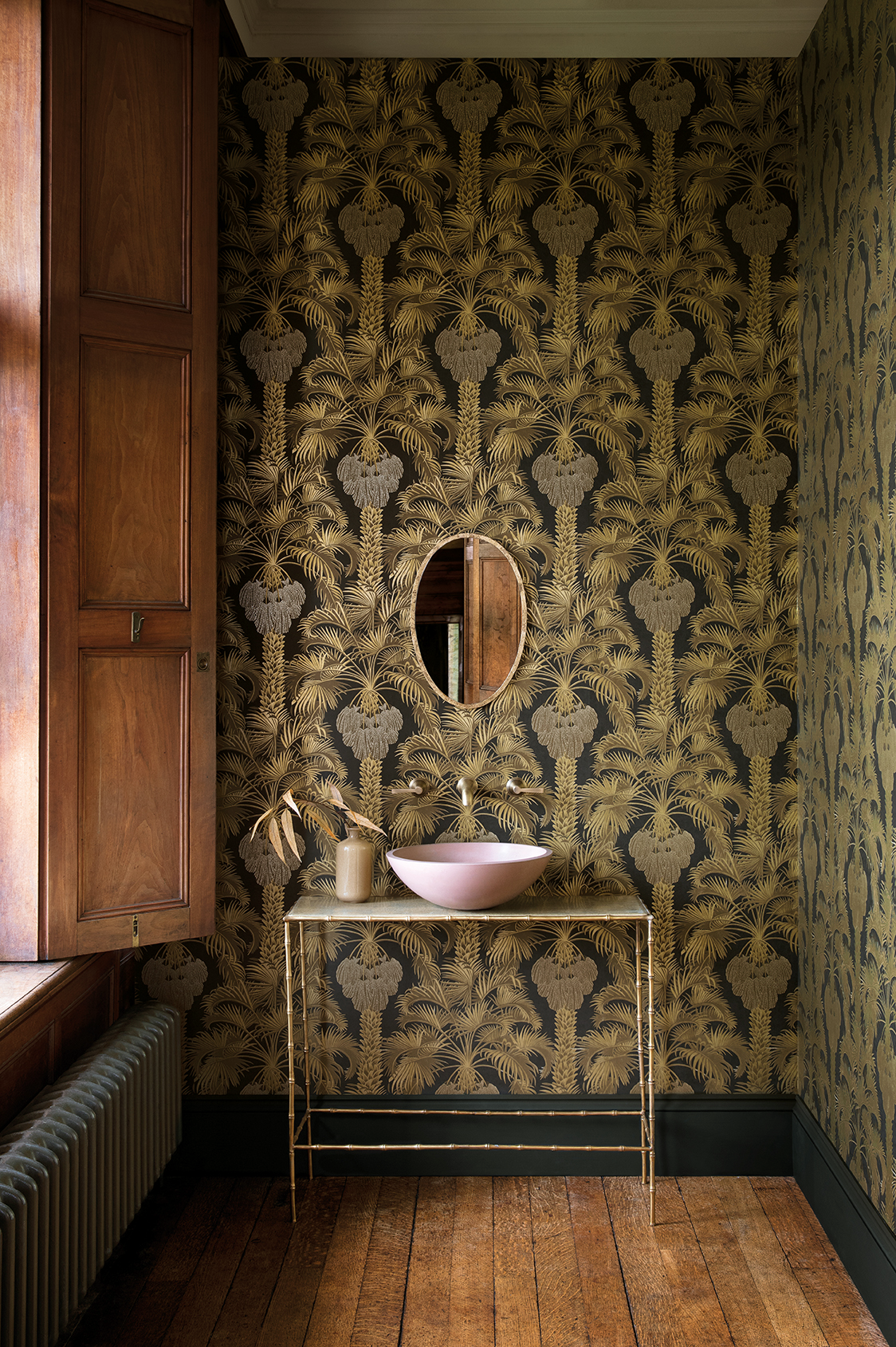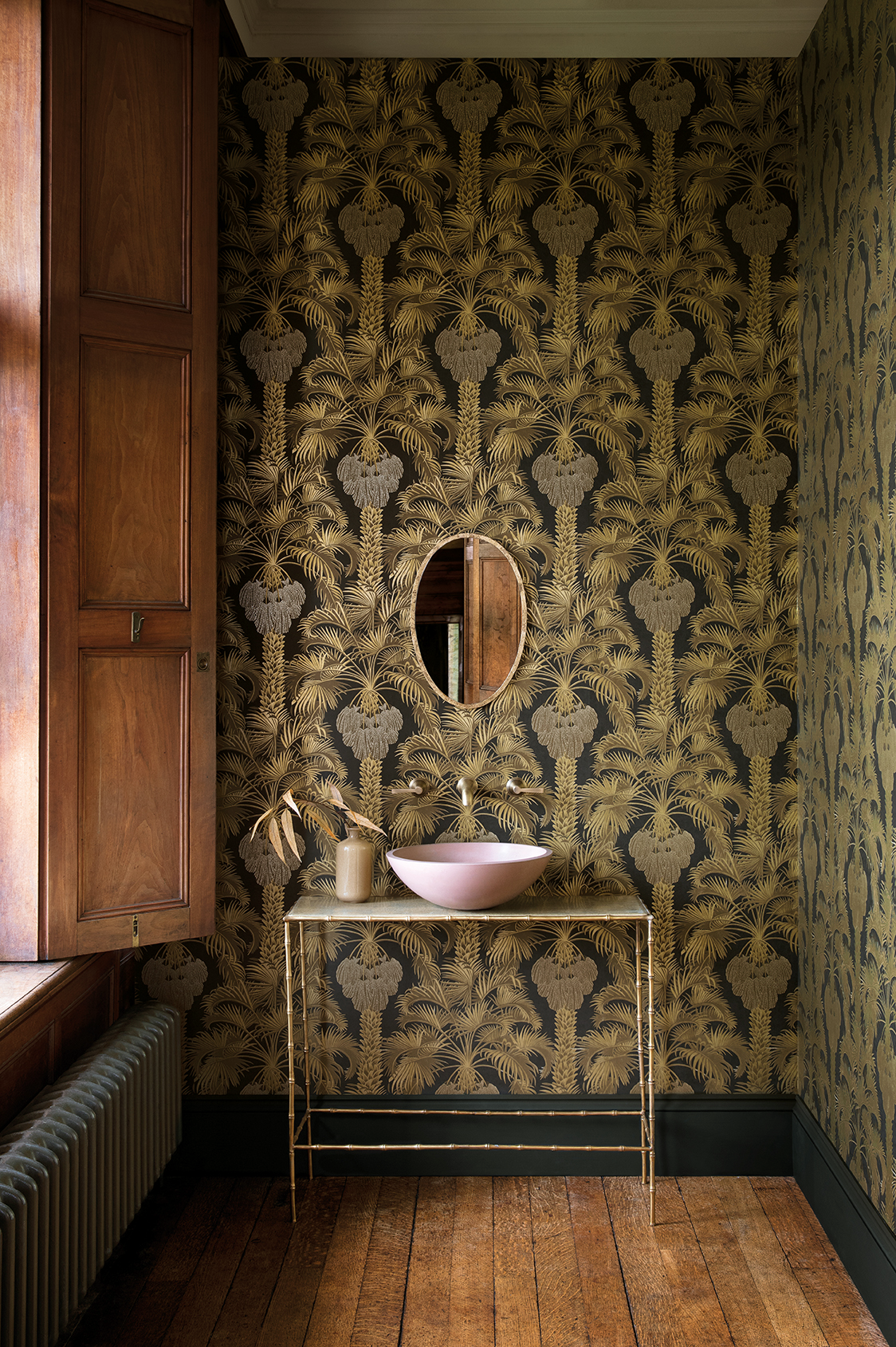 A celebration of Martyn's LA influences, Hollywood Palm is an instant classic born out of both common Cole and Son motifs and deco Palm Springs design. The spot repeat, which gives the design an all over luscious density, is inspired by graphic artist M.C. Escher's tessellation prints, creating a design that's both contemporary and traditional in its style. Choose from sumptuous metallic tones of Charcoal and Gold, Rose Gold, Silver and Charcoal, and Leaf Green.
The burnished tones of Bazaar catch the light with an elegant luster, retaining all of the original subtlety of movement seen in embossed tiles. The aged effect across the different design elements gives life to each tile, with the Pewter, Gilver, and Bronze tones adding a Persian warmth to wherever the design is placed.
Inspired by the Majorelle Gardens in Marrakesh, Royal Fernery is a lush motif of abundant leaves printed in chalky, all matte palettes of Khaki and Print Room Blue, Forest Green, Warm Grey, and the soft yet arresting Slate Blue and Blush Pink. The design's tapestry-like feel originates from an old French archive piece making the paper an opulent feature in any interior.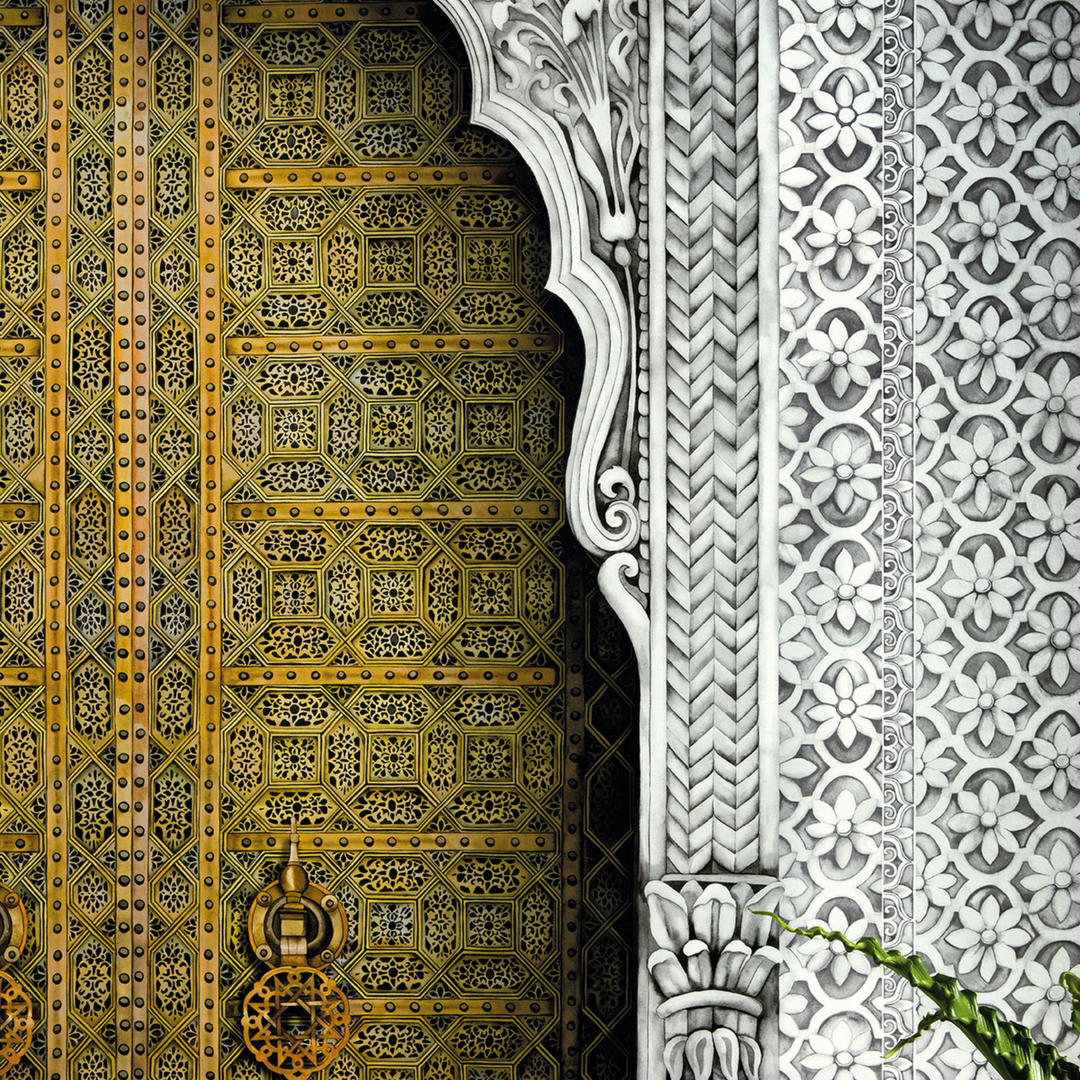 Bahia, meaning 'brilliance', derives its name from the beautiful Bahia Palace and surrounding gardens in Marrakesh. This decorative doorway panel's design draws inspiration from both the palace and the Durbar Room of Osborne House, the palatial holiday house of Queen Victoria and Prince Albert. Its elegantly detailed Jali fretwork, elaborate, lace-like masonry and decorative motifs in Gold and Stone have been painstakingly drawn and painted by hand in order to reflect the highly-skilled craftsmanship of its inspirations. Embodying all the intricate design elements of the collection, Bahia can be used as a stand-alone panel, run side-by-side as a continuous design, or with the complementary Jali Trellis, which has been designed as a coordinate to the decorative panel.
Jali Trellis takes its name from the ornamental, patterned stonework that adorns many temples and sacred buildings. Designed to complement the statement Bahia doorway, its semi-plain floral motif in Stone is a charming alternative to classic neutrals.
Another of Martyn's signature motifs is the Moroccan lantern, realized in this collection as the Fez border. This playful border is luxurious with metallic elements adding to the lanterns' glow, each of which are hand-painted to create an aged, antique look. Whether planning a soft, faceted interior with Gilver and Parchment, or an enchanting desert night in Silver and Bronze on Charcoal, Fez provides an irresistible, ornate warmth.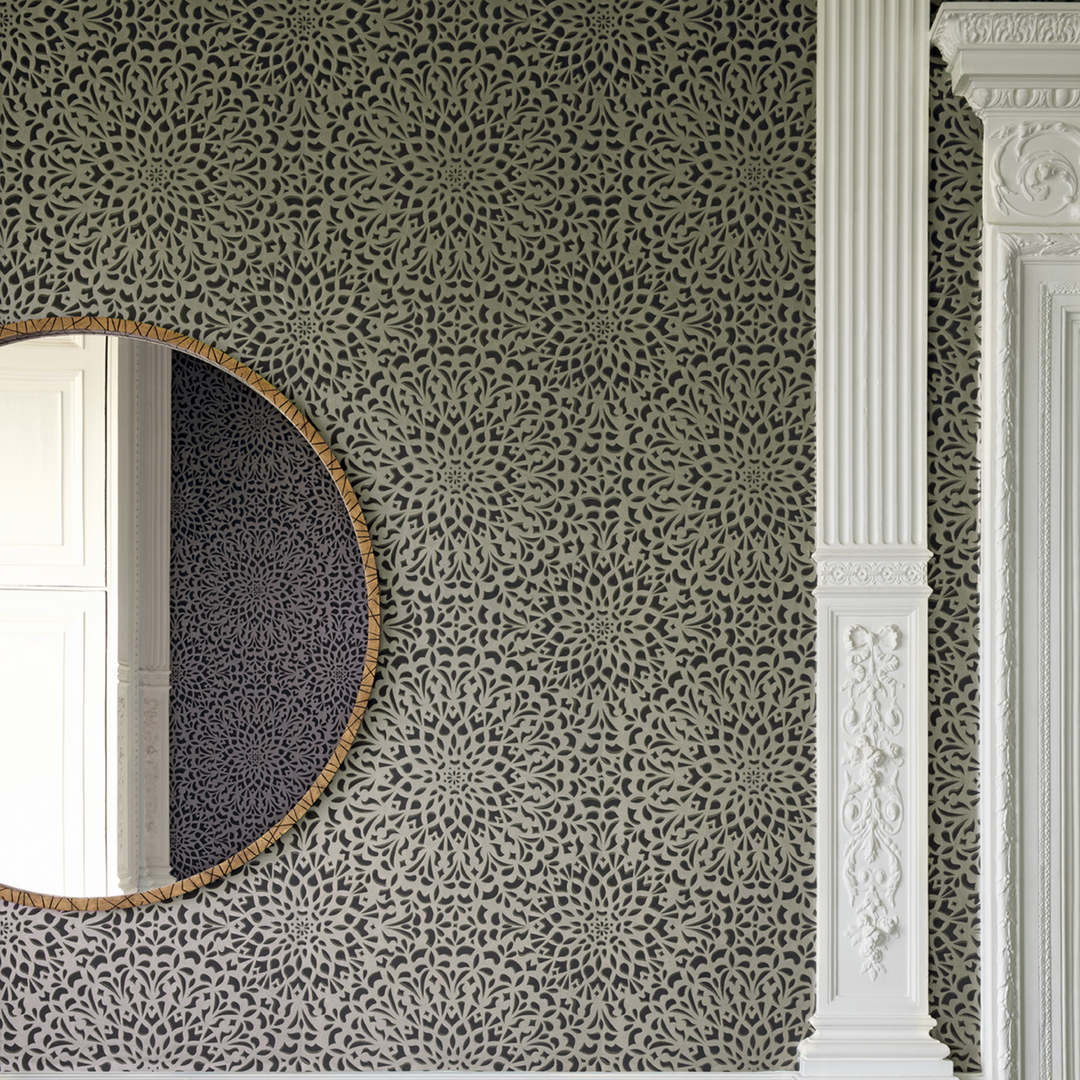 The medina quarters of Morocco house some of the cities' most treasured places, such as the palaces and mosques; 'Medina' is a sumptuous, intricate latticework pattern full of three-dimensional drop shadows creating the subtle movement of life within the quarters' walls. Airy tones of Pearl and Parchment, and Gilver and Parchment give a dawn-like luminescence, with Pewter and Charcoal, and Soot and Snow adding a duskier, nocturnal feel.
'Zerzura' is derived from the mythical city meaning 'oasis of little birds'. The opulent print of classic chintzy flowers with contemporary cockatoos in full plumage was inspired by an old archive document trail design, and is made of intricate line-work, giving the impression of embroidery. Choose from a traditional palette in shades of Duck Egg and Olive, Gold and Parchment, and China Blue, or create a sumptuous boudoir feel with Slate Grey and Blush Pink, and Royal Blue and Gold with its lustered, metallic highlights.
Creating the burnished look of oxidized metal, Patin Haze is a weathered but luxurious wallcovering that adds a delicate glow to any interior. Shades of Soft Gold, Warm Gilver, Taupe, and Moss add to its understated elegance.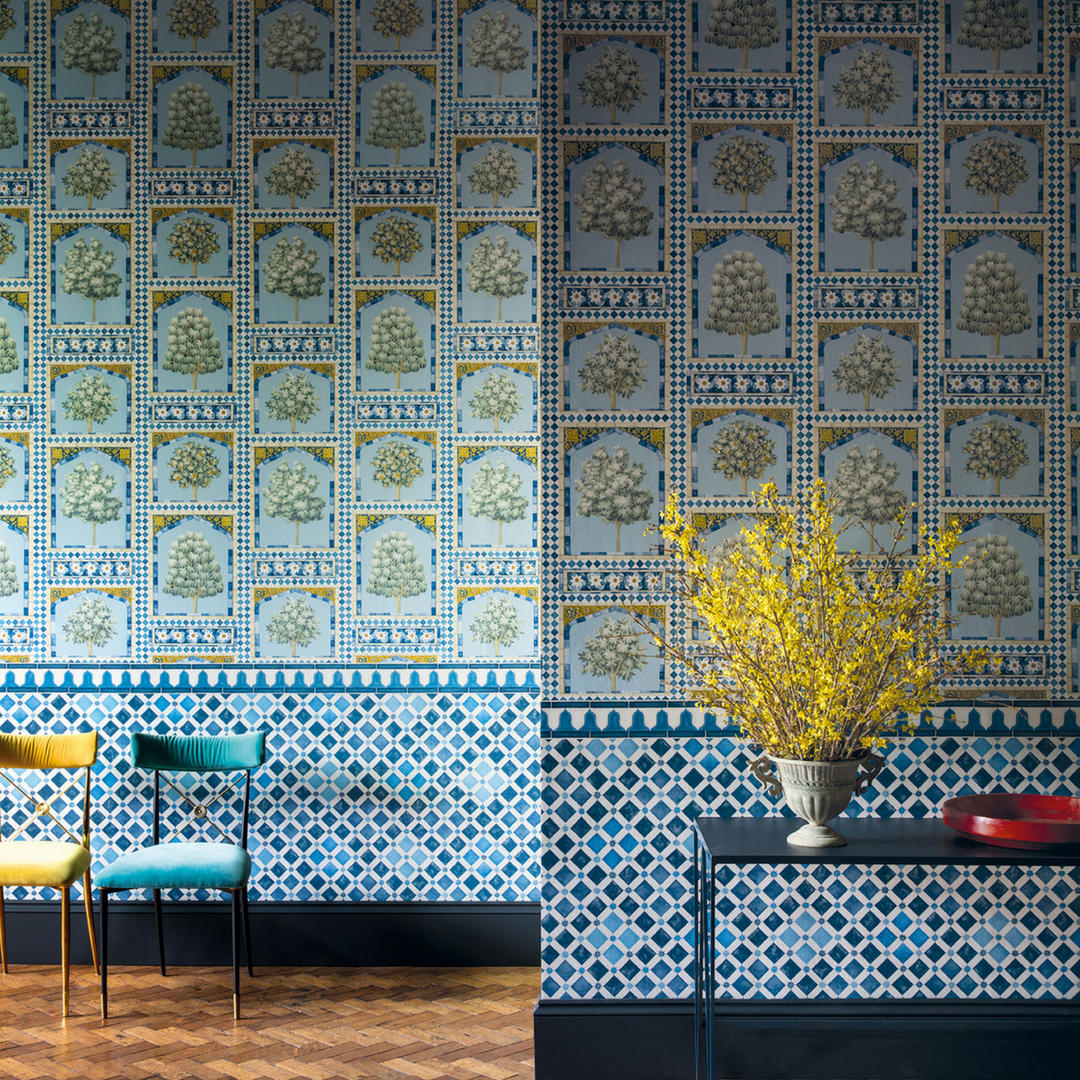 Sultan's Palace brings together two of Martyn's most influential design elements: traditional British motifs and Eastern-inspired artistry. A cartouche of English trees is the focal point of this stunning patchwork surrounded by faience tile mosaics, inspired by the façade of the Wazir Khan Mosque in Lahore, with its highly decorative archways and intricate botanical tiles. This rich design comes in regal tones of China Blue and Ochre, Print Room Blue and Duck Egg, and Gold and Spice, and can be paired with the Zellige tile design and Zellige Border.
'Zellige' takes its name from the Arabic expression for mosaic tilework, one of the most notable aspects of Moroccan architecture. When creating the design, Martyn and the Cole and Son studio were keen to retain the feel of real ceramic glazed Moroccan tiles and so the design has been hand-rendered to retain a beautiful, organic texture. Staying true to a traditional north African-style palette, Zellige is presented in China Blue and White, Olive and Print Room Blue, Spice and Charcoal, and the monochromatic Soot and Snow.
As with traditional tile motifs, the Zellige Border provides a decorative trim to many of the Martyn Lawrence Bullard designs, including Zellige and Sultan's Palace. Vibrant shades of China Blue and White, Olive, and Soot and Snow add the perfect finishing touch to Martyn's signature layered style.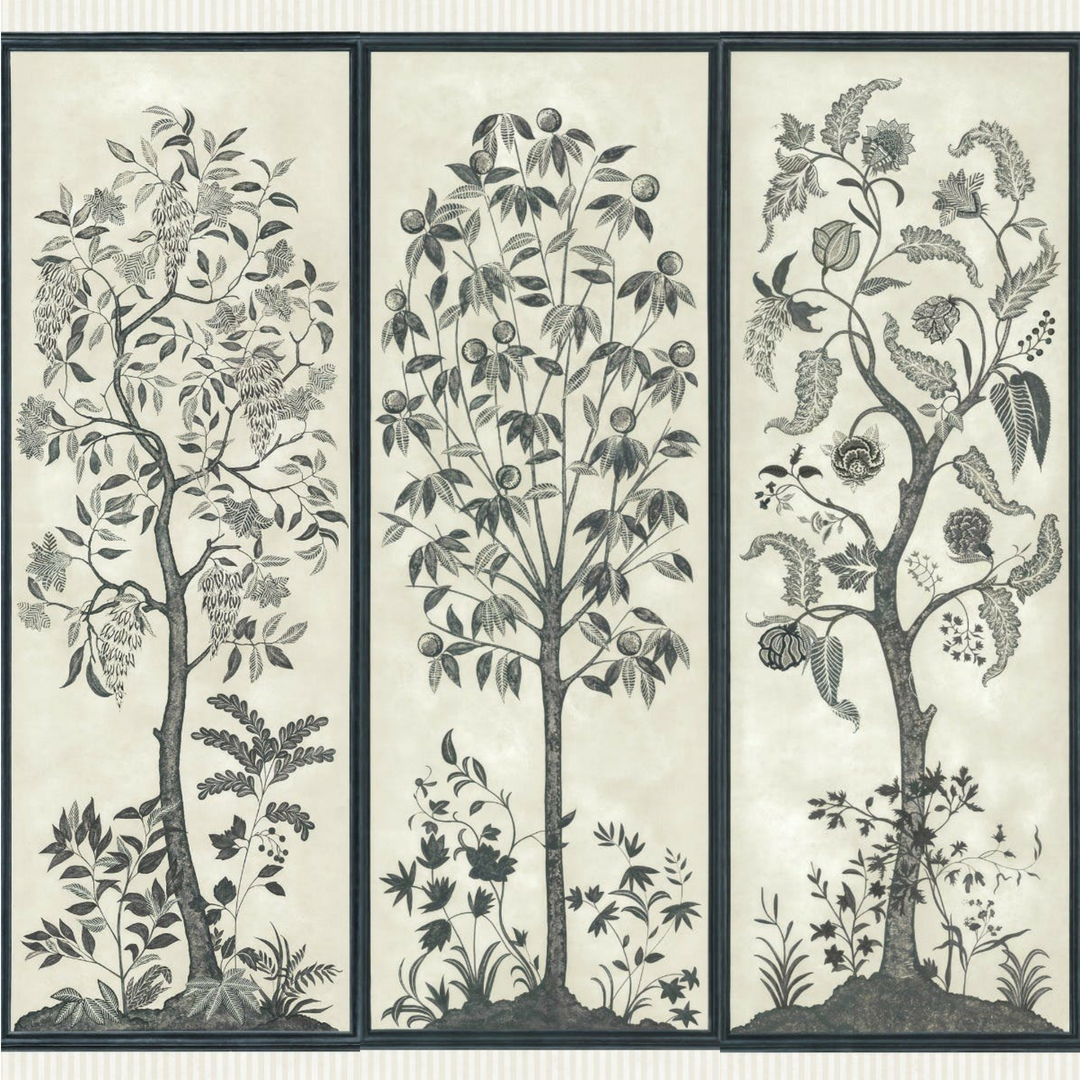 A contemporary interpretation of The Hanging Gardens, 'Babylon' comprises of familiar aspects of Martyn's style such as ancient arches and decadent florals in bold tones. The floral motif is an adaption of the Cole and Son classic, Wisteria design, combining old and new elements for a fresh botanical print in tones of Teal and Pink.
The elegant Trees of Eden panels are an ode to the eponymous, mythological garden. Their design takes its inspiration from archive chintz patterns, where the fusion of ethnic motifs and traditional British heritage design created opulent and highly-prized textiles. Each tree, whilst different in design, depicts boughs luxuriant in foliage, forbidden fruits, and the classic Cole and Son wisteria flowers. Painted to scale, with a distressed, batik-like effect this highly decorative series makes an instant design statement, whether hung side by side for a dramatic effect or individually for a striking centerpiece.
This semi-plain stripe has been created as a complementary design to the Trees of Eden panels. Its Parchment tones make it a simple yet sumptuous addition to the statement Charcoal designs.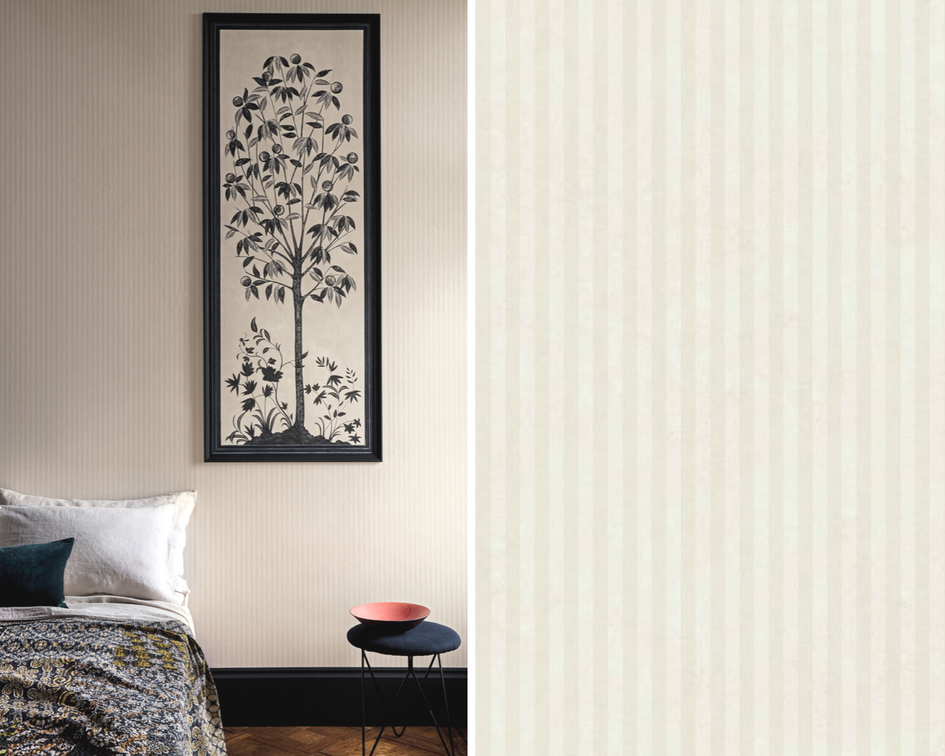 ABOUT MARTYN LAWRENCE BULLARD:
Martyn Lawrence Bullard is an award-winning internationally acclaimed designer renowned for his broad range of styles and eclectic, yet sophisticated and inviting, interiors. Martyn's signature layered aesthetic creates interiors with the warmth and depth of a well-travelled soul. A lover of all things decorative and highly patterned, Martyn worked together with the Cole and Son studio to create a sophisticated assortment of designs which aims to inspire the individual to create their own unique and distinctive interior look.