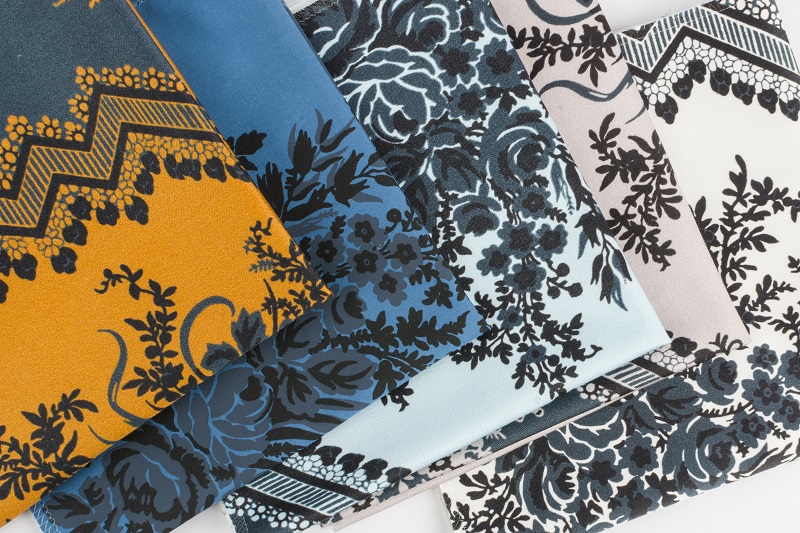 Interior designer Nick Olsen talks color in Brunschwig & Fils' new collection
Brunschwig & Fils recently reintroduced Edmond Petit's Madeleine Castaing collection of distinctive wallpapers and fabrics into its line. This grand dame of 20th century design in France was known for her intense color combinations and dramatic patterns. The iconic French decorator is experiencing a renewed interest, and her sumptuous interiors using these prints can be further explored in the book, The World of Madeleine Castaing by Emily Evans Eerdmans. Referencing neoclassical details and nature, bold stripes and patterns and colors mingle in impactful, unexpected ways. We asked interior designer and avid colorist Nick Olsen to share why he loves Castaing's textiles and her confident design choices.
Inspired.news: What makes the fabrics and wallpapers of Madeleine Castaing so distinctive?
Nick Olsen: They combine an intricacy of pattern with bold color in a way that feels modern, even though they're deeply rooted in history. The oversized scale of many Castaing prints keeps the details from getting lost in the background.
IN: How would you explain the importance of Castaing in design history to those that aren't familiar with her interiors?
NO: I'd impart that she was a bit of rebel in her time, reviving styles that had gone out of favor – Napoleon III and Empire, for example – and championing idiosyncrasy over the order of a typical French salon. She was fearless in mixing patterns, colors and styles before anyone ever knew that was an option.
IN: What is your favorite print in the collection?
NO: It's so difficult to choose, but the Castiglione in Turquoise feels incredibly timeless. I love the combination of a tent stripe with trompe l'oeil moire detail. Mushroom and turquoise is such an odd color combination … yet it works! That's Castaing in a nutshell.
IN: Interior designers often find inspiration in design legends of the past. Why is Castaing's work experiencing a renewed interest?
NO: Castaing provides an antidote to the misconception that neutral rooms automatically equal good taste, for lack of a better term. Safe isn't necessarily better, and her legacy gives contemporary designers the confidence to mix, say, leopard carpet with emerald silk curtains, but also to understand design history.
Nick Olsen is a New York City-based interior designer best known for his comfortable interiors that nod to the past while maintaining a sense of humor and whimsy. Olsen was one of the first designers to be featured as a curator on CuratedKravet.com when the site debuted in 2015. For more about Olsen, visit NickOlsenStyle.com.