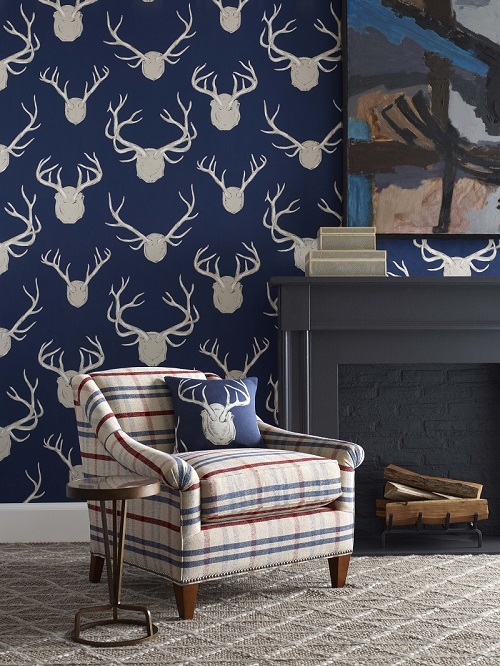 The collection of fabric and wallpaper presents a picturesque scene
As a follow up to the popular Lodge collection, Lodge II continues its story of a scenic country woodland getaway through stunning archival designs, luxurious textured wools, a lush chenille and sophisticated embroideries in a gorgeous jewel-toned color palette. The fabrics are complemented by stylish, hand screened wallpapers with enchanting yet refined patterns that complete the cozy storyline of the Lodge II collection.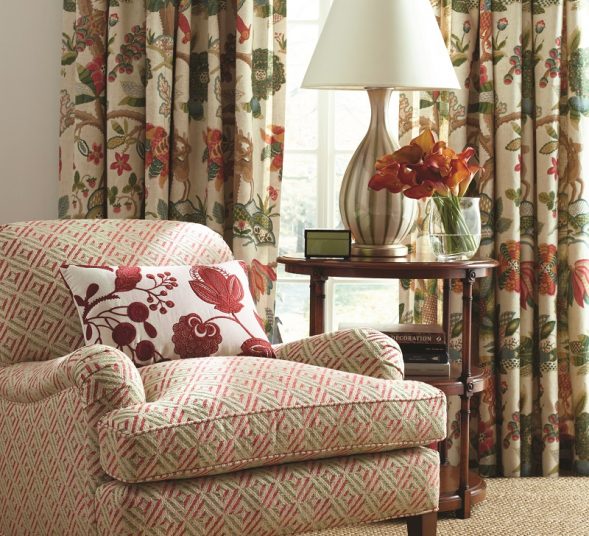 Traditional documents are brought to life, as seen in LEYLAND PRINT, a recreated Tree of Life pattern, inspired by a hand-blocked English print from the early 20th century.  In a more modern mode, ANTLERS depicts artistically rendered hunting trophies against three new vibrant background colors.
Expert craftsmanship is keenly visible in embroideries like CARIBOU EMBROIDERY, an exquisite vignette of deer grazing in the forest, and ALLADALE EMBROIDERY, an exotic Jacobean floral vine with intricate stitching.
BISTI VELVET is a dramatic cut and loop jacquard velvet that utilizes 63 strie colors in a Turkish rug design, creating an enchanting antique effect. Similar expertise is evident in TOCCOA PAISLEY, woven of novelty twisted wool yarns that offers a fresh take on a traditional Indian-inspired paisley.
ANTLERS, SUMTER TOILE and TIMBERLINE print patterns are also presented in coordinating hand printed wallpapers, offering a complete decorating story.