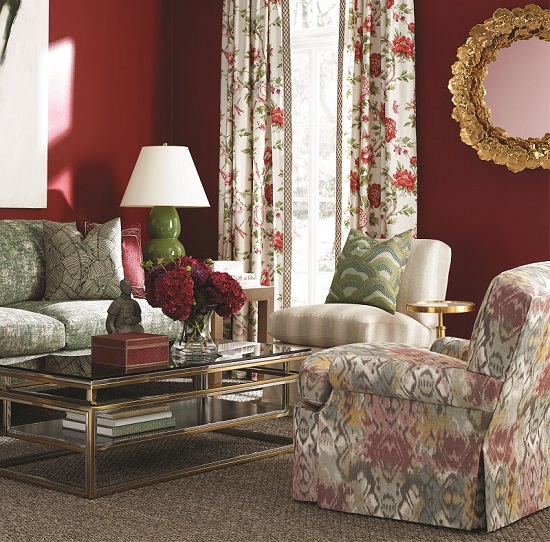 Brunschwig & Fils Presents Les Ensembliers Collection
Richard Ouellette of Montreal design house Les Ensembliers collaborated with Brunschwig & Fils to create a modern and sophisticated collection of fabric and trimmings. Mixing eclectic style and sumptuous texture, Les Ensembliers offers unexpected range with a mix of traditional and contemporary fabric. Old world charm is updated with modern construction to bring a fashionable flair while remaining true to Brunschwig & Fils' iconic heritage.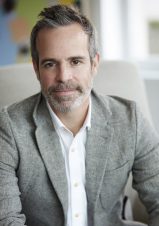 "It's the perfect blend of traditional and contemporary," says Ouellette. "In this collection, we combine Brunschwig's history and the current mood of today to fill a gap in the market. 'We are going back to the traditional; chintz and florals from an earlier era, but revisiting them with an edge for today.'
Like all of Brunschwig & Fil's legendary collections, Les Ensembliers originated in the archive. Patterns like LES PIVOINES PRINT, based on an original document from the 1970s, takes on a whole new life with an artist's hand reimagining the floral design. Ouellette says spending time in Brunschwig's archive was an immense privilege and very empowering for him as a designer.
To make the collection both personal and fashionable, Ouellette says he drew from happy moments in his life, such as dragonflies and peonies. Ouellette's storied past as a fashion designer also influenced the collection's aesthetic. "I dress interiors and furniture," he said, "I have a passion for fabrics. I love everything about them. They are the soul of each project."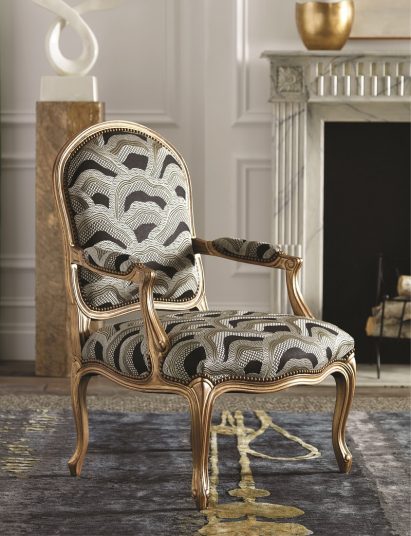 Each piece in the collection acts as a vignette in Les Ensembliers' narrative. For example, the trimmings evoke a sense of exploration, inspired by Ouellette's own personal travels. An abstract interpretation of undulating waves is the story behind.
LES RIZIERES, an Asian-inspired embroidery that employs three different techniques to create an intricate pattern within a pattern. Similar themes are present in LA PAGODE, a reinvented chinoiserie pattern, designed in a cut and uncut velvet construction with a herringbone textured effect in the background.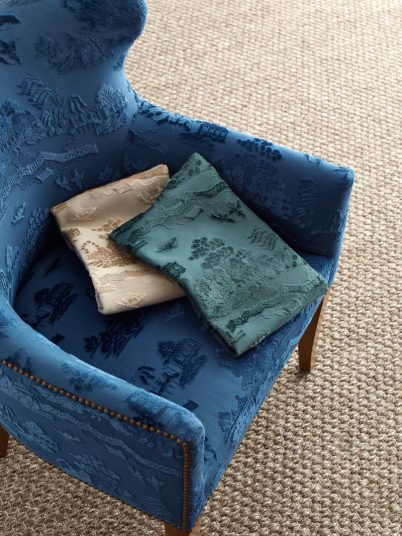 Ouellette says his passion for design and color began at the young age of 4, when he first encountered a blue print. He says from then on he became "the boy who draws in blue." His approach to color is one of the many standout qualities of this collection.
Ouellette's interpretation of traditional blue and white ushers the classic colorway into the present day. Les Ensembliers also features blush and mauve as a neutral, while highlighting the use of teal as a fashion moment.
The collection is comprised of distinct colors and diverse patterns, but altogether the LES ENSEMBLIERS collection tells one cohesive and unique story – a life well-lived, well-traveled and always well-dressed.