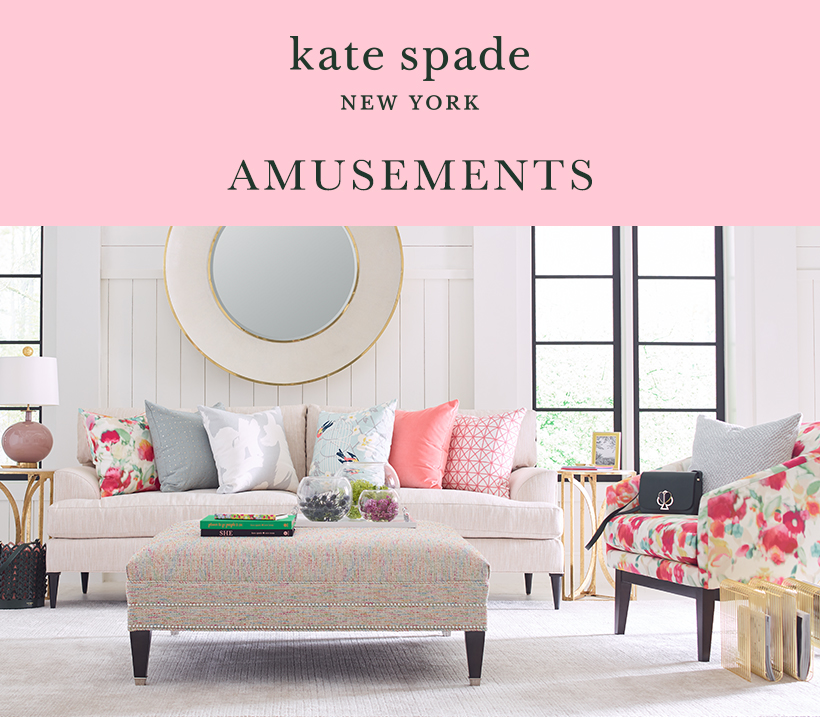 Second collection from global lifestyle brand Kate Spade New York
Fanciful, fun and fashion forward – Kravet is teaming up once again with global life-and-style brand Kate Spade New York for a fabric collection: Amusements. Featuring a playful mix of signature bold, surprising prints and woven geometrics, this collection is layered with sophisticated boucle and velvet textures, as well as innovative and whimsical drapery.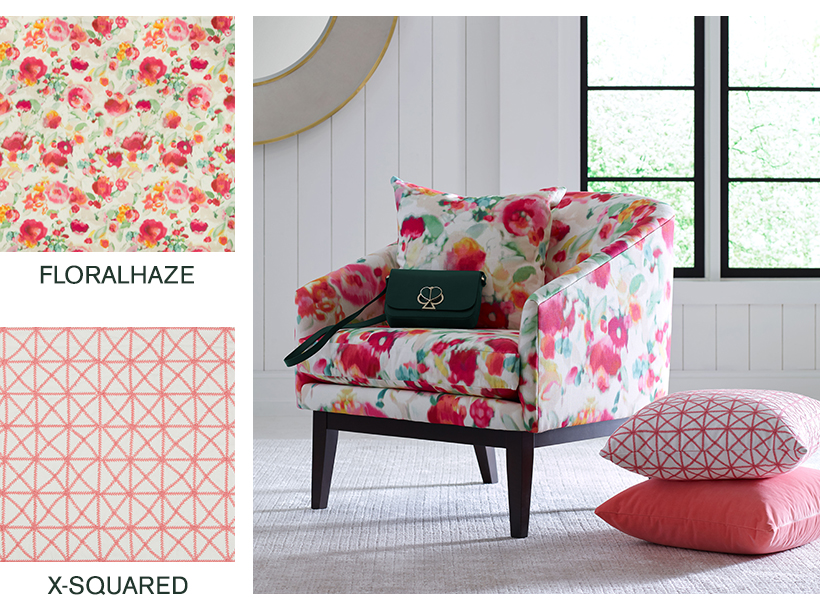 This is the first collaboration under Kate Spade New York's new creative director, Nicola Glass. "My goal is to create an eclectic mix of pieces that integrate seamlessly into a woman's life," says Glass. "I see her finding that perfect piece, that exact thing she was looking for in that exact moment, and falling in love with it.  Whether it's a handbag, a dress or a fabric for her home, I want it to feel effortless, easy and true to her."
The color palette in the Amusements collection ranges from bolder hues like navy and black to softer tones including aqua and blush, and is grounded in classic neutrals like linen, camel and ivory.
Amusements offers new and exciting patterns for the brand, like FREEFALL and FLORALHAZE. A softened, abstract take on an animal print, FREEFALL features drifting feathers, while the soft ikat-like technique of FLORALHAZE depicts a diffused floral pattern. Dazzling geometric patterns also catch the eye, such as DIAMONDEDGE, a kaleidoscope arrangement of boxes that form a modern graphic woven on a clean cotton ground, and X SQUARED, a small-scale embroidery that features a filigree stitch for a more eclectic look.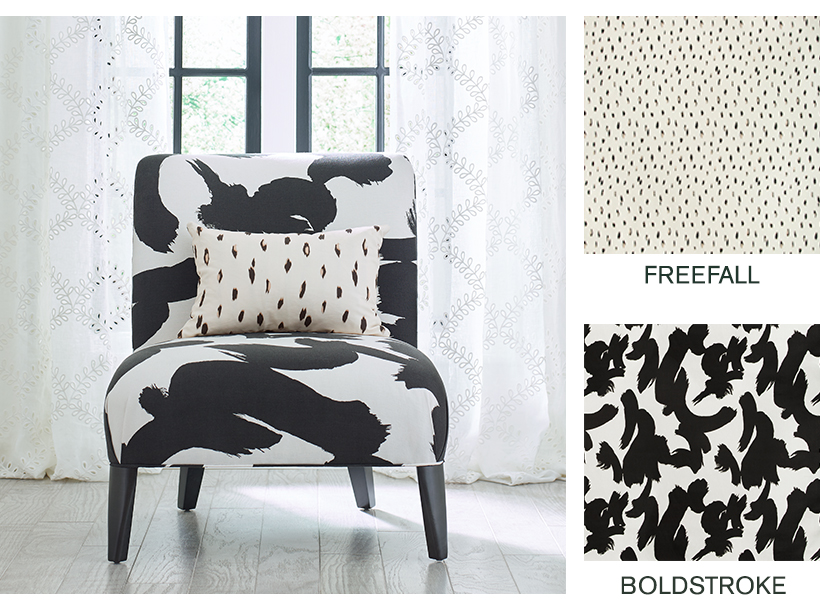 The collection also features a modern take on signature brand staples. Highlighting a range of textures, Amusements offers several playful striped patterns interpreted in exciting ways. BOLDSTROKE  is a lively abstract pattern sure to make a statement in an interior. LUXOUR CHENILLE, a decorative embroidery, features multiple rows of stitched chenille, forming a wavy plaid that adds depth and movement to the fabric. The variated stripe in LINEWORK introduces a pop of surprise, with a metallic accent within the fabric ground, and can be applied vertically as well as up the roll for a landscaped preference.
In addition, Amusements incorporates a bit of history to this fashion-forward collection – adapted from a French document in the Kravet archive, BIRDSONG features a charming birdcage motif, illustrated in a loose painterly style with a chintz finish.
"There's a sense of discovery in everything we do," Nicola Glass continued.  "Details are very important to me.  Our products are intended to be experienced close-up; not everything is visible at first glance."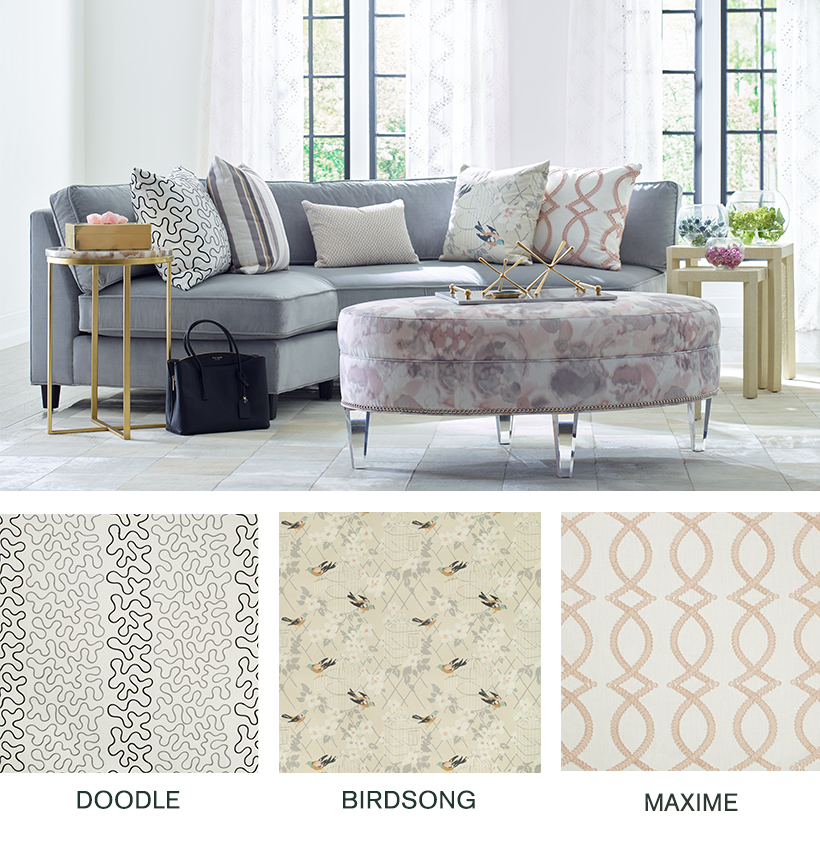 Existing patterns are brought to the forefront with updated color stories for today's interiors. MAZZY DOT, a speckled cut velvet, is a perfect complement to the bolder patterns in the collection and is now offered in soft aqua and parchment hues. MAXIME also returns in fresh pastel colors and features an appliqued tape skillfully sewn onto linen, creating a dimensional decorative fret.
Suitable for today's transitional and contemporary home, this collection can be used anywhere from the living room to the bedroom. "We are a fashion brand, and I see our home and fabric categories as true fashion accessories for the home," says Glass.
Shop Amusements here.
Shop Kate Spade New York here.