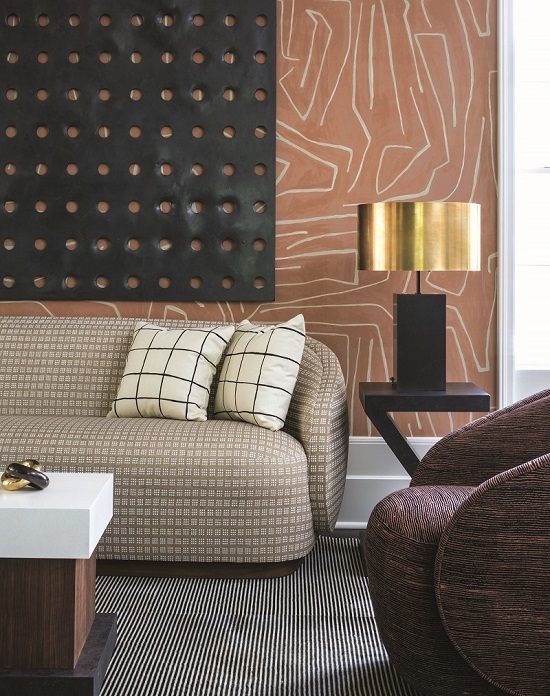 World class designer Kelly Wearstler introduces fabric, furniture and wallpaper in latest collection for Groundworks
For her third collection with Groundworks, Kelly Wearstler brings her distinctively modern flair to create rich and spirited design. Through an ode to the beauty inherent in the fusion of graphic and organic elements, natural luxuries and architectural forms come to life in instinctual compositions of line, color and space in coordinating papers and fabrics. Subtle with neutral, muted colorways and fine-scale details, and bold with large-scale silhouettes and hints of metallic.

Inspired by a love of architecture and the purity of form, the Kelly Wearstler furniture collection for Lee Jofa features a modern fusion of organic and graphic furniture silhouettes in iconic and distinctive designs. The simple, fluid curves and clean, geometric lines allow the luxe materiality of the collection, from metallic and Venetian plaster to textured woods and textural leathers to exude a distinguishing spirit of originality and refinement into any space.
The textural and coordinating wallpaper designs celebrate the soulful anomalies of organic forms. Her signature graphic striations and resist motifs in subdued neutral and muted colorways with hints of metallic accents celebrate the soulful anomalies of organic forms. Drawing upon her affinity for repetition and relaxed geometric patterns, the collection features an artful juxtaposition of the raw and refined to create rich dimension and a distinguishing voice.
The Kelly Wearstler III collection brings a distinguished voice and rich dimension to every environment.