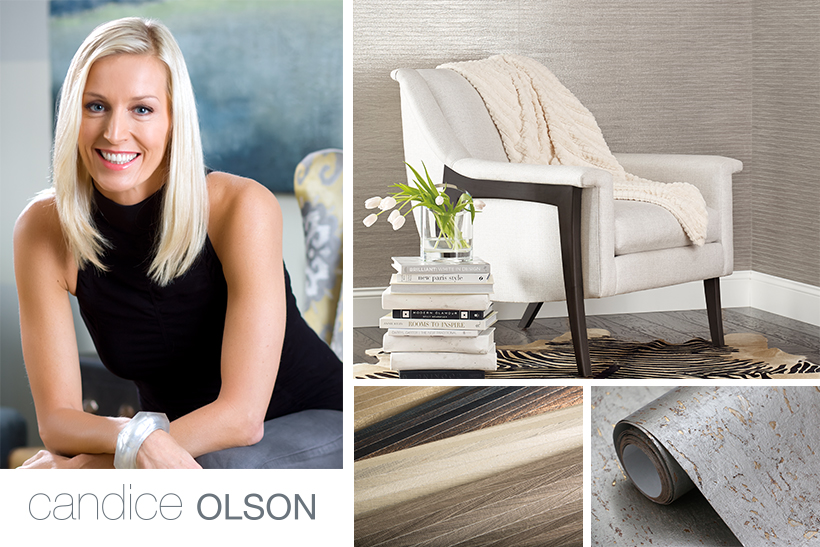 Kravet introduces its third wallpaper collection
Candice Olson is back with her third collection of exciting wallcoverings. Current in style with modern touches, this collection features an array of textures and designs ranging from grasscloth to cork and metallic accents. The wallpapers feature innovative printing and fabrication techniques that further enhance the beauty of their natural materials with unexpected light, reflection and dimension.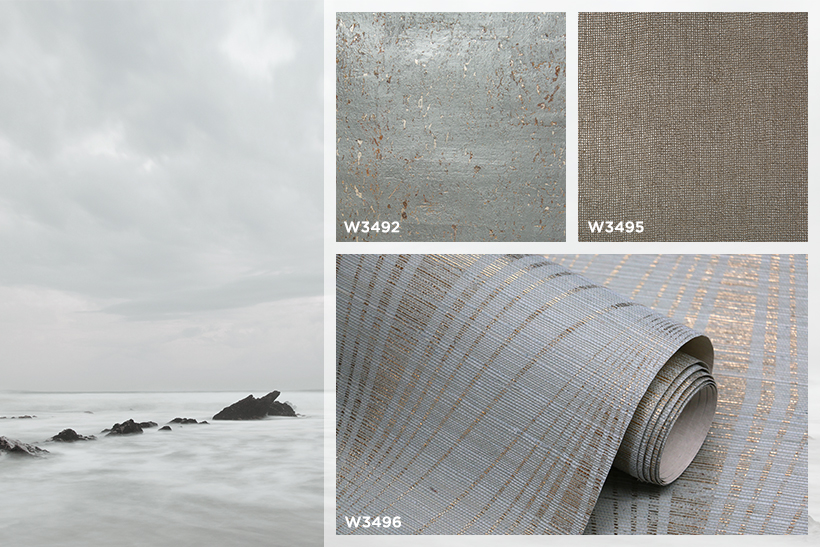 We talked with the esteemed designer about her approach this time around!
K: So we hear three times a charm! What were your major influences for this collection of wallpapers?
C.O.: The driving force behind this collection is the sentiment that cool modern loves to be tempered with the warmth of nature. You'll see the marriage of beautiful natural materials and stylized contemporary patterns fabricated with state of the art, modern-day techniques.
K: How would you describe the signature aesthetic of this collection?
C.O.: Current and modern, yet classic, comfortable and livable.
K: How does your collection embody your ideas as a designer?
C.O.: My goal as a designer is to crate beautiful personalized spaces that are at once current and on-trend yet timeless and soothing – it's that perfect design elixir that beckons you to not just look AT a space but truly enjoy and live well in it.
K: How does wallpaper play a role in the interiors you design for clients?
C.O.: Wallcoverings play various important roles in my designs. Quite often, I'll use them as the star of the space to make a bold, high-impact statement with the balance of the elements playing a more supporting role. Wallcovering can also work magic as an understated, sophisticated element that unifies with color, texture or pattern. Since walls are such a large element in a space, I'll often look to wall coverings as the jumping off point or springboard that launches an entire design concept.
K: Have you thought about any innovative ways to use your wallcoverings in an unexpected way?
C.O.: The wallpaper can be framed by trim and moldings as a wall panel or cabinetry door detail or inset into a coffered ceiling.
K:  What are some of your favorite color trends today?
C.O.: I always tend to gravitate to misty, grayed nature-inspired hues of sea and sky – they're peaceful, quiet and calming and pair beautifully with the warmth of wood. Right now I'm loving this palette as it deepens to charcoal and obsidian, contrasted with airy dove gray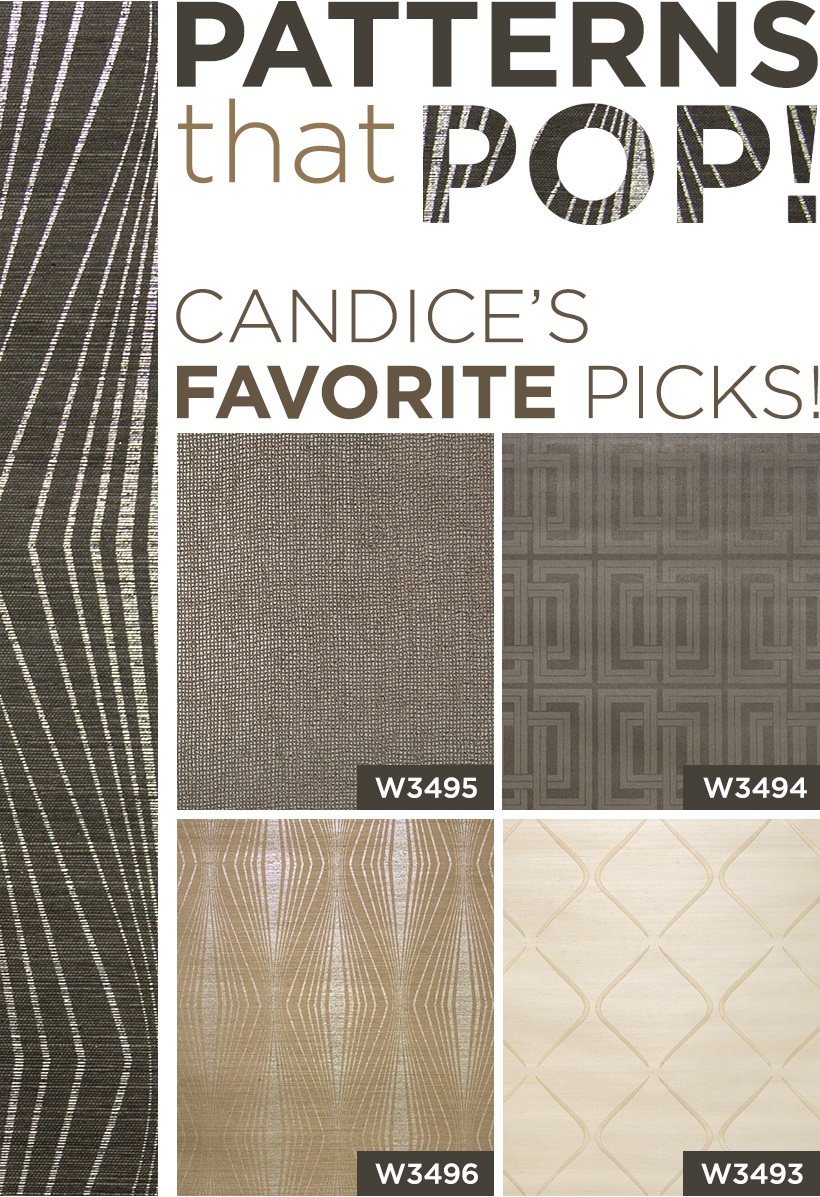 PATTERNS THAT POP! CANDICE'S FAVORITE PICKS!
C.O.: QUAD (W3494) is a stunner – a beautiful geometric pattern that pays homage to Art Deco architectural grilles. It's printed in quiet, tone-on-tone colors on a unique organic woven cloth creating an almost imperfect handcrafted quality.  It's a knockout combo of a contemporary bold pattern, softened by easy elegant hues and texture – dynamite!
RADIANT (W3496) and MARQUIS (W3493) are stylized, contemporary ogee patterns that marry the warmth and richness of traditional sisal with exciting new technologies.  Radiant is rendered in metallic inks while Marquis takes a reflective foil-backed sisal to new heights with embroidery – the stunning results strike the perfect balance between tradition and trend.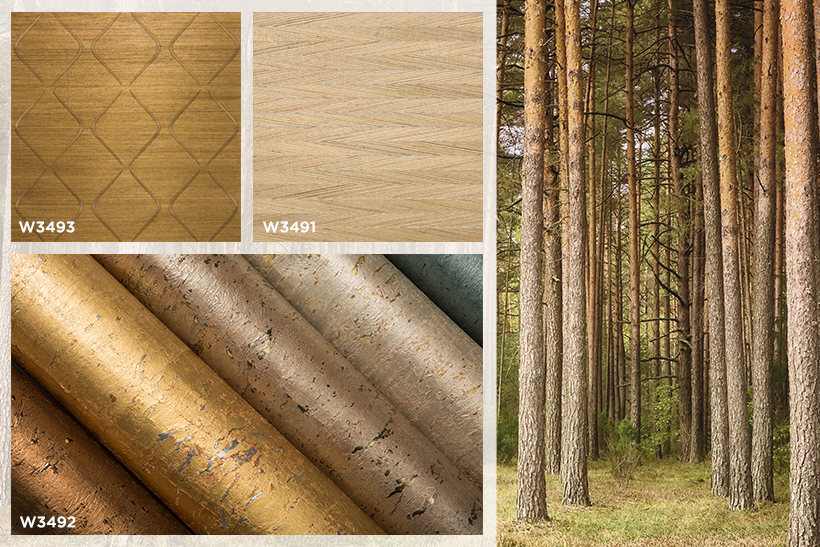 LOMBARD (W3491) is a Chevron stripe created with narrow strips of sisal cut on the bias and applied to a metallic backing that creates a gorgeous dimensional affect. The look is one that's timeless and classic yet current and contemporary.
Shop Candice Olson wallcoverings here.